Nov 4, 2020 07:22 PM Central
Sarah Claburn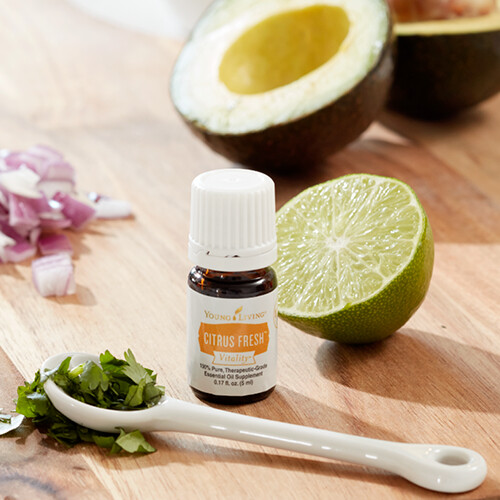 Everyone loves a good guacamole, right? And with all of the health benefits of avocados, you can feel good about eating it.
Avocados have a variety of nutrients, including 20 different vitamins and minerals including Vitamin K, Folate, Vitamin C, Potassium, Vitamin B5, Vitamin B6 and Vitamin E. They also contains small amounts of magnesium, manganese, copper, iron, zinc, phosphorous and vitamins A, B1 (thiamine), B2 (riboflavin) and B3 (niacin).
Avocados contain healthy fats and are also low in carbohydrates, but contain no cholesterol or sodium so they can fit a variety of diet plans.
So grab those avocados and get munching! Enjoy!
Ingredients
2 avocados
2 drops Citrus Fresh™ Vitality
1 drop Lime Vitality
1 tablespoon fresh lime juice
1 clove garlic, minced
2 tablespoons chopped red onion
1–2 Roma tomatoes, seeded and diced
1 tablespoon chopped cilantro
Pinch salt
Pinch black pepper
Instructions
Remove the pit from the avocados and scoop the flesh into a bowl, mashing roughly with a fork.
Add all other ingredients and stir until mixed.
Garnish with cilantro.
Enjoy with tortilla chips or with your favorite Mexican-inspired dishes!