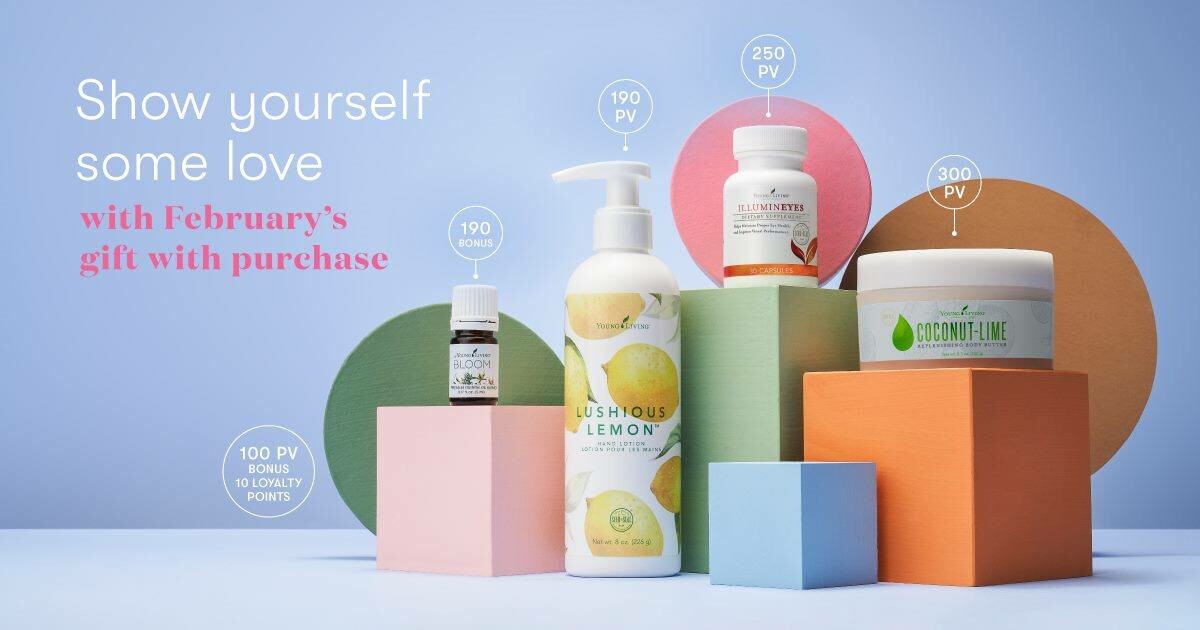 You're going to love the aroma of these essential oils that are "blooming" just in time for the month of love and cardiovascular health.
It's the first of the month, and for those who regularly order essential oils from Young Living, you know that that means...
The unveiling of the Gifts with Purchase!
This month, the product promotions focus on showing yourself some love with luxourious self-care of your whole body.
February 2023's gifts with purchase are:
Bonuses for Loyalty Customers:
Anyone ordering $100 + PV gets 10 free loyalty points to use with their next order.
Anyone ordering $190+ PV gets a free bottle of Bloom Essential Oil Blend.
Below is more information on the gifts and oily education from my own research and YL's product overviews.
February 2023 Young Living Promotions
This month is an integrative focus on self-care and showing yourself some pampering and love with the free gifts with purchase. Then, you can take this blooming love and spread its scent to others.
This blend combines Vetiver, Blue Cypress, Davana, Royal Hawaiian Sandalwood™, Clove, Jasmine, Carrot Seed, Spearmint, Geranium, and Sacred Frankincense.™
This is an amazing blend of sesquiterpenes, monoterpenes, and grounding, invigorating oils! Limonene is also present, and we love the cellular enhancing, digestive, and immune support of this compound, right?
"This blend of premium essential oils transforms your space into a calm, meditative, at-home spa environment.
It's formulated with premium essential oils sourced from across the world, including Blue Cypress from Young Living's Outback Botanical Reserve and Distillery in Australia, Royal Hawaiian Sandalwood from the Kona Sandalwood Reforestation Project in Hawaii, and Spearmint from the Labbeemint Partner Distillery.
Diffuse, apply topically, or both to brighten your day in a beautiful way."
If you want to read more about the individual oils in the blend, I have them in my EO database here.
This blend is found in the hand cream and has the following benefits:
IlluminEyes™, featuring lutein and zeaxanthin, helps reduce eye strain, protects eyes from damaging blue light, and maintains vibrant skin.
This is a perfect supplement to soothe head tension from sore eyes as you improve your outer beauty. In this way, you can shine from the inside-out. It contains the holistically invigorating superfood that suports many vital organ systems, wolfberry.
Young Living's Coconut-Lime Replenishing Body Butter uses mango and cupuacu butters—and no added water— to give your skin a luxurious, smooth feel.
With its intense, natural moisturizing properties, it keeps your skin hydrated and soft all day long, while coconut oil and citrus essential oils leave your skin with a fresh, tropical scent.
Perhaps you'll try one of these oils products in your next order now that you know a little more about them, or maybe you'll get them for free!!
Get more details on qualifying here.
Again, feel free to reach out with any questions!
Note: The information linking studies on the essential oils are from scientific journals and are not necessarily specific to a particular company or manufacturer. Please read the full disclaimer on the full posts linked.
This material is for information purposes only and is not intended to diagnose, treat, or prescribe for any illness. You should check with your doctor regarding implementing any new strategies into your wellness regime. These statements have not been evaluated by the FDA. (
Affiliation link.
)
nontoxic, personal care, illumineyes, bloom, lushious lemon, coconut-lime body butter, environmental friendly