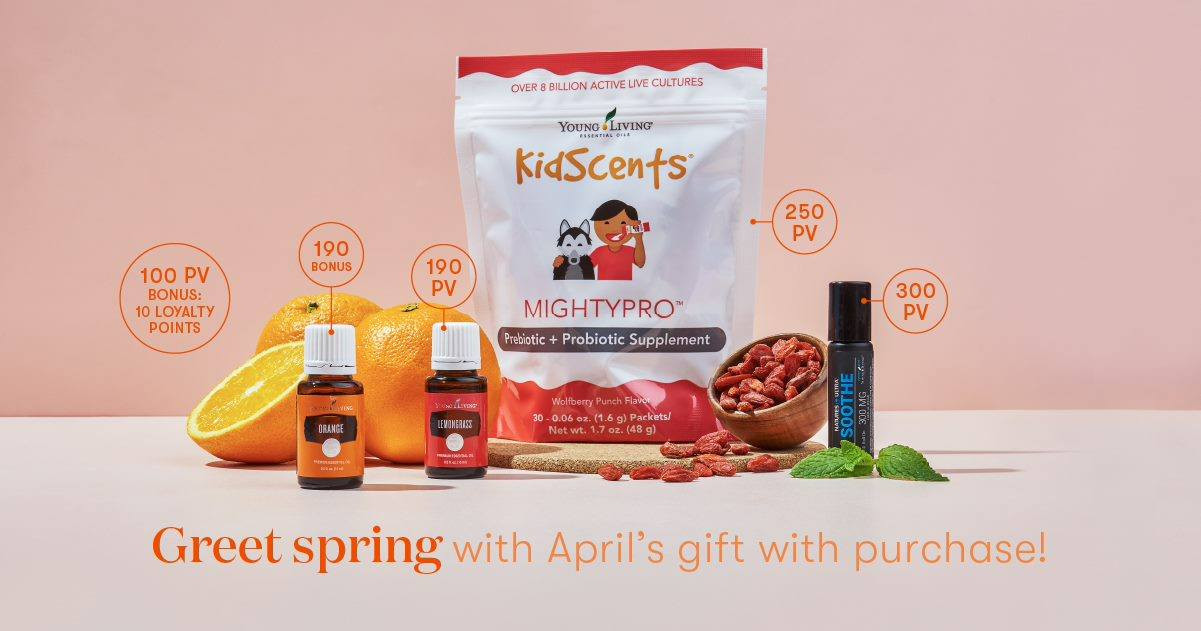 Are you ready to celebrate the earth and the start of a new a season with plant-based essentials from Young Living!
April 2023's gifts with purchase are:
Bonuses for Loyalty Customers:
Below is more information on the gifts and oily education from my own research and YL's product overviews.
April 2023 Young Living Promotions
Celebrate the freshness of spring and the revival of the earth with these plant-based essentials.
1. Orange Oil – Who doesn't love citrus oils? Among them all, orange may be my favorite. Due to its high limonene content, this oil has many benefits. It supports defense and repair, calms the brain and body, helps with focus, acts as an antioxidant, supports healthy cell growth, and can inhibit microbes.
2. Lemongrass Oil – I am diffusing lemongrass oil as we speak, it's my cat's favorite. Due to its ability to modulate inflammatory pathways and its gentle nature, lemongrass was my go-to oil for kitty care when Kiara hurt her hind leg. This oil also can help man and beast defend against unwanted critters and protect cellular and tissue health.
3. Kidscent MightyPro (Pre and Probiotic)- MightyPro is a unique, synergistic blend of prebiotics and probiotics in a supplement specially formulated for children. Packaged in easy, one-dose packets that can be taken almost anywhere you go, this supplement features over 8 billion active, live cultures to support digestive and immune health. * Featuring a great-tasting formula that can be added to cold food and drinks for easy consumption, MightyPro supports gastrointestinal and immune health and maintains gut health in children, keeping kids up and active. That means fewer missed days of school, day care, and playing with friends. It also contains the superfood, wolfberry (goji berry), which has many wellness benefits, including acting as a prebiotic with its polyphenols to feed gut microbes.
4. An enhanced produced with Peppermint, cozy Copaiba, and four Eucalyptus essential oils. These oils help balance the brain for better focus, optimize defense and repair, and suppport the endocannibioid system, a key to balance all areas of health.
Perhaps you'll try one of these oils products in your next order now that you know a little more about them, or maybe you'll get them for free!!
Get more details on qualifying here.
Again, feel free to reach out with any questions!
Note: The information linking studies on the essential oils are from scientific journals and are not necessarily specific to a particular company or manufacturer. Please read the full disclaimer on the full posts linked.
This material is for information purposes only and is not intended to diagnose, treat, or prescribe for any illness. You should check with your doctor regarding implementing any new strategies into your wellness regime. These statements have not been evaluated by the FDA. (
Affiliation link.
)