Nov 20, 2022 06:00 PM Central
Casey Forte
affirmations, belief, believe, bioaccumulation, black friday, blends, blessings, blog, explore solar power, facial care, gratitude, healing journey, health and wellness, sale, single oils, SKIN CARE, solar power, wellness
Hey there!!!!
I'm so glad you're here! I want to wish you a a happy holiday season kick off. And if you're into soccer, Enjoy world cup starting Monday!! Thanksgiving is just a few days away and I wanted to share this blow out of a sale that is going to get you excited to stock up and even get tons of gifts for your family and friends.
But first, I want to share a video on gratitude.
Gratitude
❤️ Because gratitude is the source for everything in your life. Gratitude is the key 🔑 for all good things to come to you! I am grateful for you and am throwing in another video on the topic!
More gratitude!
And on that note, I'm extremely grateful for Young Living and the opportunities they've given me to have a natural lifestyle. I'm grateful for the body's ability to heal when I quit using toxic products. If you're struggling with your health, hormones, weight, or just want you and your home to smell good naturally, I would love to help you get pointed in the right direction! Just reply to this email, and we can get you a custom link for what you want!!!
Oh, I almost forgot, I'm doing a giveaway this month!!! I am giving away 10 bottles of Christmas Spirit oil! That's right! Only thing you need to do to get entered is place a 100 pv order! That's it. Nothing to keep track of and at the end of the month, I'll pull a report and draw 10 lucky winners!!!! Drawing the first week of Dec! My way of showing gratitude to you! I appreciate you.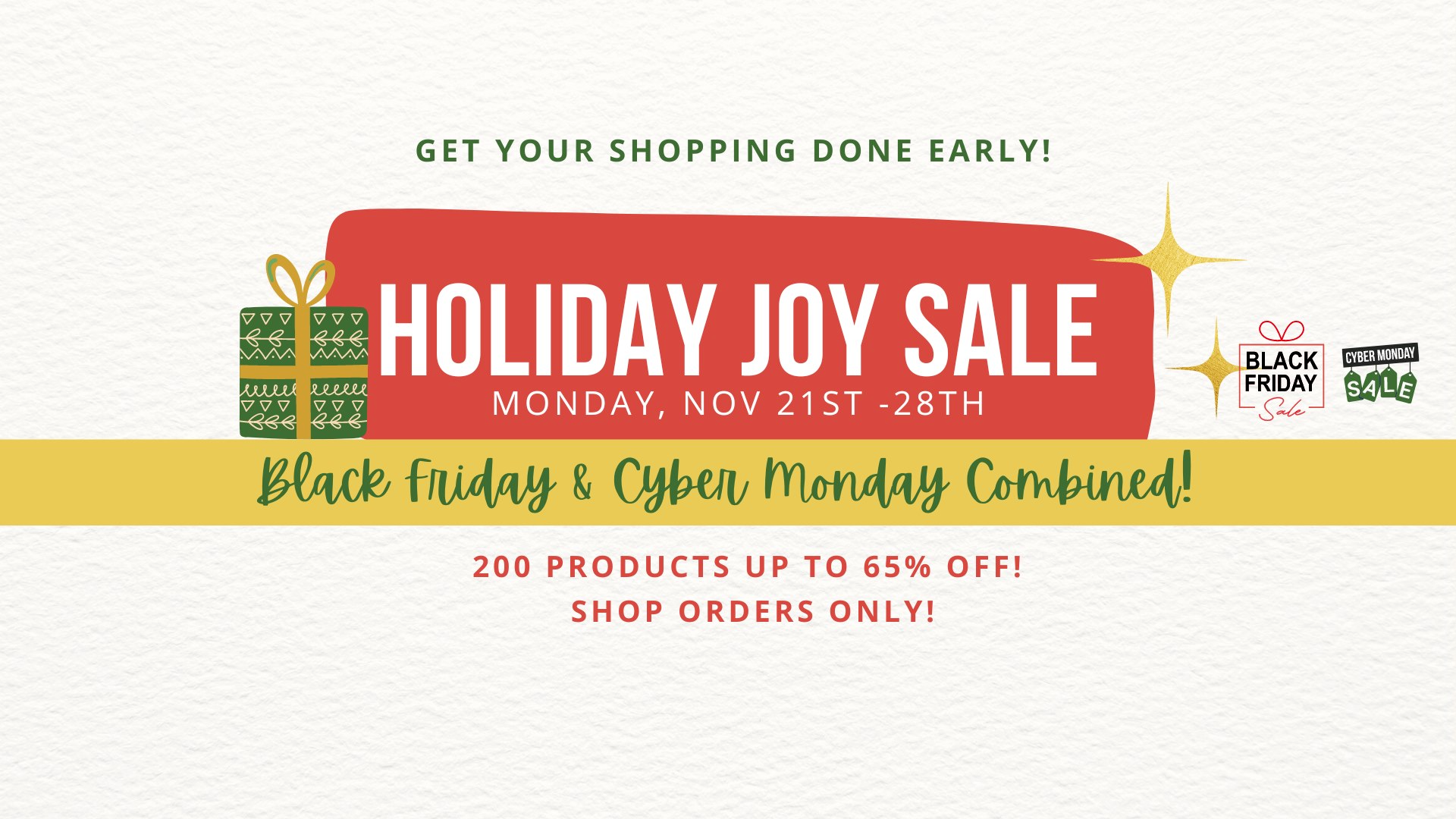 📅 Offer valid November 21 at 9 am MT (11AM EST), through November 28 at 11:59 pm MT (1:59AM EST)!
🛒 One-time SHOP orders only for U.S.
🎁 Free 1 oz Thieves Hand Sanitizer Gift with each order!
🛍️ Shop while supplies last without order limits!
check out the sale items listed by
category
check them out listed by
price
HAPPY Shopping!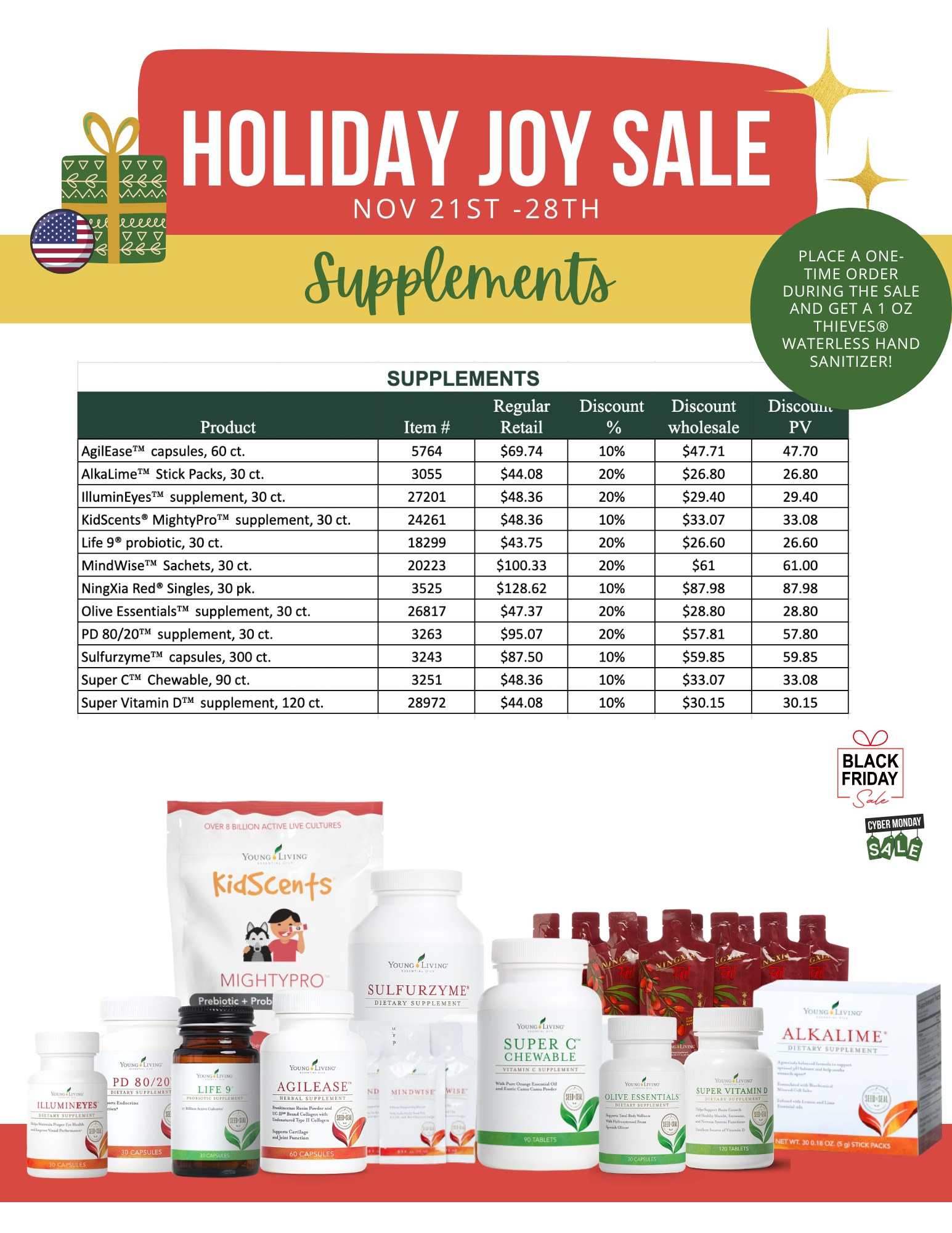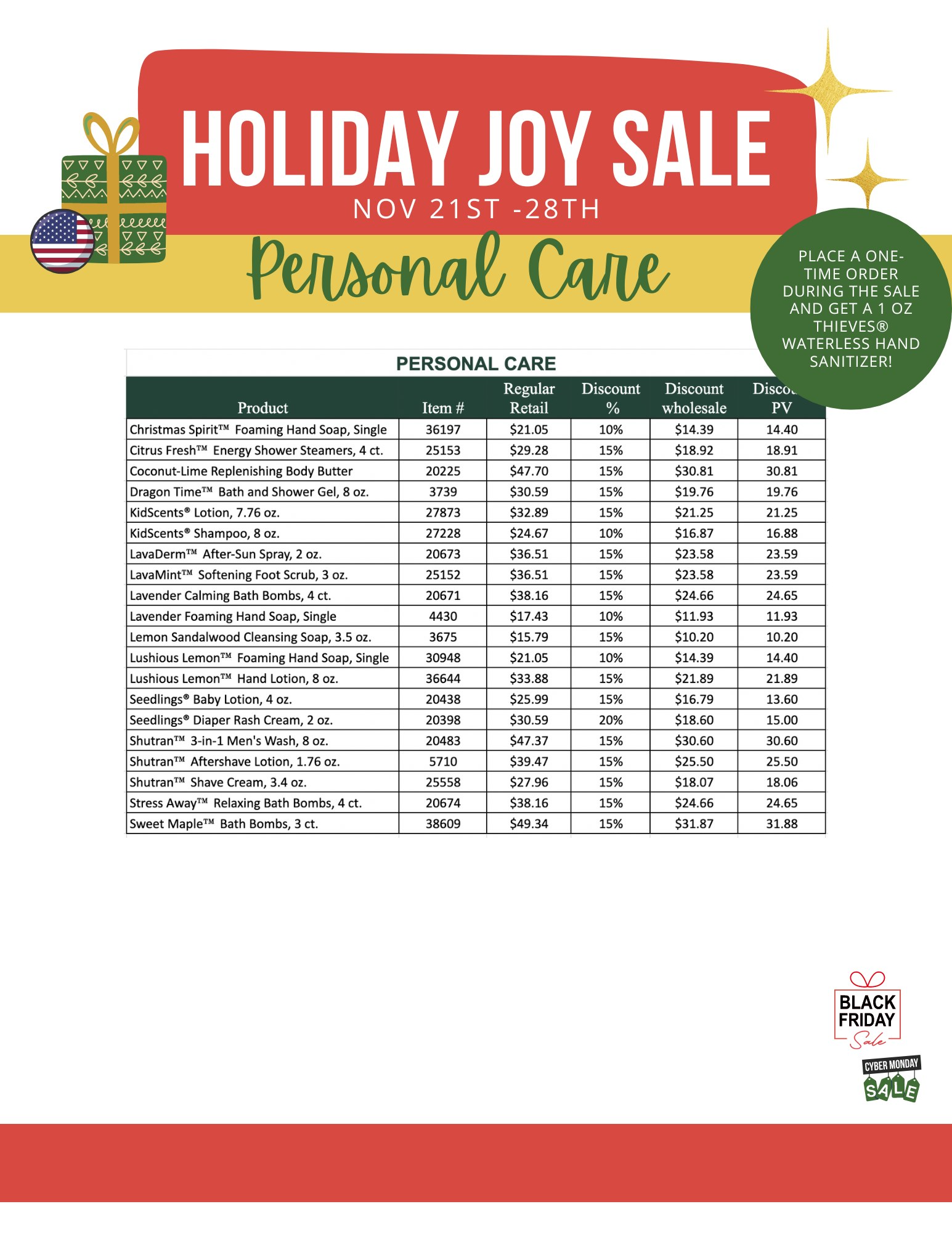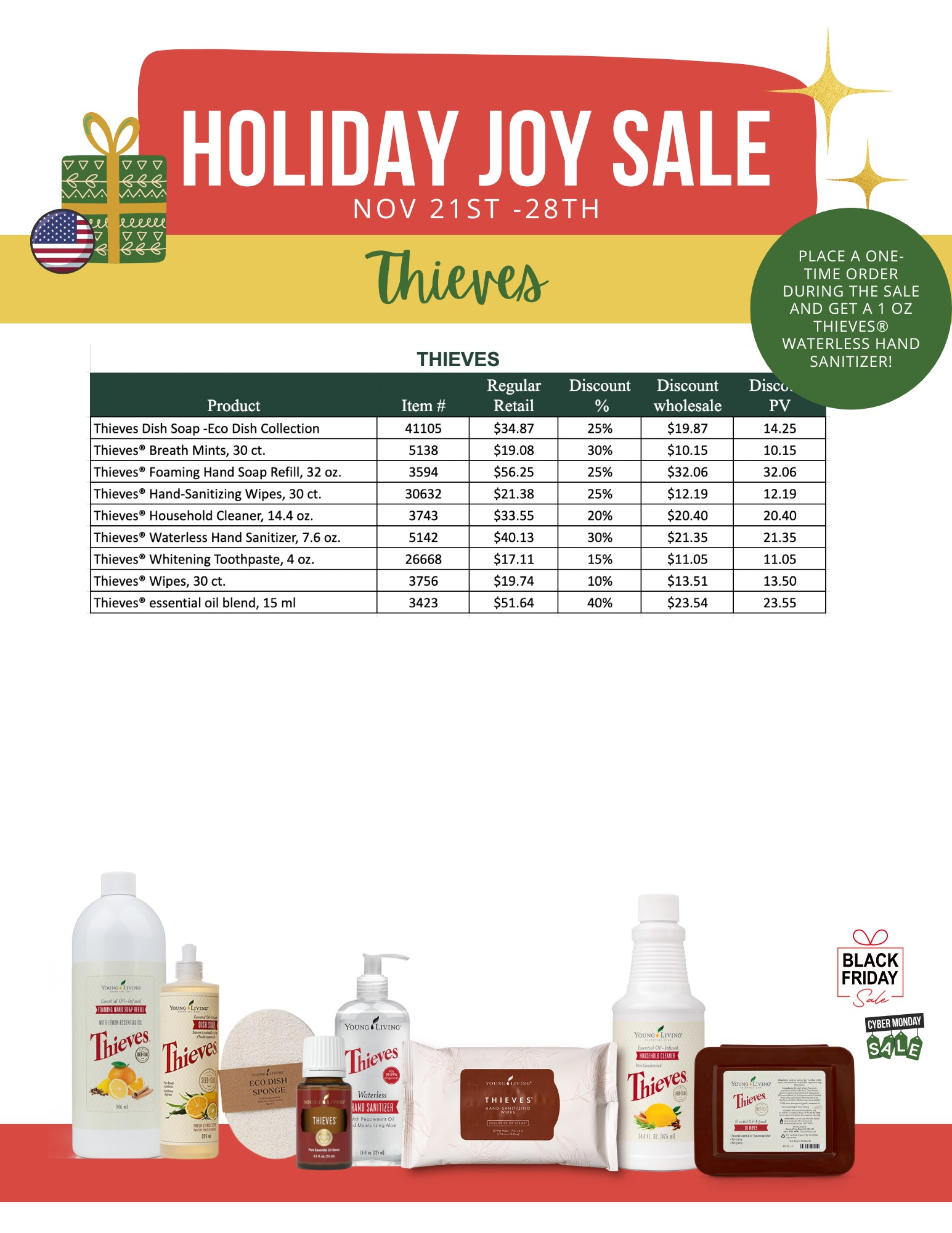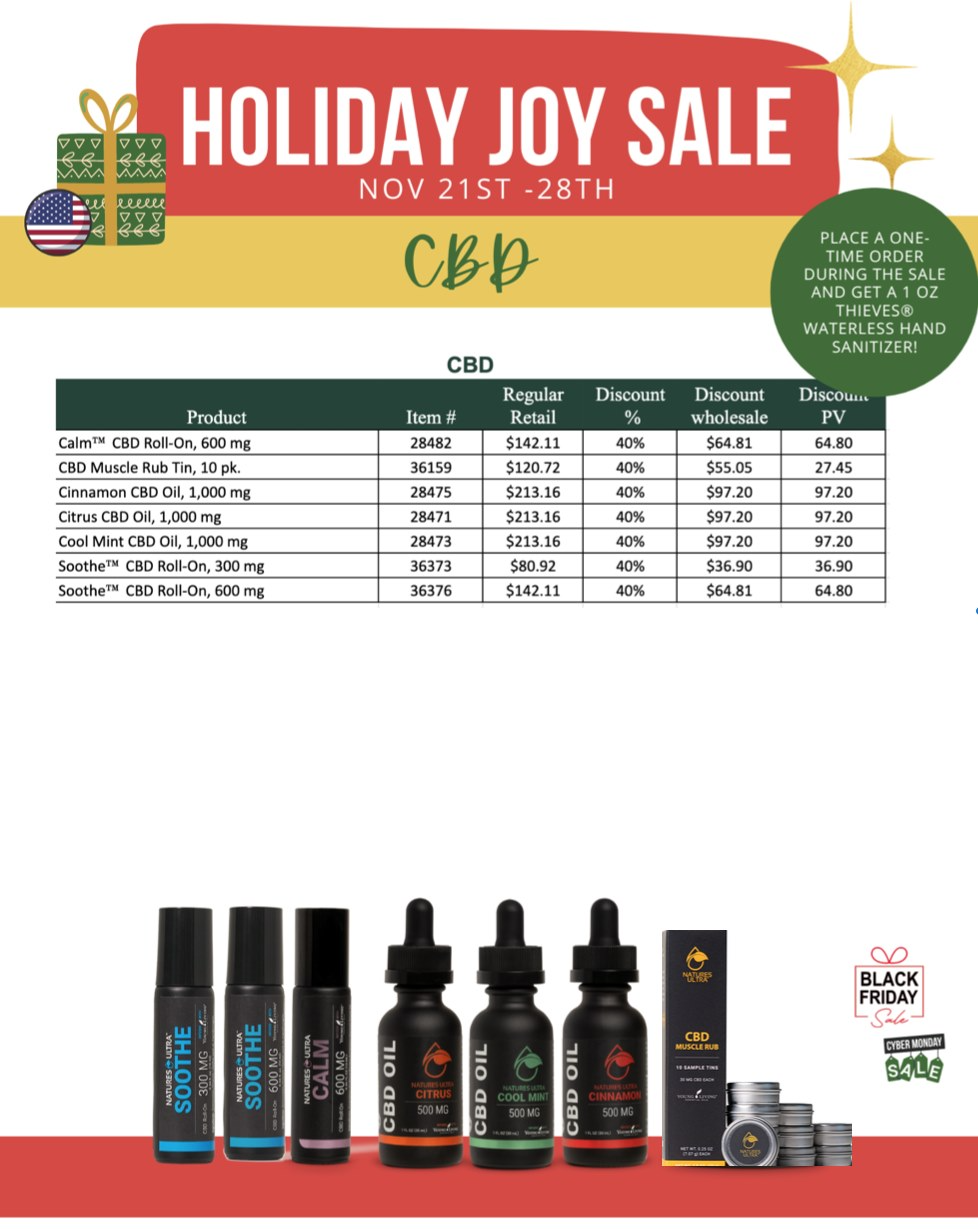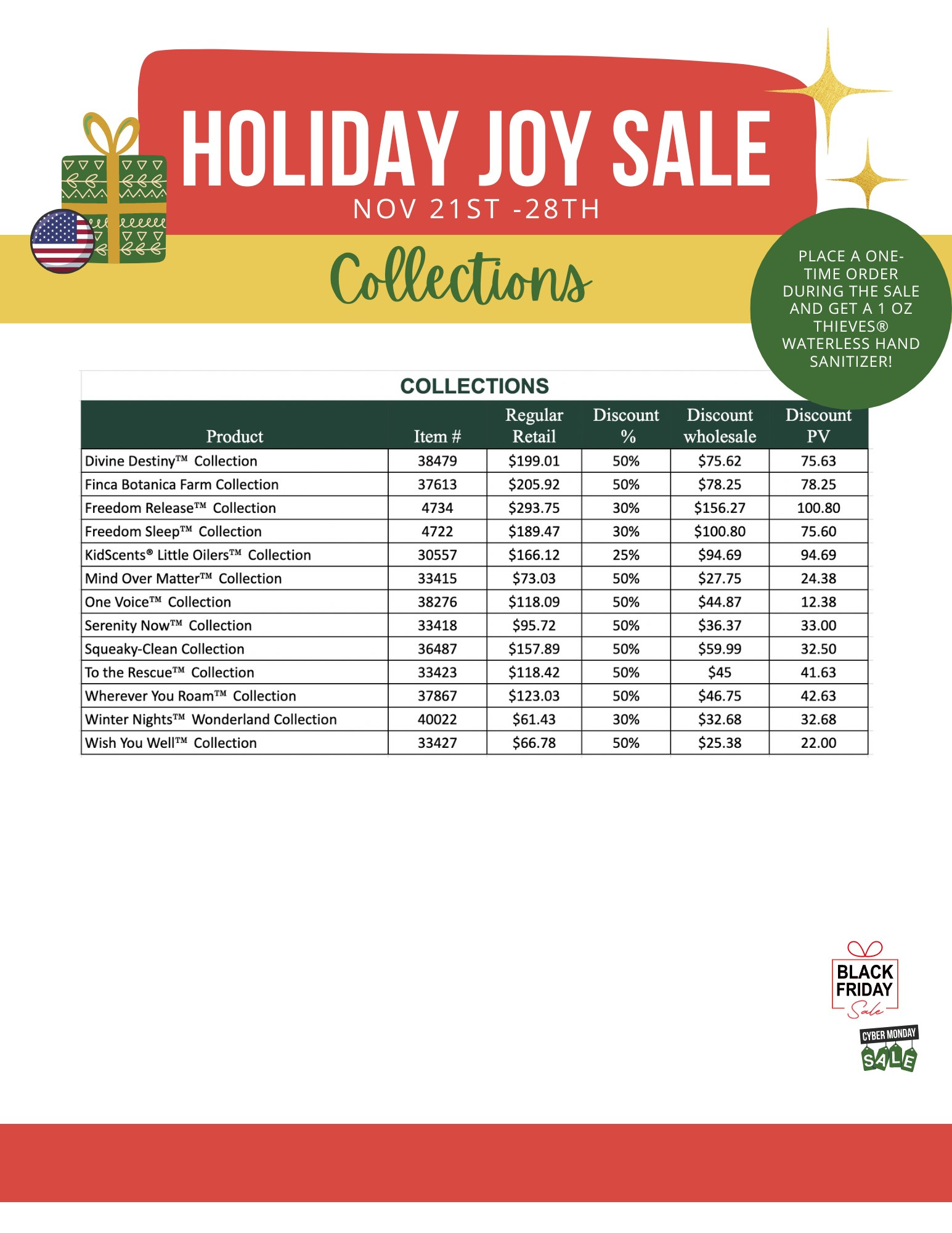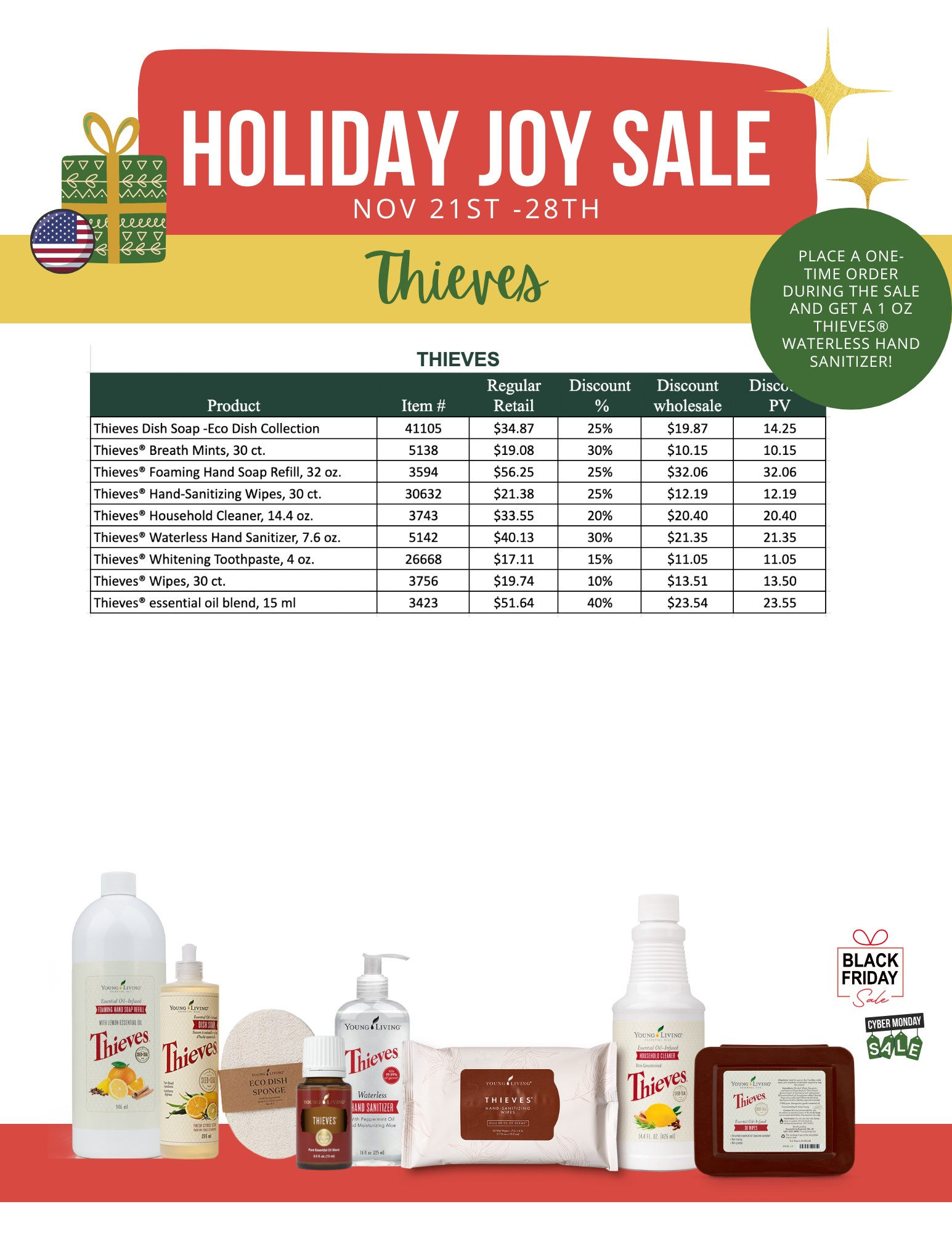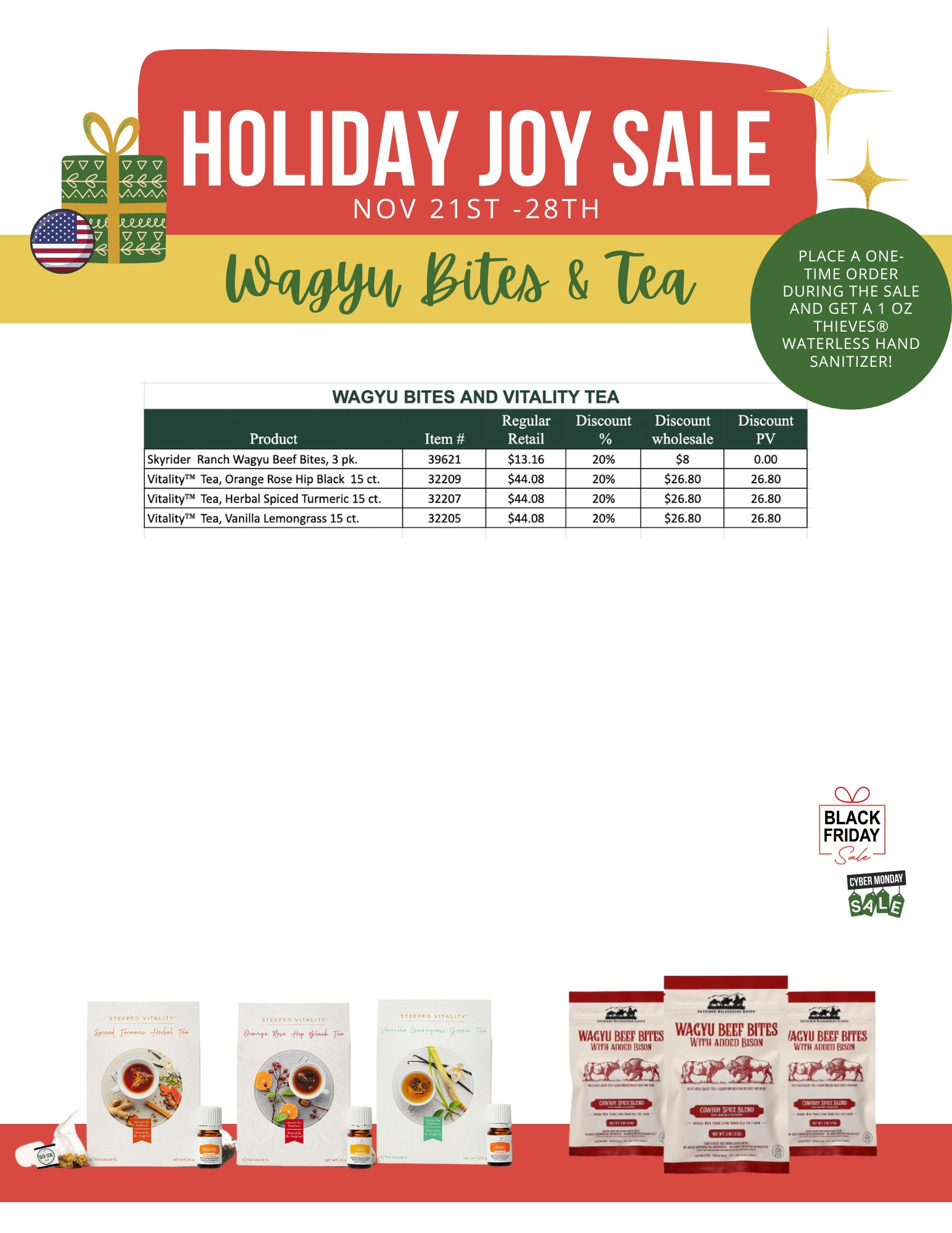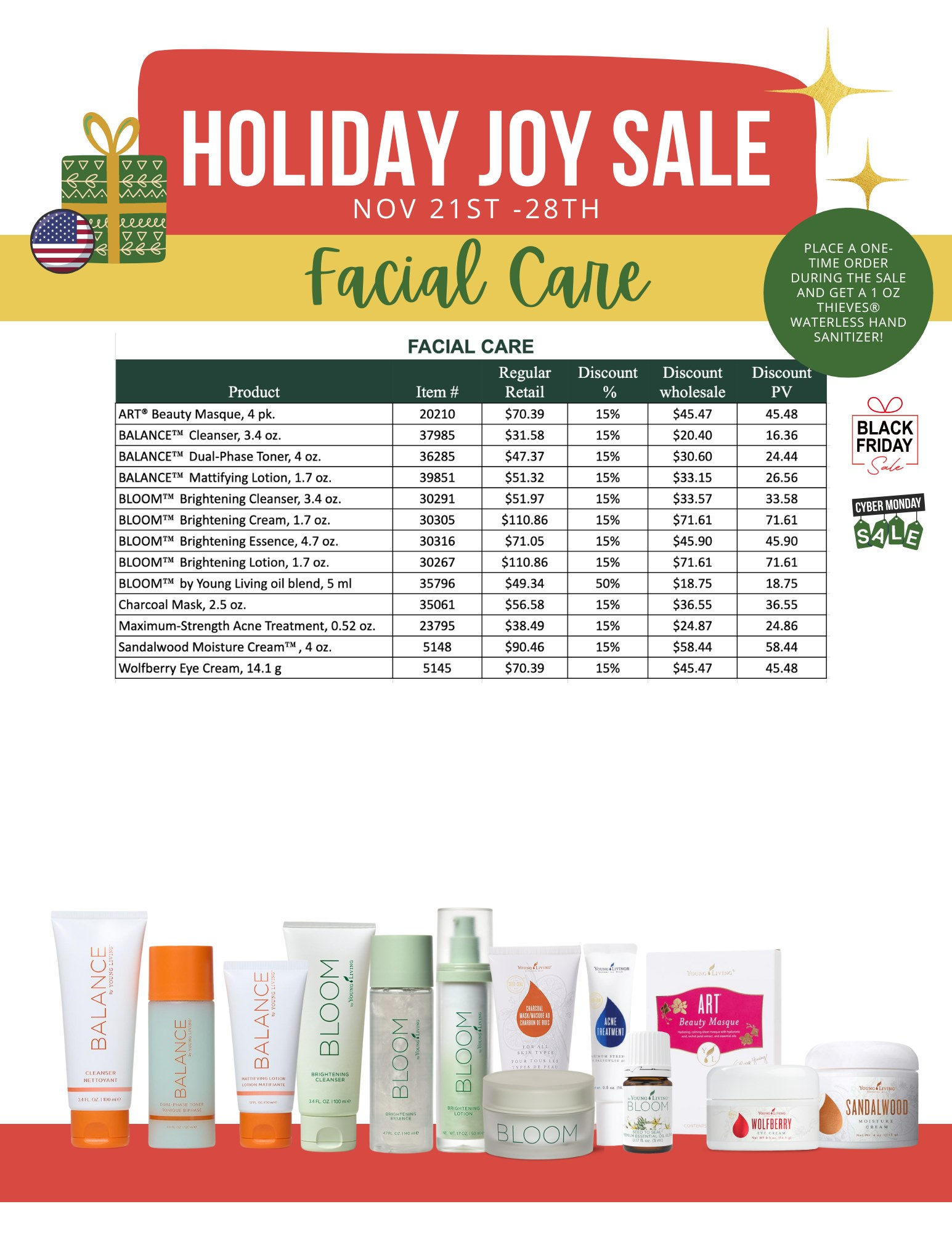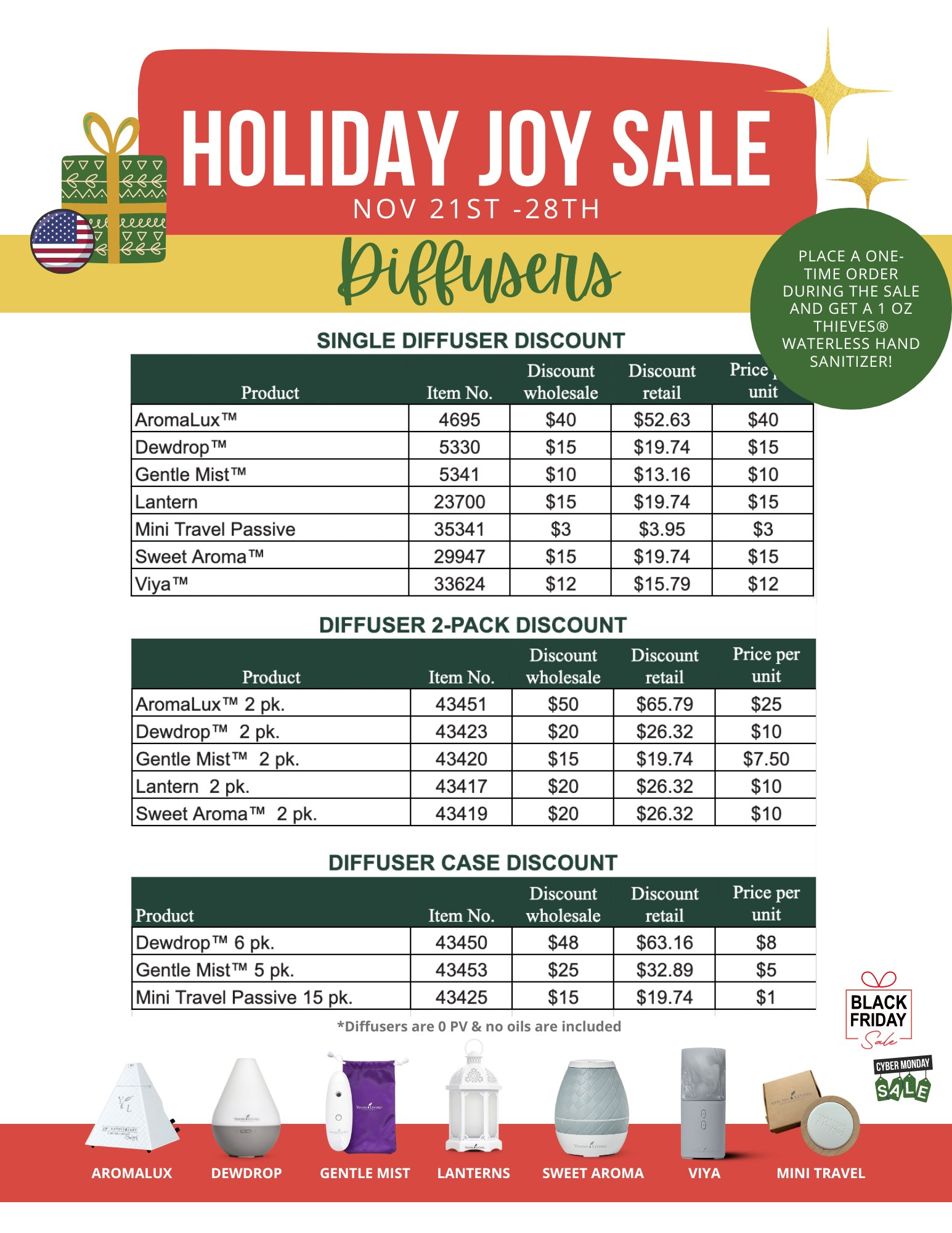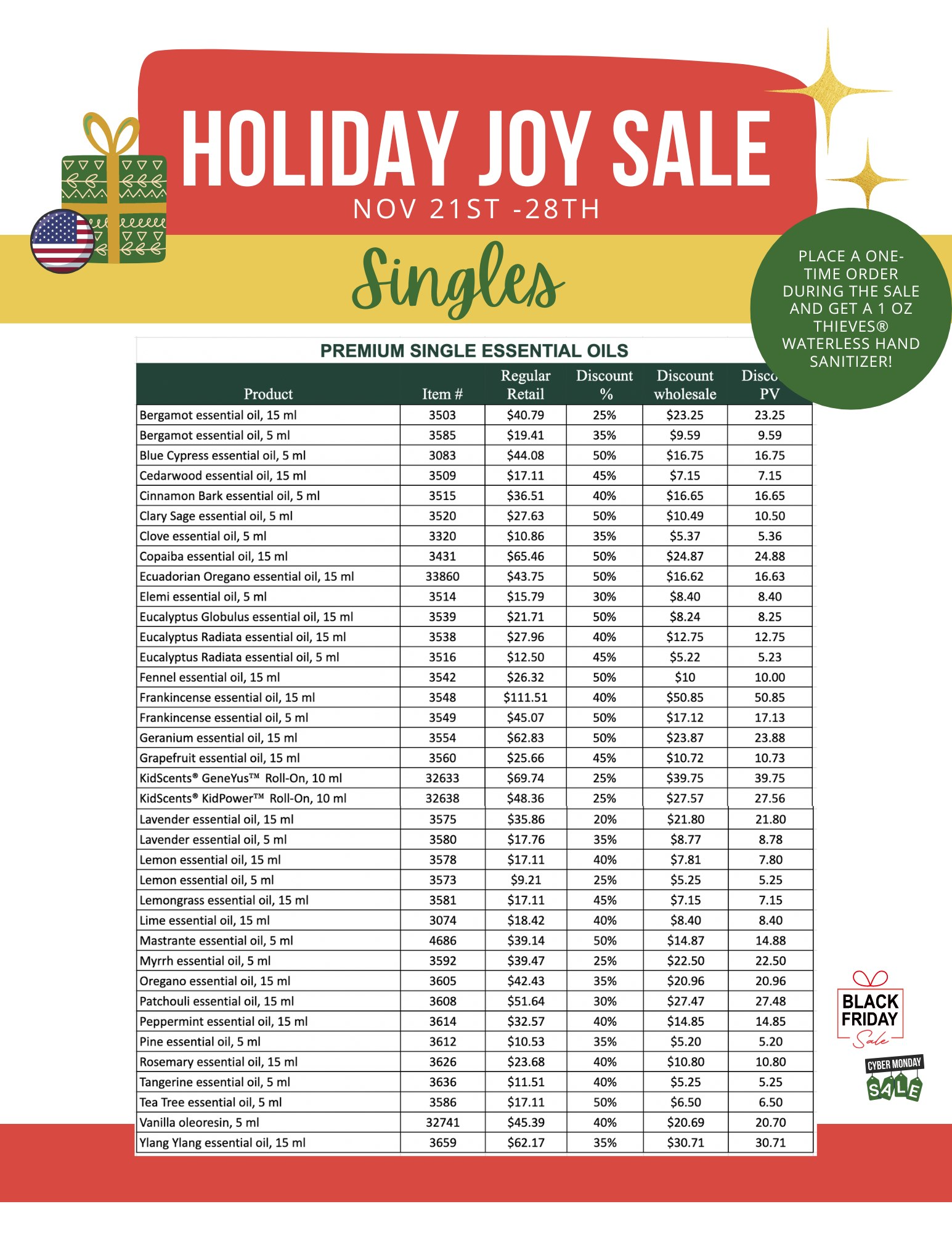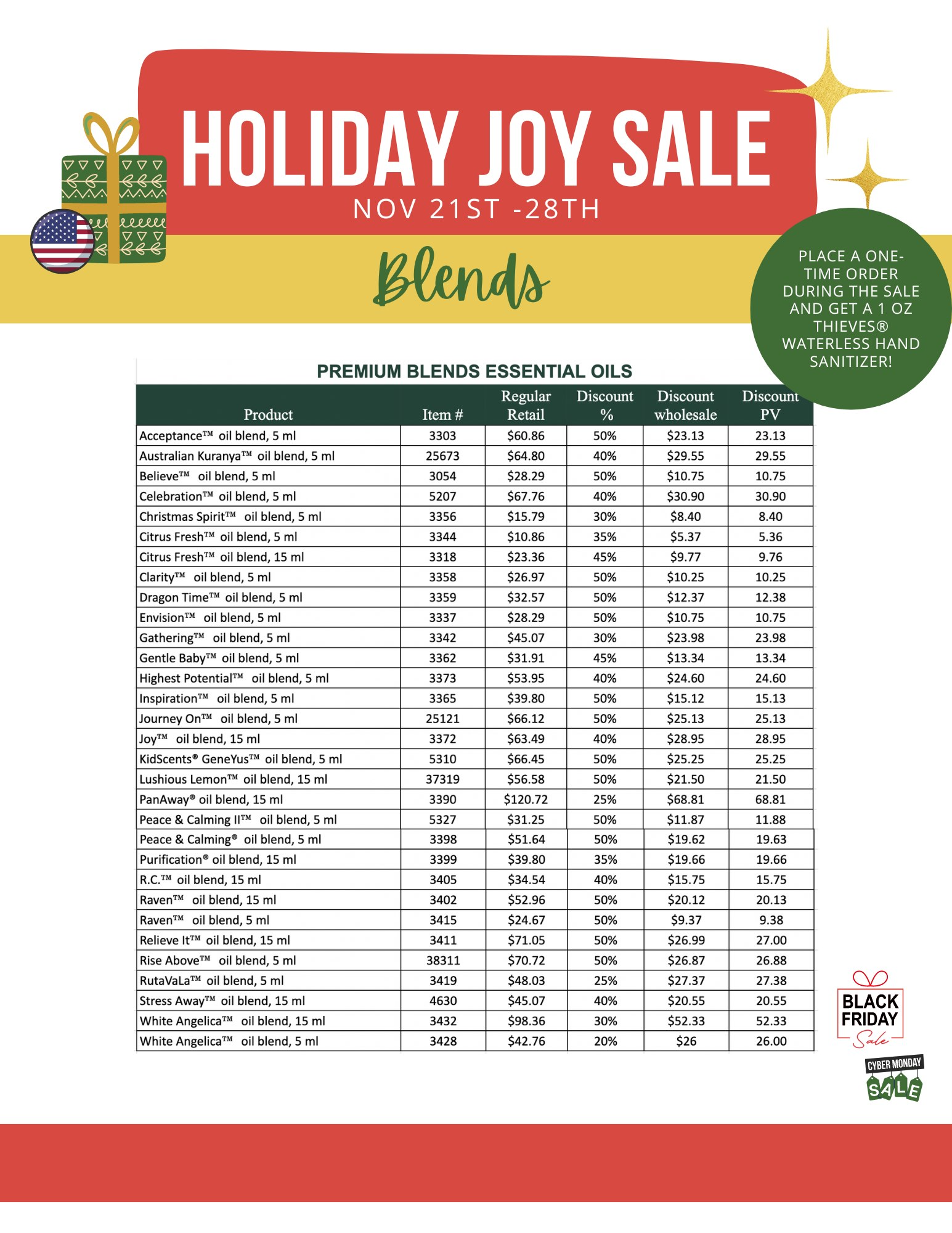 One final note. I am a big believer in speaking words of life over yourself and those you love. That being said, here's a sentence I have written down next to my bed and on the fridge that I say many times a day. It's a great reminder to keep going, smiling and being grateful!
I AM WHOLE, PERFECT, STRONG, POWERFUL, LOVELY, HARMONIOUS AND HAPPY!
Now go out and conquer life! Until next time...
☀️ ☀️ ☀️ ☀️ ☀️ ☀️
and p.s.-- if you or anyone you know is looking into Solar Power for your home or commercial business, Reach out! I would love to share with you how you can lower your monthly utility expenses! Permanently! with no money out of pocket! Let me help you help your wallet and the environment!
Jul 11, 2022 10:09 AM Central
Casey Forte
belief, essential oil recipes, essential oils, lifestyle choices and changes, mindset, moving, newsletter, ocala, personal growth, seedlings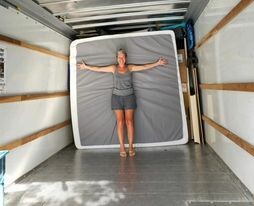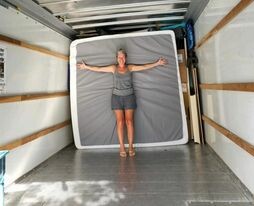 Well, lots has been going on recently and I'm so grateful for it all. Life is full of change and growth, if we allow it. Yesterday was a huge day for me. I did something I said i would "never" do. I moved back to Ocala, Fl. The town where i spent most of my adult life. The town I said I had to leave because I outgrew it. Well, God has a sense of humor because I'm back 6 years later. I'm back, but with a different mindset. a different side of town, a different attitude. And I'm grateful for all of it. Every single thing! ❤️
That being said, I'm still doing what fuels my heart. Sharing a healthier lifestyle that includes a lot of wonderful ways to use plants! I've been with Young Living now for over 7 years and my passion in the products and company has only gotten stronger. Why? Because they freakin work wonders. Because, I keep seeing lives TRANSFORMED by the use of these products. Because my life has been transformed, and I've been given another shot at life. A do-over, I believe. A reset! But that came at a cost of changing the things and ways I used to do and be. A cost I would gladly pay over and over. The transformation is fulfilling in ways I can't explain in words but only feelings ❤️
Hurt. Pain, sorrows, past regrets, past struggles, past shoulda, coulda, wouldas. All of these things happen to everyone. Yep, every single person. The difference between being burdened and free is simply learning to RELEASE! Let go. Allow.
In those things comes peace. In those things comes freedom. In those things comes joy. But you gotta let that shit go first.
I challenge you to drop some of the past burdens you've been carrying for way too long and learn to allow new, better experiences to fill your heart and mind instead.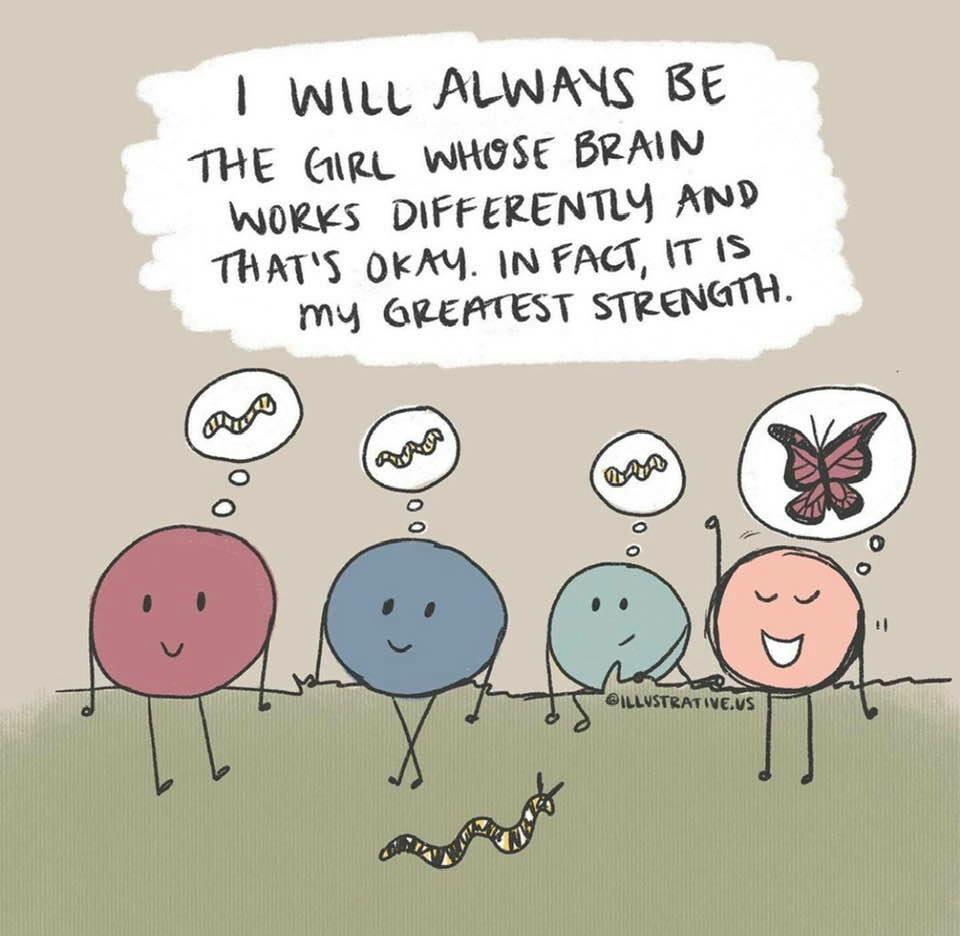 ---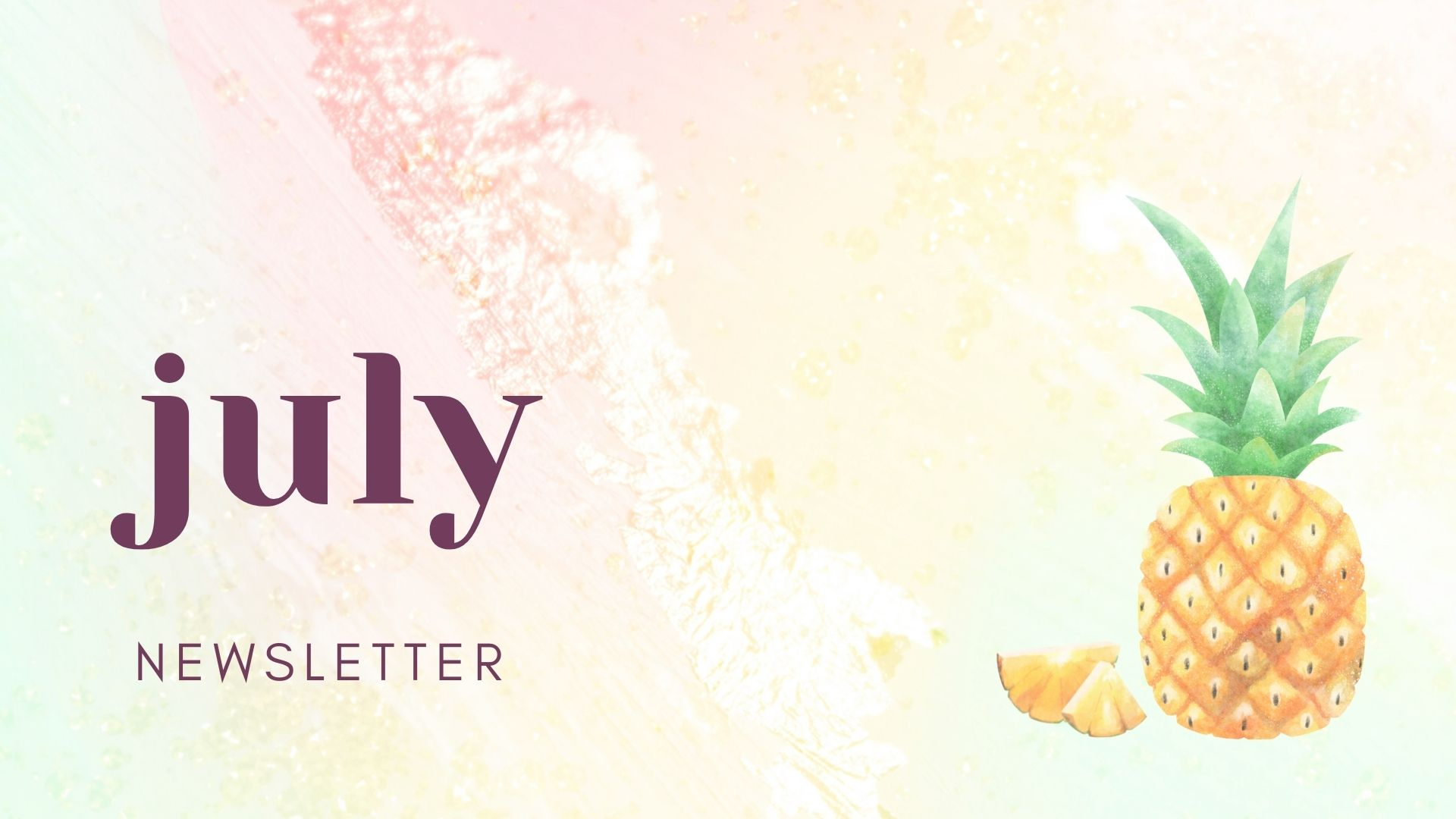 Hello, July!
Let the fun begin - it's officially summer! Grab your sandals, floppy hat, and head outside. Time to soak up those rays and bask in the glory of warmer weather, fun get-togethers, vacations, county fairs, and more. And don't forget your oils! Start each day with a smile when you give these fruity diffuser recipes a try…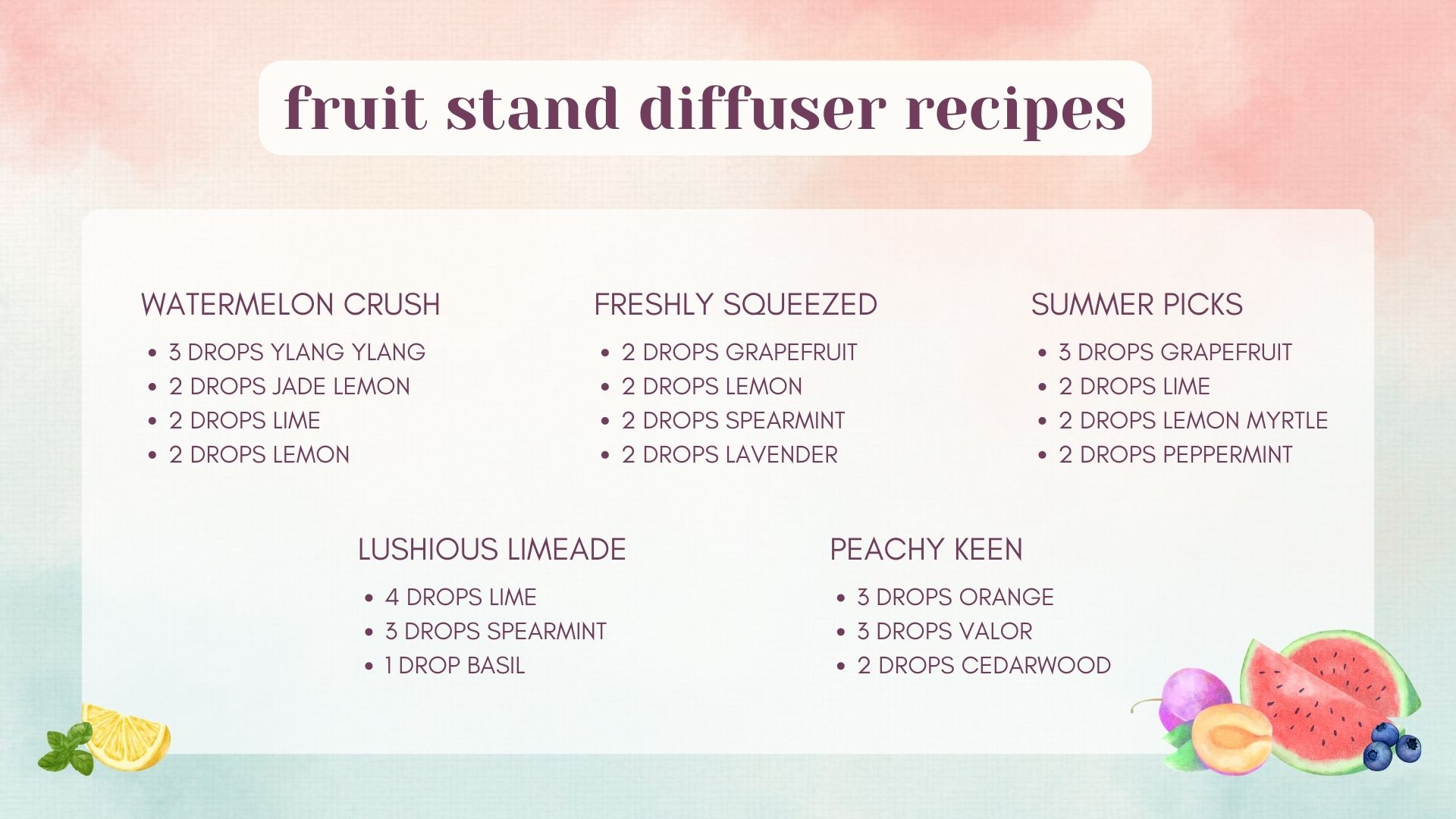 :::::::::::::::::::::::::::::::::::::::::::::::::::::::::::::::::::::::::::::::::::::::::::::::::::::::::::::::::::::::::::
Star or flag this message so you can refer back to it all month long!
Monthly YL Gifts with Purchase + Recipes

July Wellness Box Ideas

Young Living in the Kitchen

Product Spotlight

Important Announcements

Upcoming Events
---
Monthly Gifts with Purchase
When your order hits one of these PV levels you will receive the corresponding products for FREE! Look at everything you get for free when you hit 300 PV!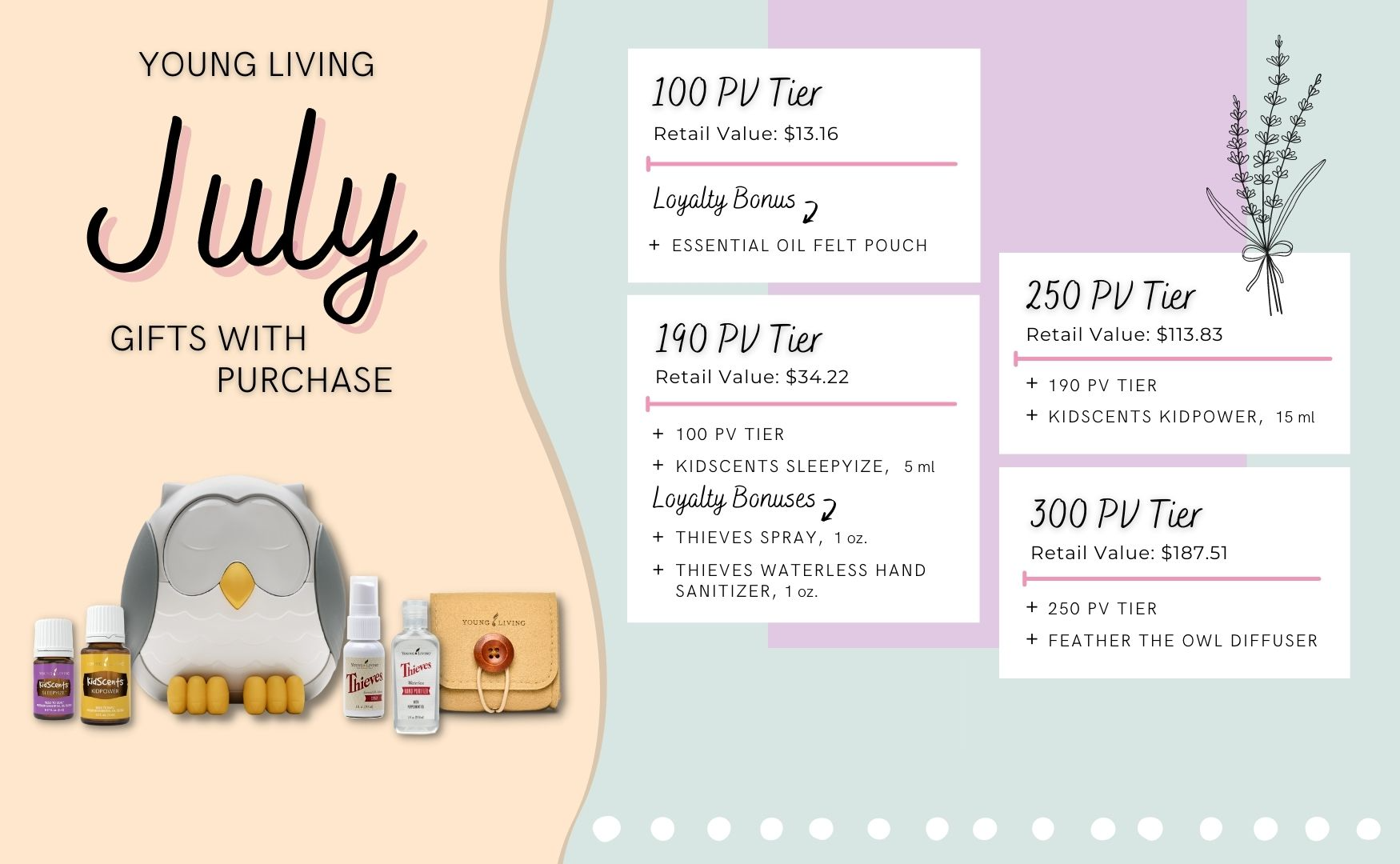 *Receive the Loyalty Bonuses when your order is placed through the monthly loyalty program, which is the best way to save money and support your health. If you need more details on this, let me know!
Recipes Using Your Monthly Gifts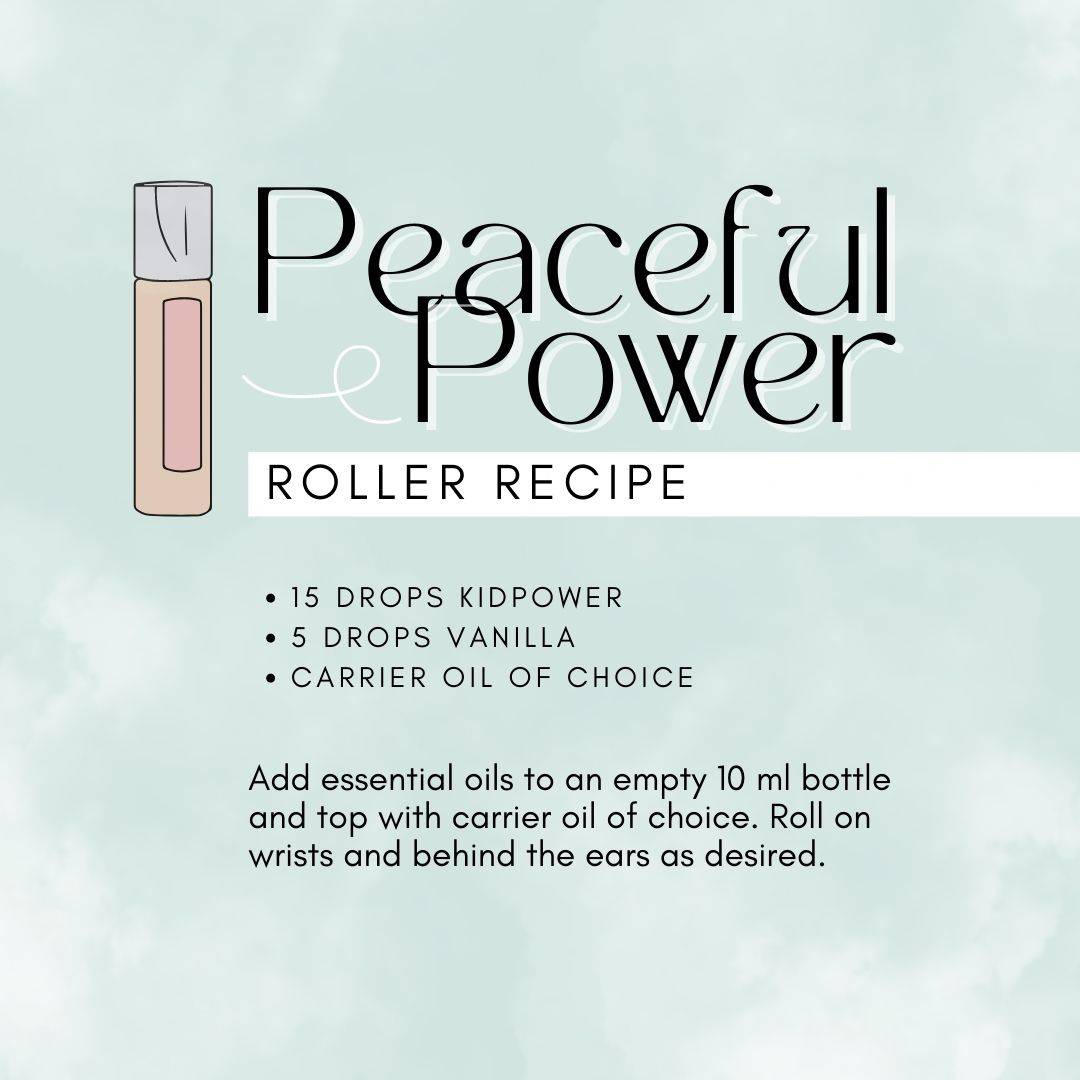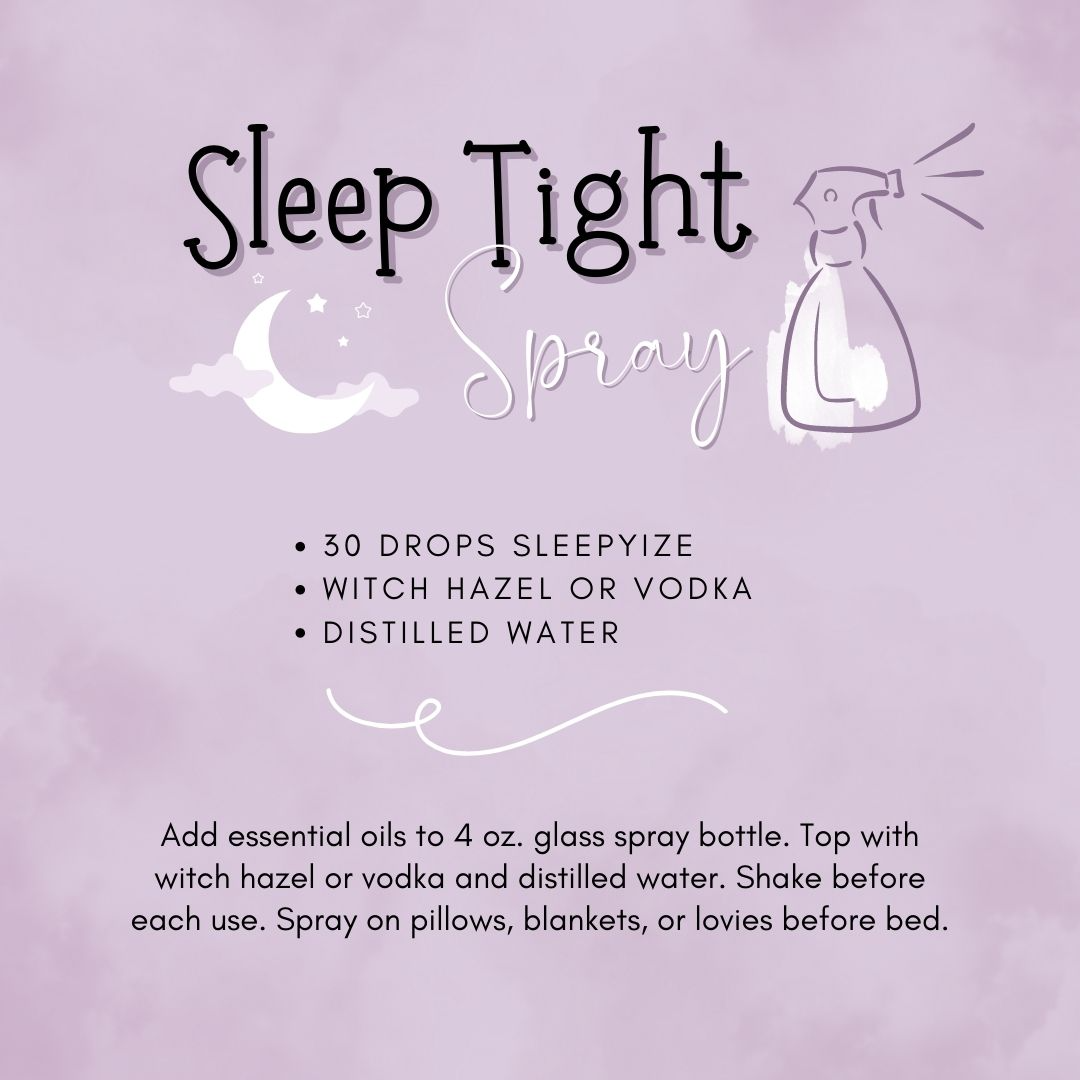 July Wellness Box Ideas
As the summer continues, do yourself a favor and have your favorite oils and YL products on hand. Make sure to login and set up your monthly wellness box to reflect the plans you've made!
Find the items you want, and click "Add to Loyalty Order." Add at least 50 PV to your box and you'll earn points to spend on future one-time orders! Add at least 100 PV to your box and you'll automatically get a freebie added to your cart!
You can then hop on and pick new items for the next month and save items for later. It's simple and completely customizable. Here are some ideas for your July box…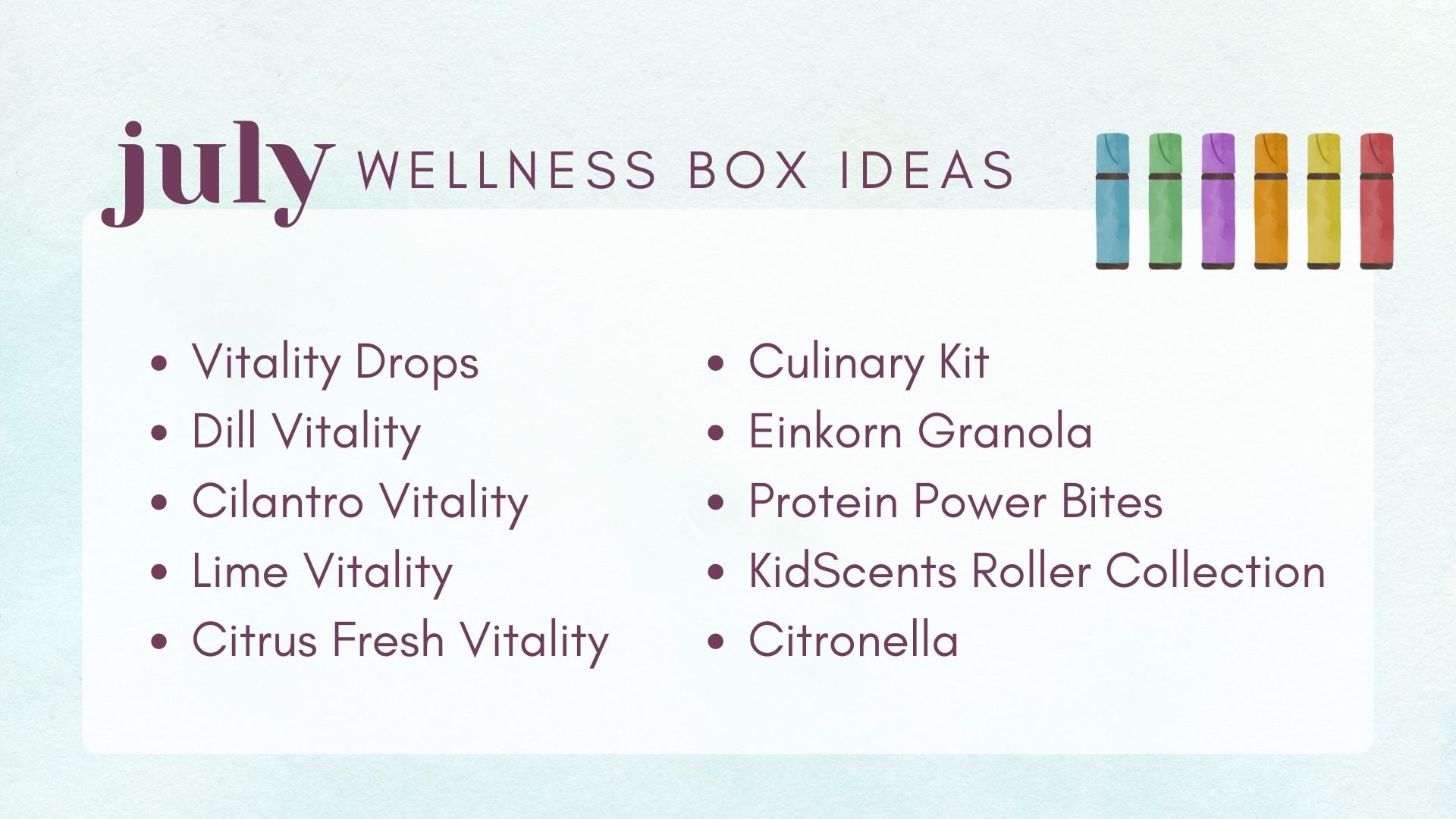 Young Living in the Kitchen
I don't know about you, but I am all about a tasty summer salad. You get to enjoy those garden-fresh ingredients while not overloading your stomach. Plus - it's healthy! It's a win-win.
If you want to take it up a notch, do yourself a favor and whip up this simple vinaigrette. You can even play around with the Vitality oil and take it in a different direction. Try it and let me know what you think!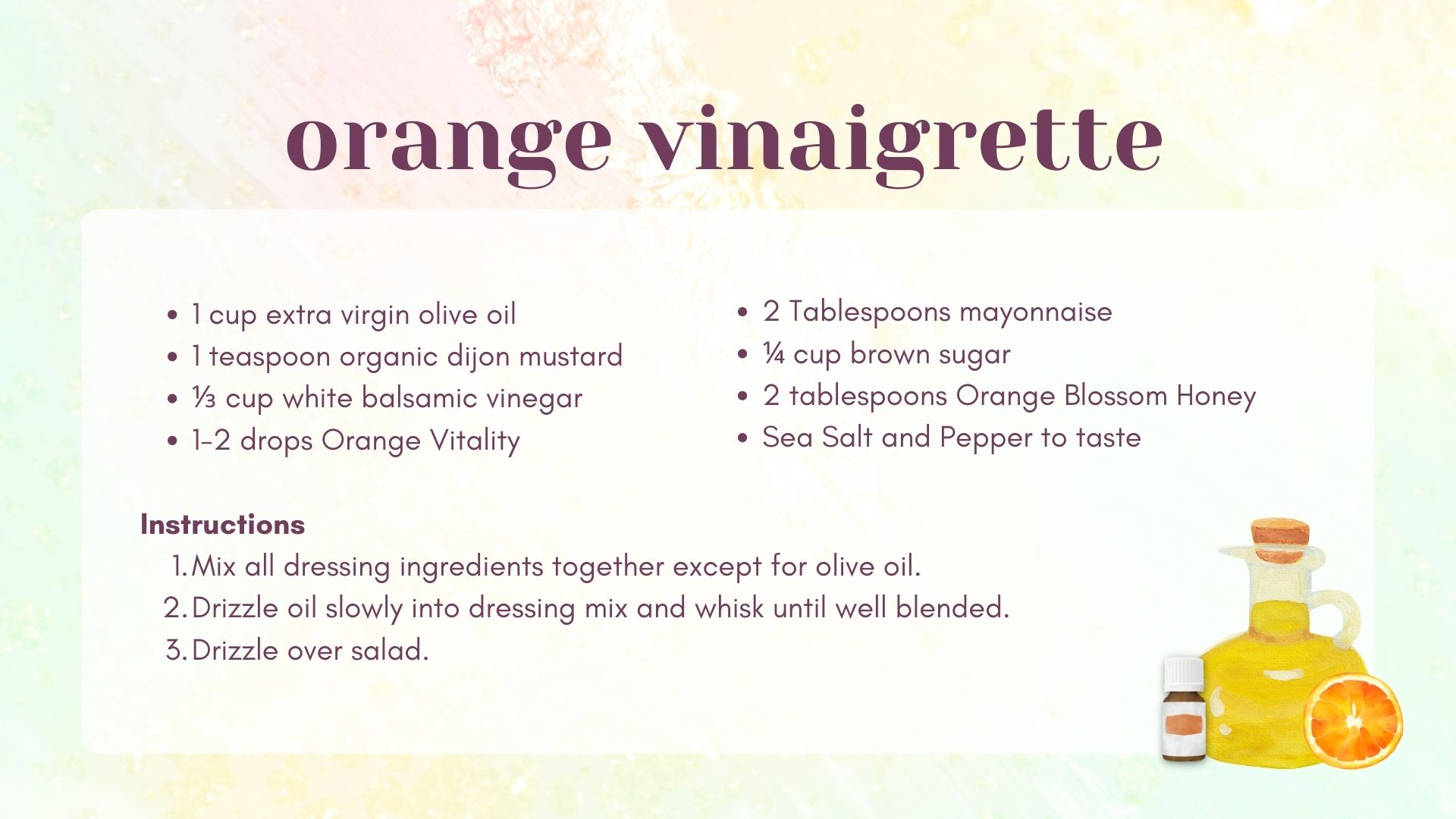 Fun Fact:
Orange Vitality essential oil is cold pressed from the rinds of the fresh, juicy fruit. It also provides digestive and immune support when taken as a dietary supplement.
Product Spotlight
Babies want to enjoy the summer too - so we can't forget about them! Their skin deserves to be washed in something gentle and beneficial to their bodies. Ditch the stuff filled with synthetic fragrances and harsh chemicals and replace it with something you can love and trust… like Seedlings Baby Wash & Shampoo. It's formulated without sulfates, parabens, phthalates, petrochemicals, animal-derived ingredients, synthetic preservatives, synthetic fragrances, or synthetic dyes. Oh - and it can be used on older kids and adults too!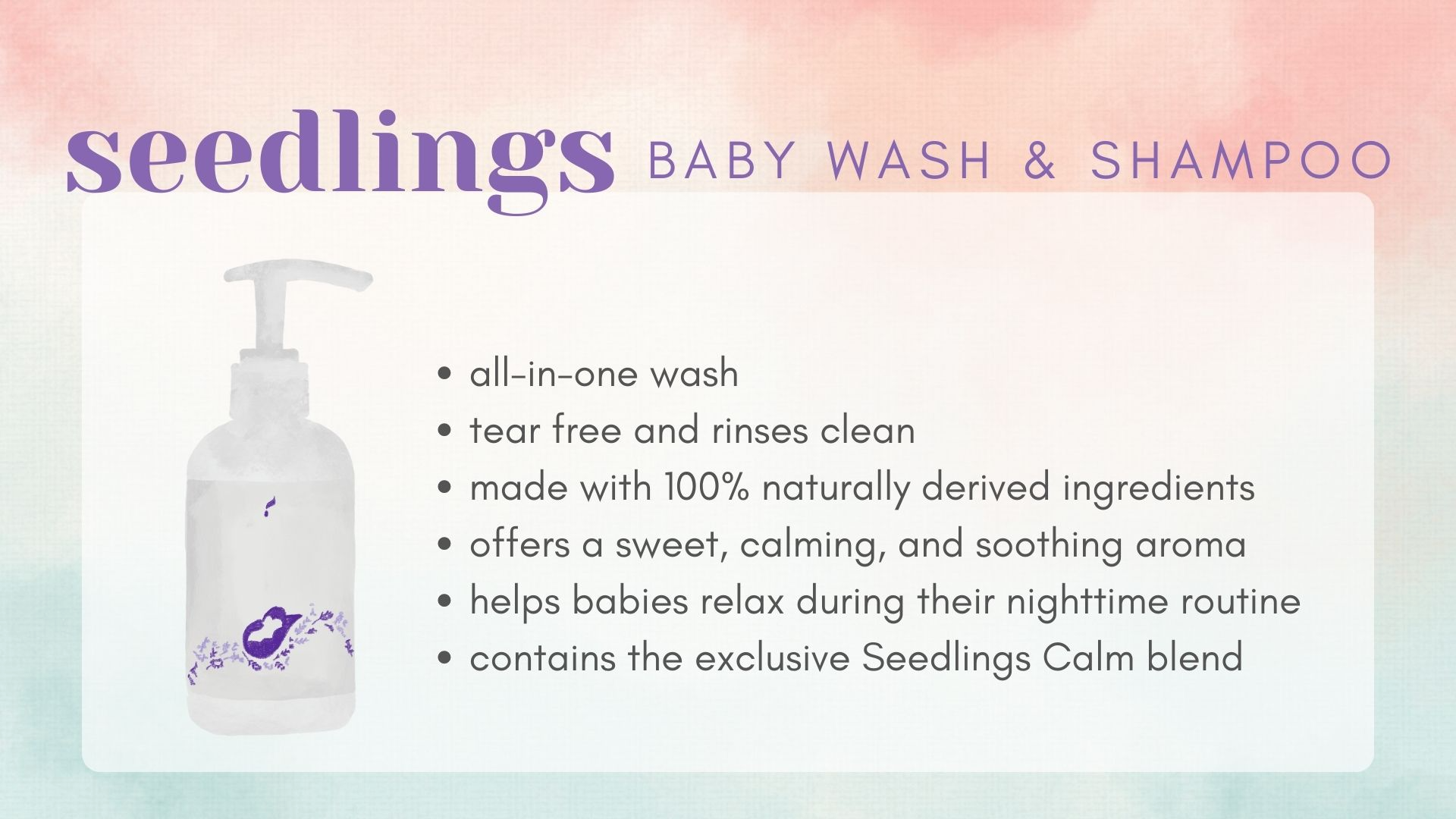 Important Announcements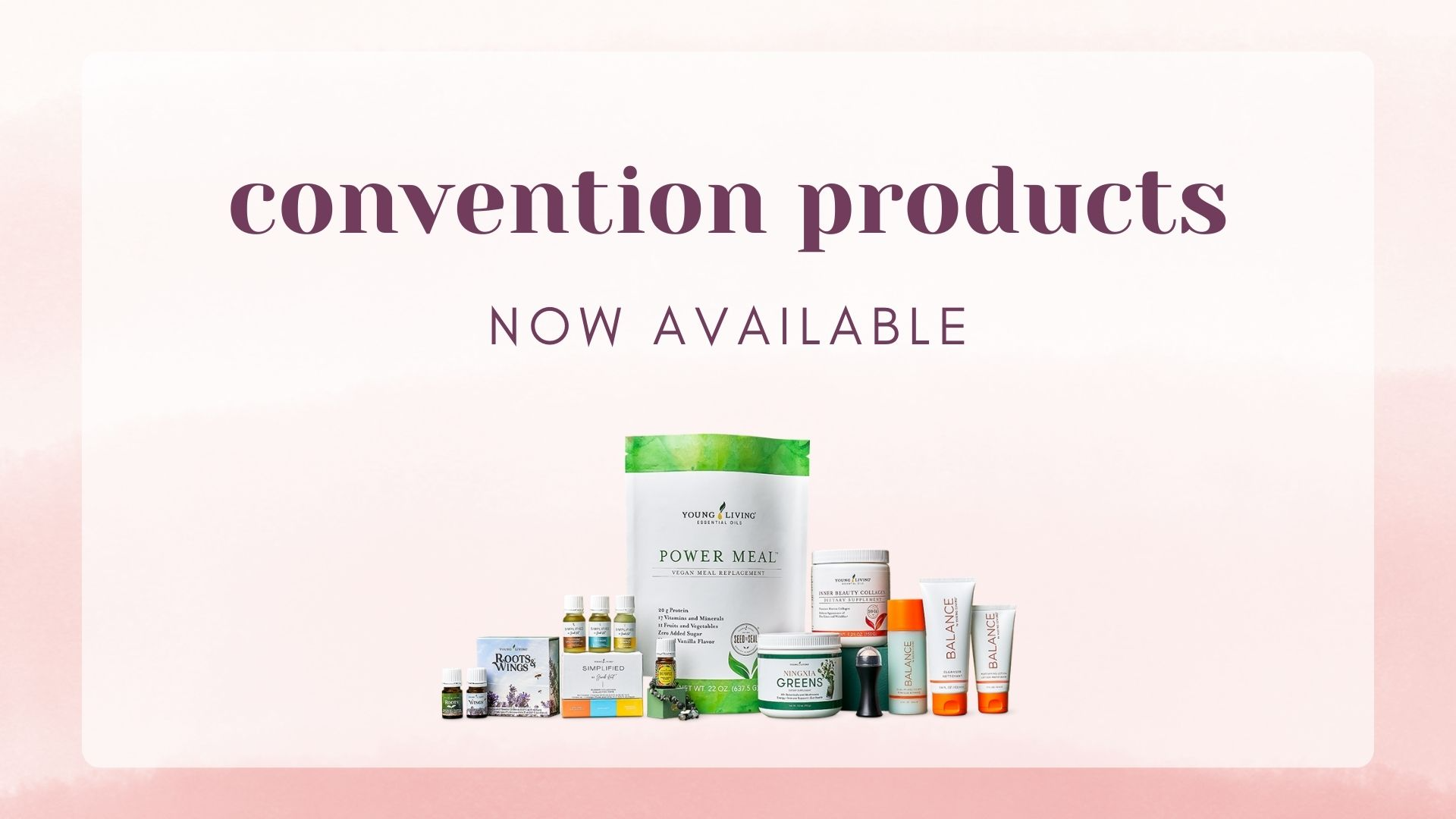 The long-awaited 2022 U.S. & Canada Convention products are here!
See what's new in essential oil blends, plant-powered nutrition, and skin care staples. Ordering opened up to non-attendees on June 20, and products will be available on loyalty/monthly orders beginning July 1. No order limits apply, so snag as many as you want while supplies last! To see the new products, go here:
https://sway.office.com/Xdp1kA2VLDTE6G8M?ref=Link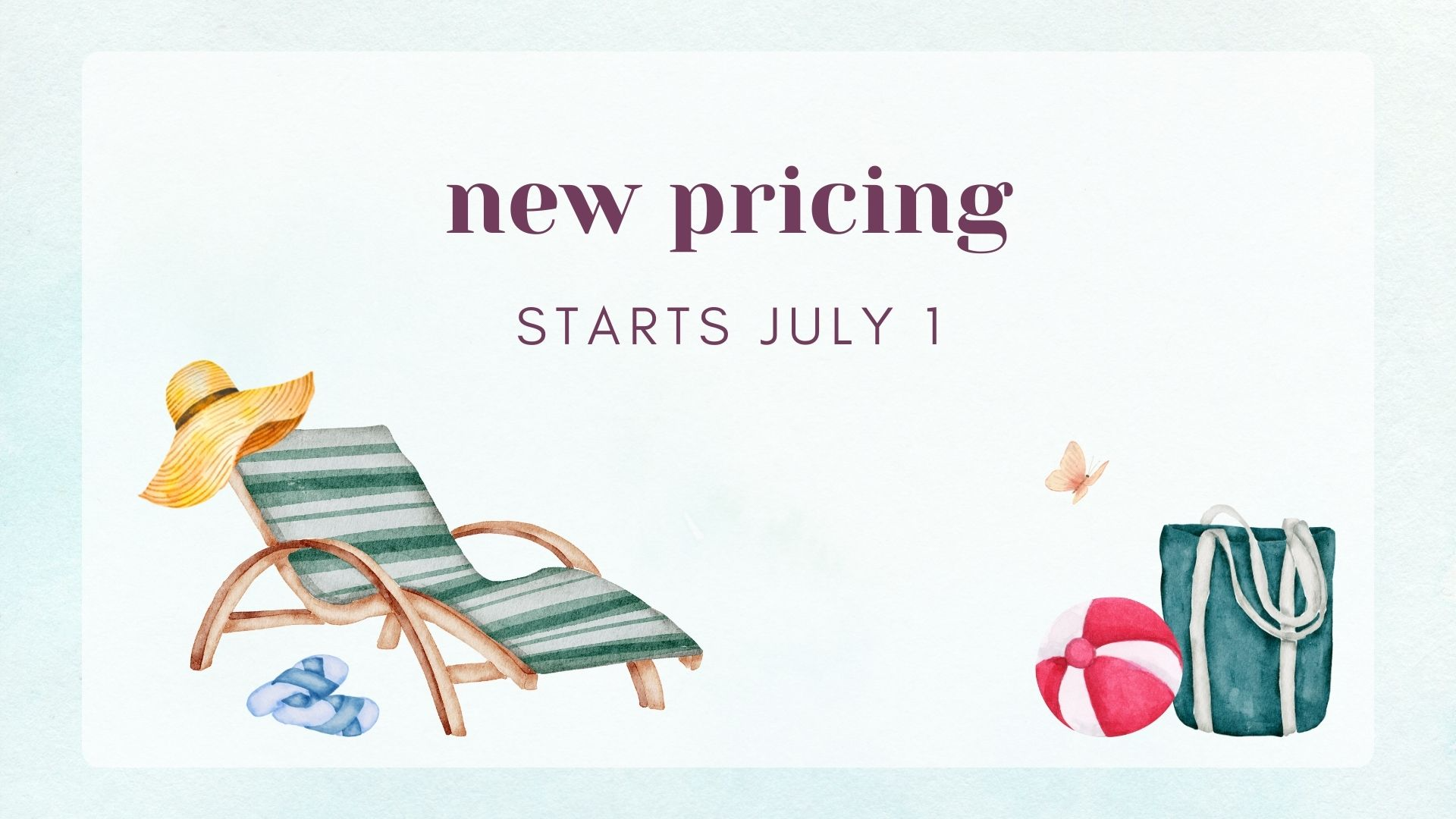 Upcoming Events & Classes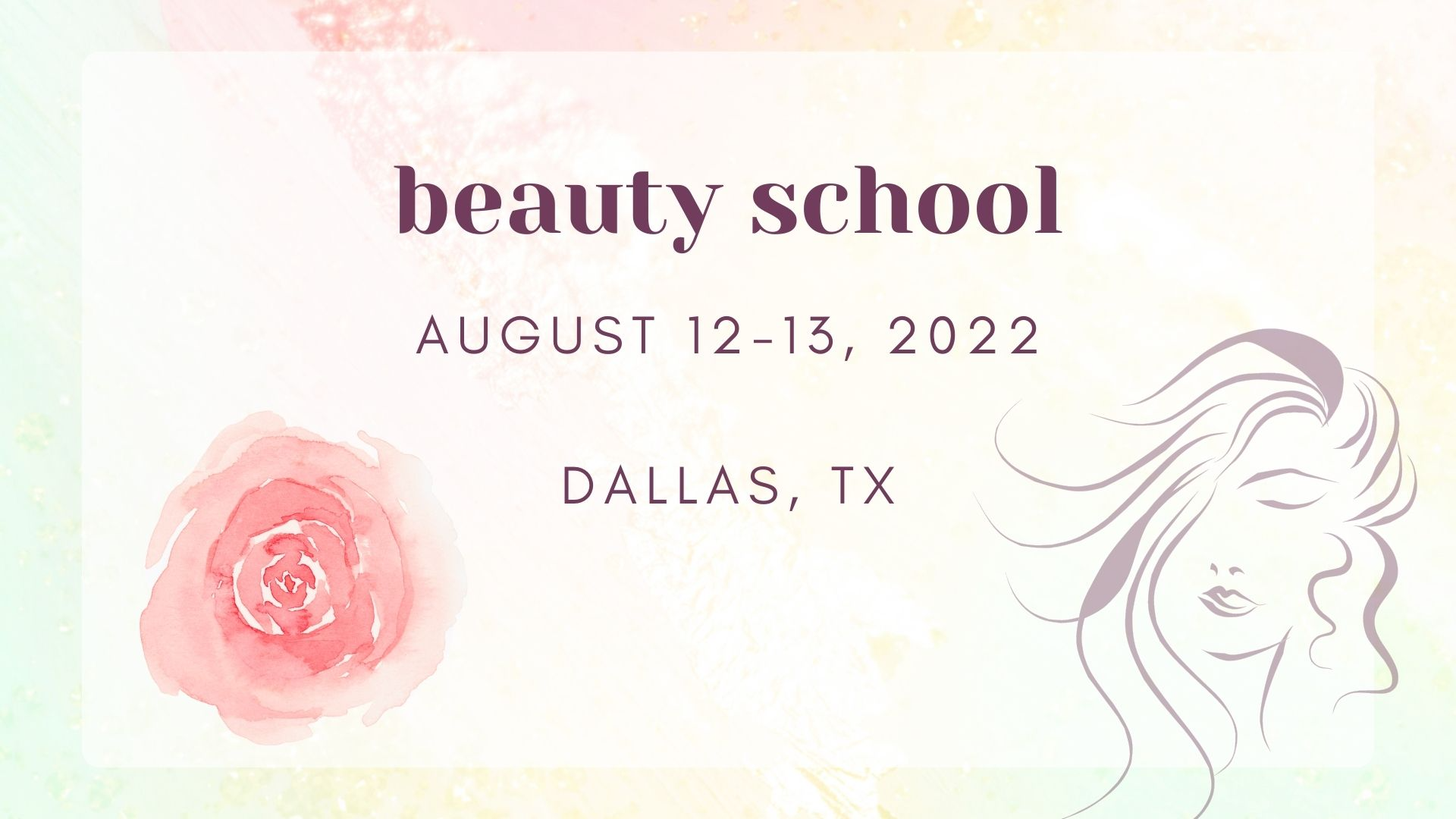 Beauty School is back in session in Dallas as a live event! It includes the first-ever Beauty Banquet, a special recognition dinner for you and your team! It is also the first in-person Beauty School in almost two years, so they're putting extra care into the kind of fun that you can have only on site, including professional headshots with makeovers, massages, and more. Come to fun classes, sample products, and do some work (and play) out of the house! Go here to learn more and register:
https://web.cvent.com/event/3d1d914c-bff4-4f89-9805-d53f7673fd03/summary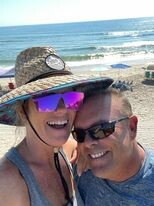 Thanks for getting to the bottom of this email and as always, I'm here as your personal shopper and guide for all things YL! If you're ready to start your journey of wellness, just reply to this email or call me. 352-427-2497.
Here's a link to some of my fave items
I look forward to your call! Blessings and light to you and your family.
Casey Forte