Aug 30, 2022 10:35 AM Central
Casey Forte
all natural, antiperspirant, baking soda, changes, coconut oil, corn starch, deodorant, ditch and switch, diy, essential oil recipes, essential oils, homemade, lavender, make at home, mindset, natural alternatives, natural lifestyle, natural swaps, networking, stress away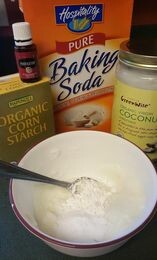 Did you know that our body is meant to sweat. That's a huge way our body gets rid of the toxins we are exposed to daily. Years ago, I changed from heavy duty antiperspirants, that rarely even worked, to a healthier, homemade version! Antiperspirants contain aluminum, to stop the sweat, which is a huge no no for our health. Did you know that aluminum is a huge cause of breast cancer? They don't advertise that well known fact. What can you do instead?
Say no to conventional deodorant and say hello to natural, effective homemade deodorant that really works. It's easy to make, last for months, and only takes minutes to make!
This is a recipe I have used for years and honestly, it's the best I've ever tried! Discover the luxury of deodorant made from your own home. Coconut oil, essential oils , baking soda and corn starch are combined to create a healthy, all-natural alternative to store-bought deodorants. You can even choose the scent!
5 TBSP cold pressed organic coconut oil
1/4 C Corn Starch (can sub arrow root)
20 drops Young Living Essential Oils of choice (I love to use stress away or lavender, but you can choose what you like)
Mix this all together and store in a glass jar. This can also be put into an empty deodorant tube and kept in the fridge if you like that sort of thing.
If you need to order some oils for this recipe, I got you!
Happy healthy day to you!