Nov 20, 2022 06:00 PM Central
Casey Forte
affirmations, belief, believe, bioaccumulation, black friday, blends, blessings, blog, explore solar power, facial care, gratitude, healing journey, health and wellness, sale, single oils, SKIN CARE, solar power, wellness
Hey there!!!!
I'm so glad you're here! I want to wish you a a happy holiday season kick off. And if you're into soccer, Enjoy world cup starting Monday!! Thanksgiving is just a few days away and I wanted to share this blow out of a sale that is going to get you excited to stock up and even get tons of gifts for your family and friends.
But first, I want to share a video on gratitude.
Gratitude
❤️ Because gratitude is the source for everything in your life. Gratitude is the key 🔑 for all good things to come to you! I am grateful for you and am throwing in another video on the topic!
More gratitude!
And on that note, I'm extremely grateful for Young Living and the opportunities they've given me to have a natural lifestyle. I'm grateful for the body's ability to heal when I quit using toxic products. If you're struggling with your health, hormones, weight, or just want you and your home to smell good naturally, I would love to help you get pointed in the right direction! Just reply to this email, and we can get you a custom link for what you want!!!
Oh, I almost forgot, I'm doing a giveaway this month!!! I am giving away 10 bottles of Christmas Spirit oil! That's right! Only thing you need to do to get entered is place a 100 pv order! That's it. Nothing to keep track of and at the end of the month, I'll pull a report and draw 10 lucky winners!!!! Drawing the first week of Dec! My way of showing gratitude to you! I appreciate you.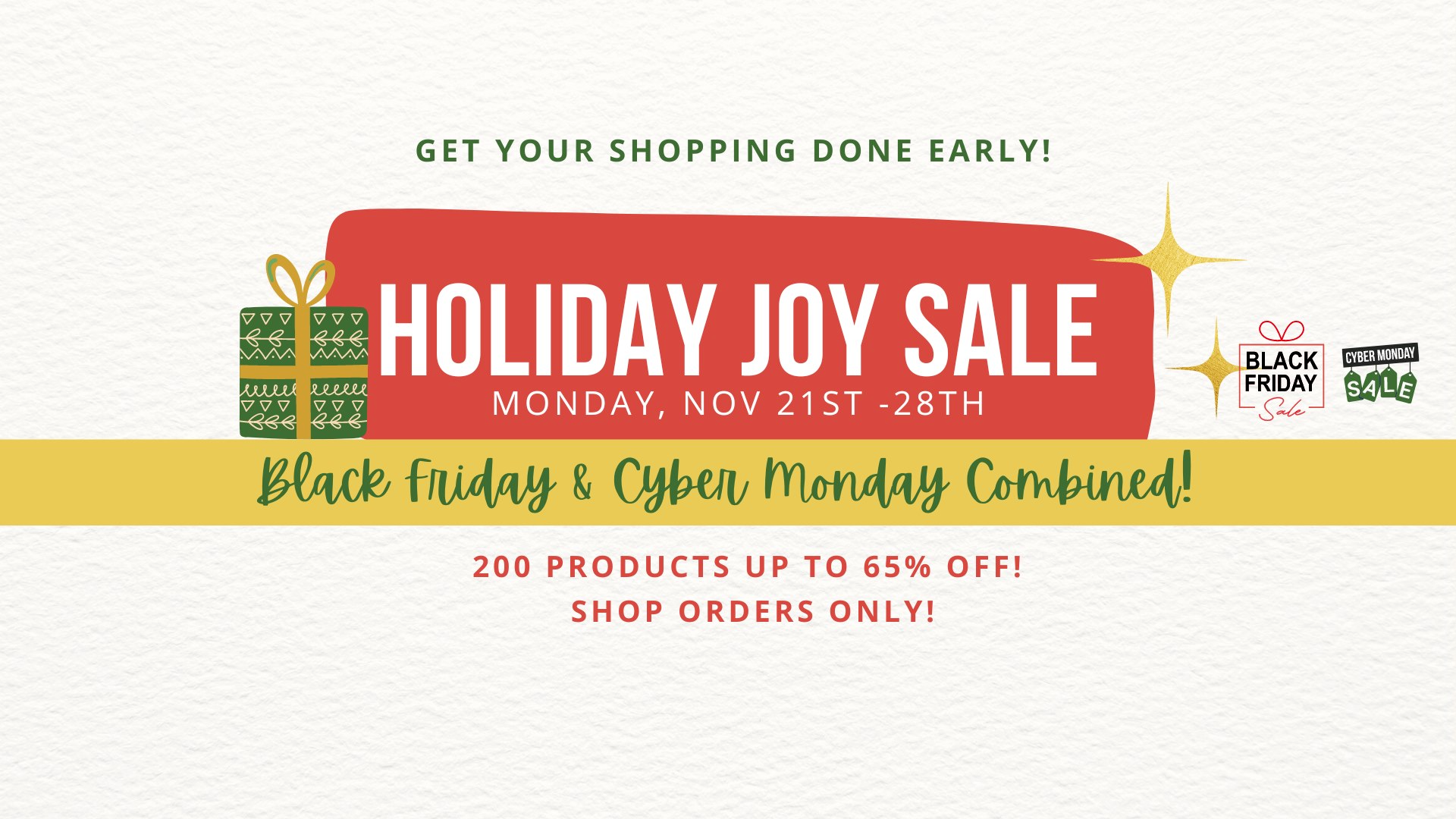 📅 Offer valid November 21 at 9 am MT (11AM EST), through November 28 at 11:59 pm MT (1:59AM EST)!
🛒 One-time SHOP orders only for U.S.
🎁 Free 1 oz Thieves Hand Sanitizer Gift with each order!
🛍️ Shop while supplies last without order limits!
check out the sale items listed by
category
check them out listed by
price
HAPPY Shopping!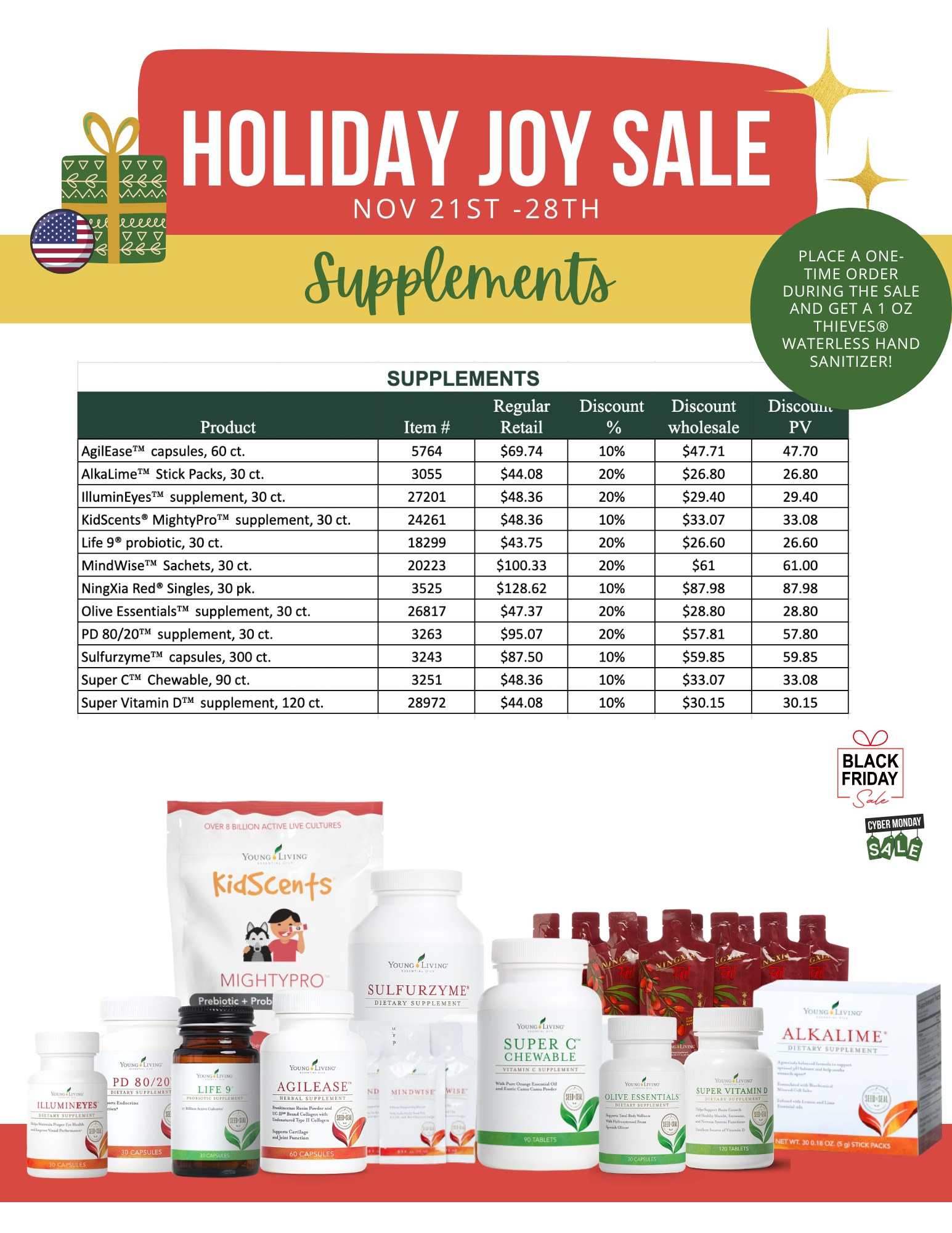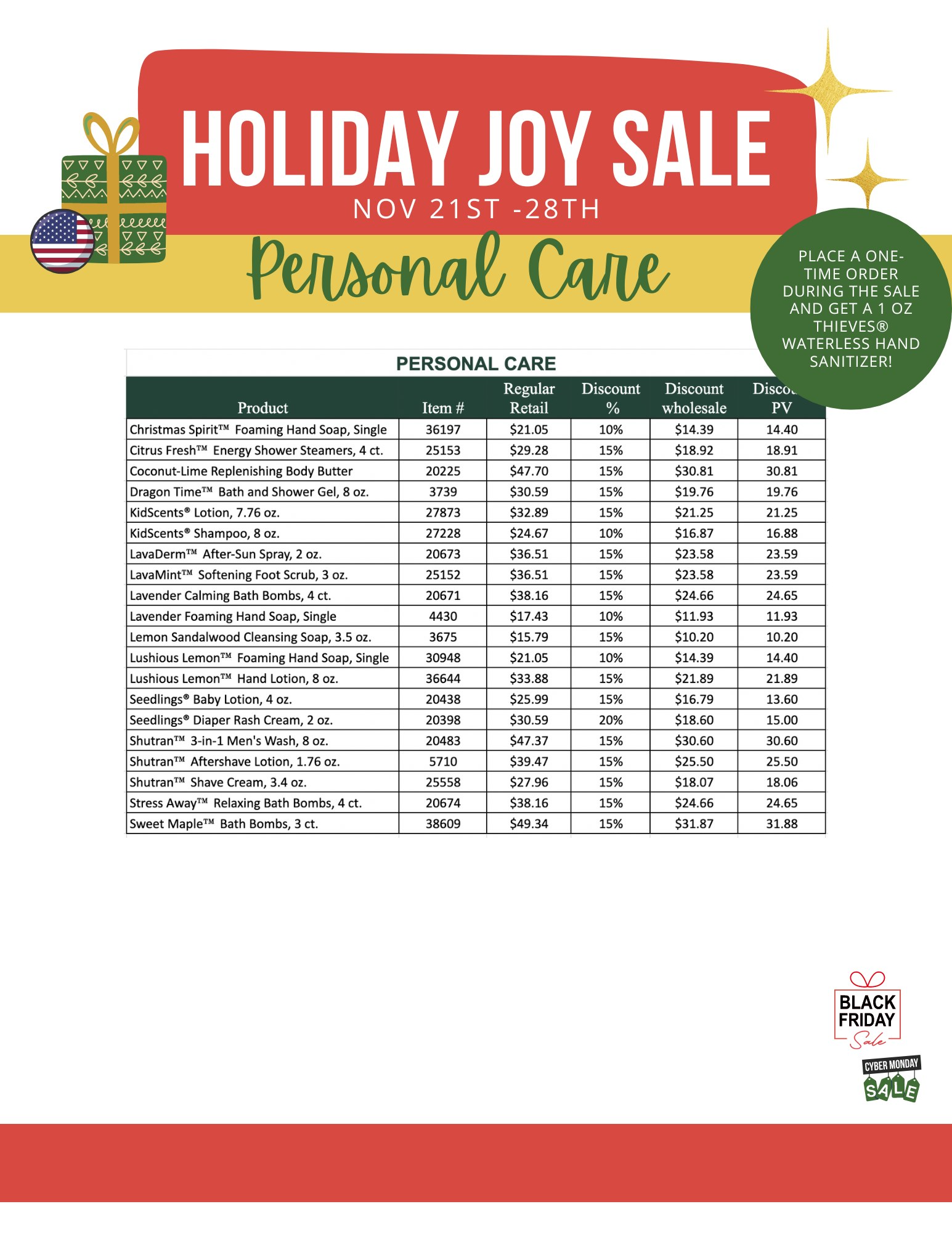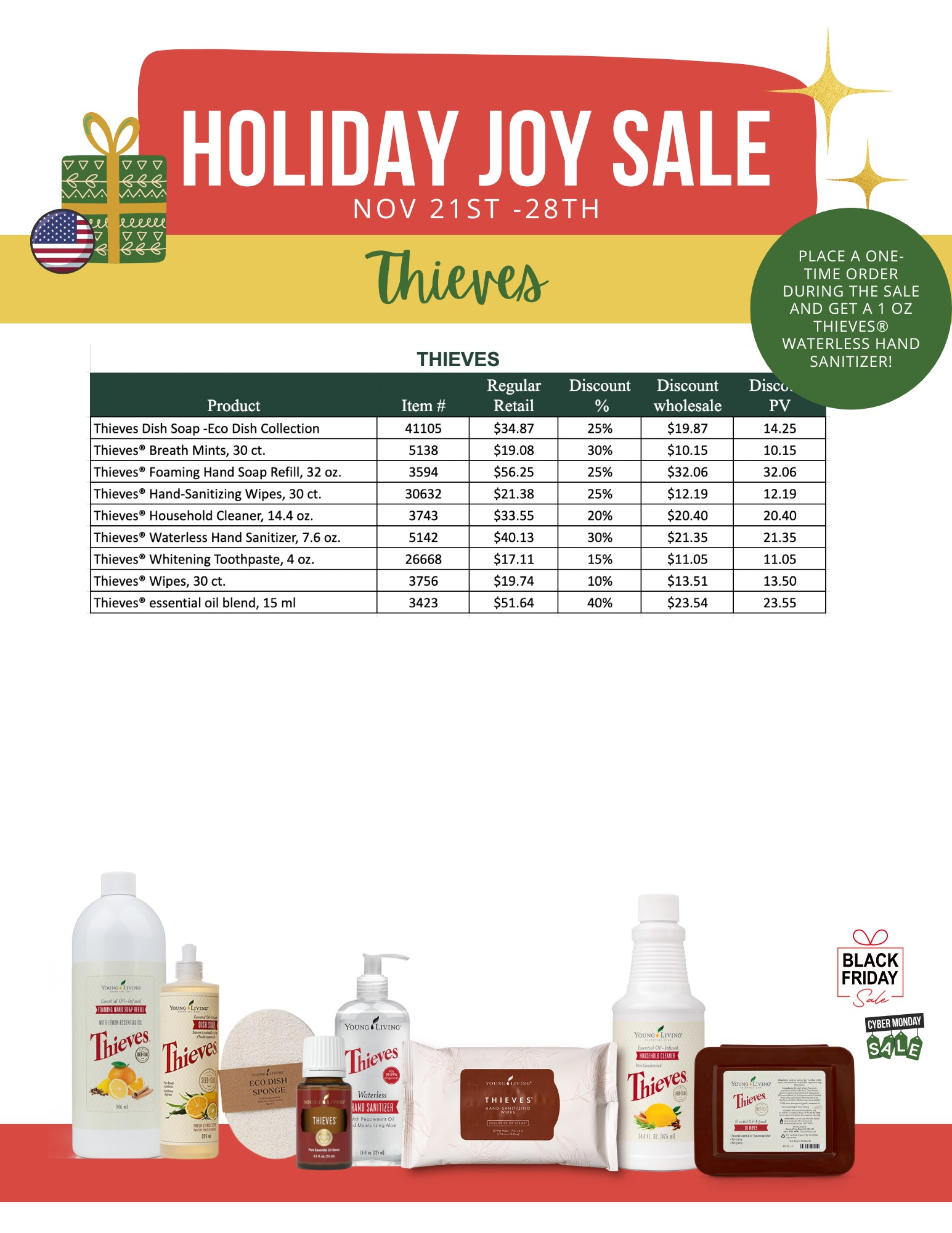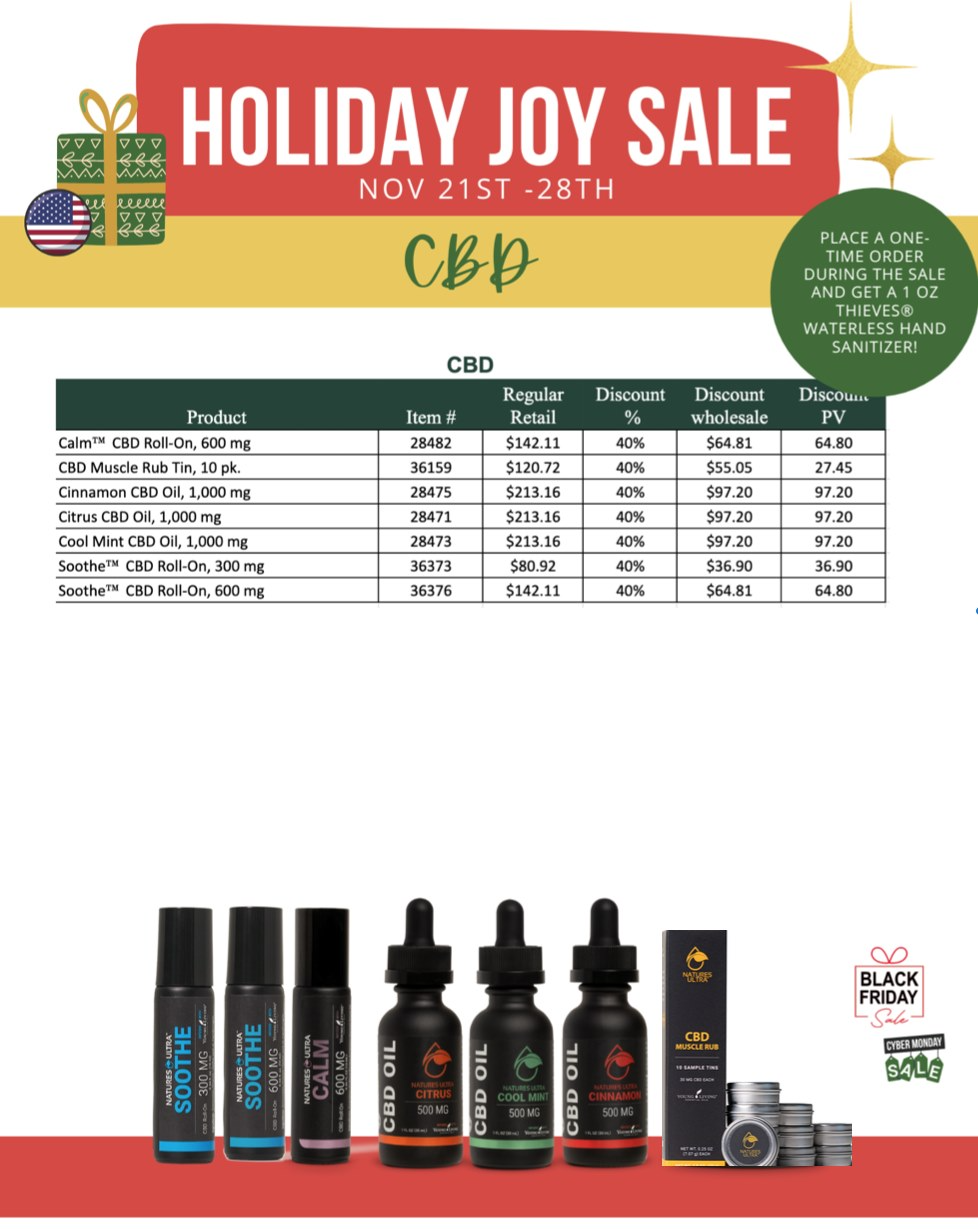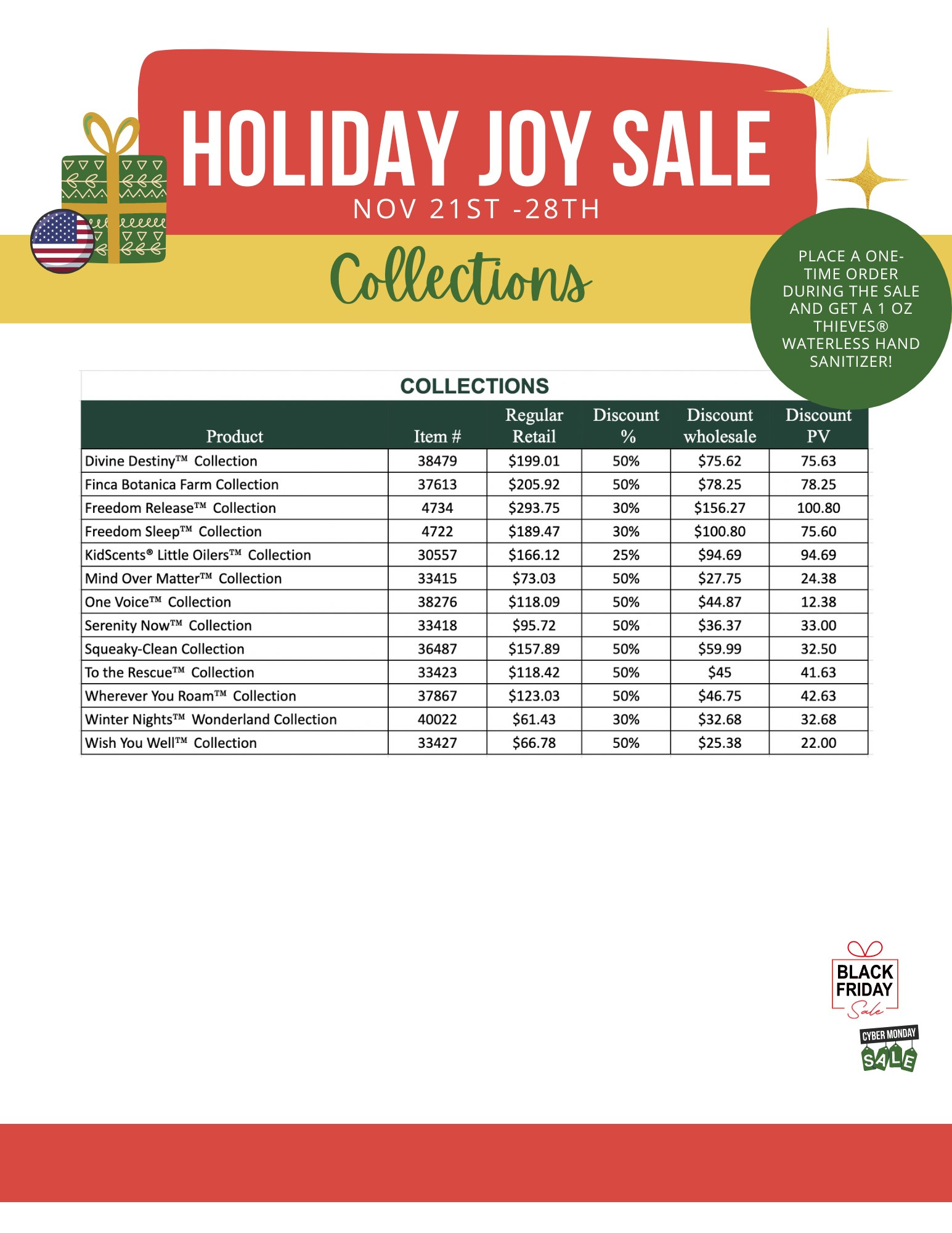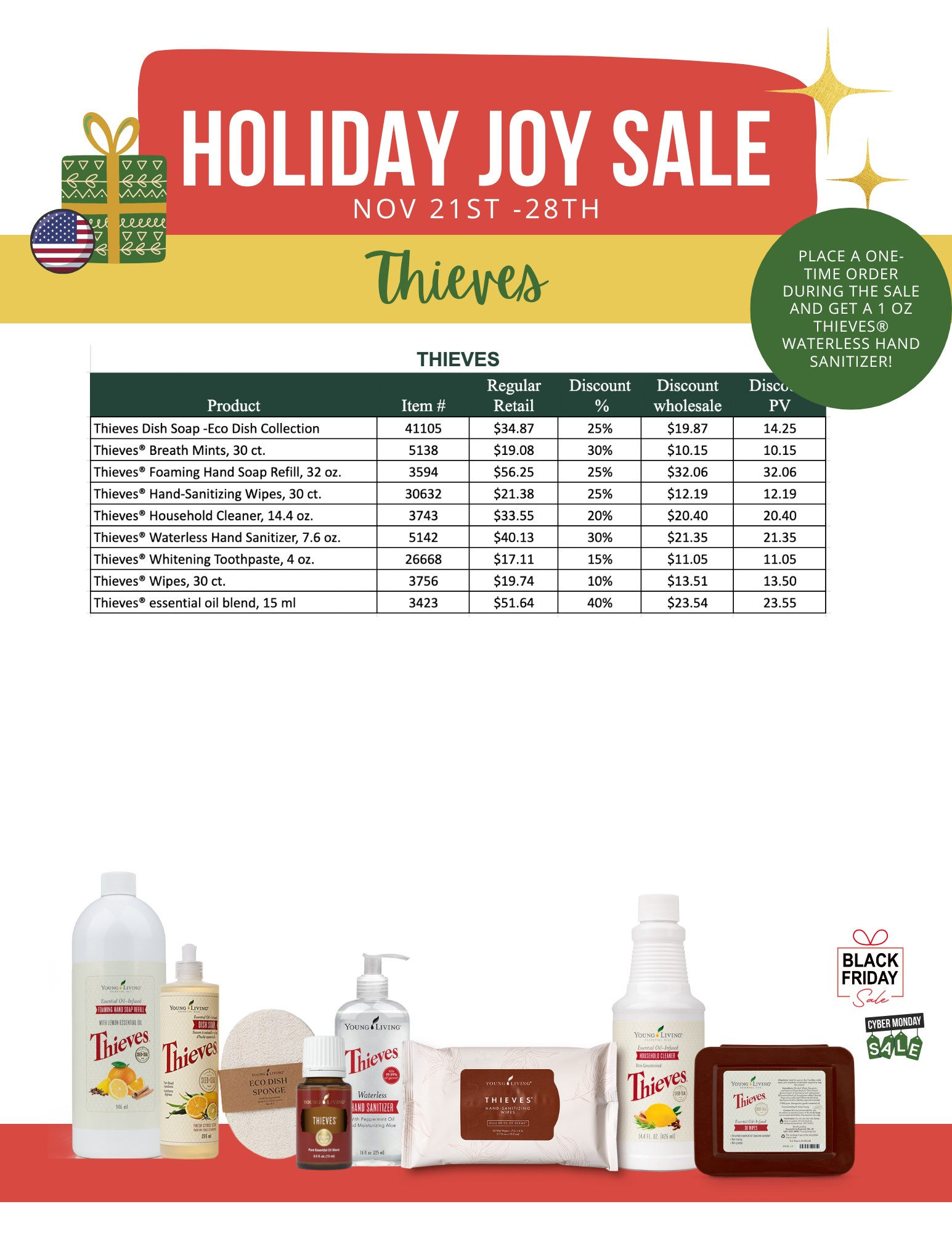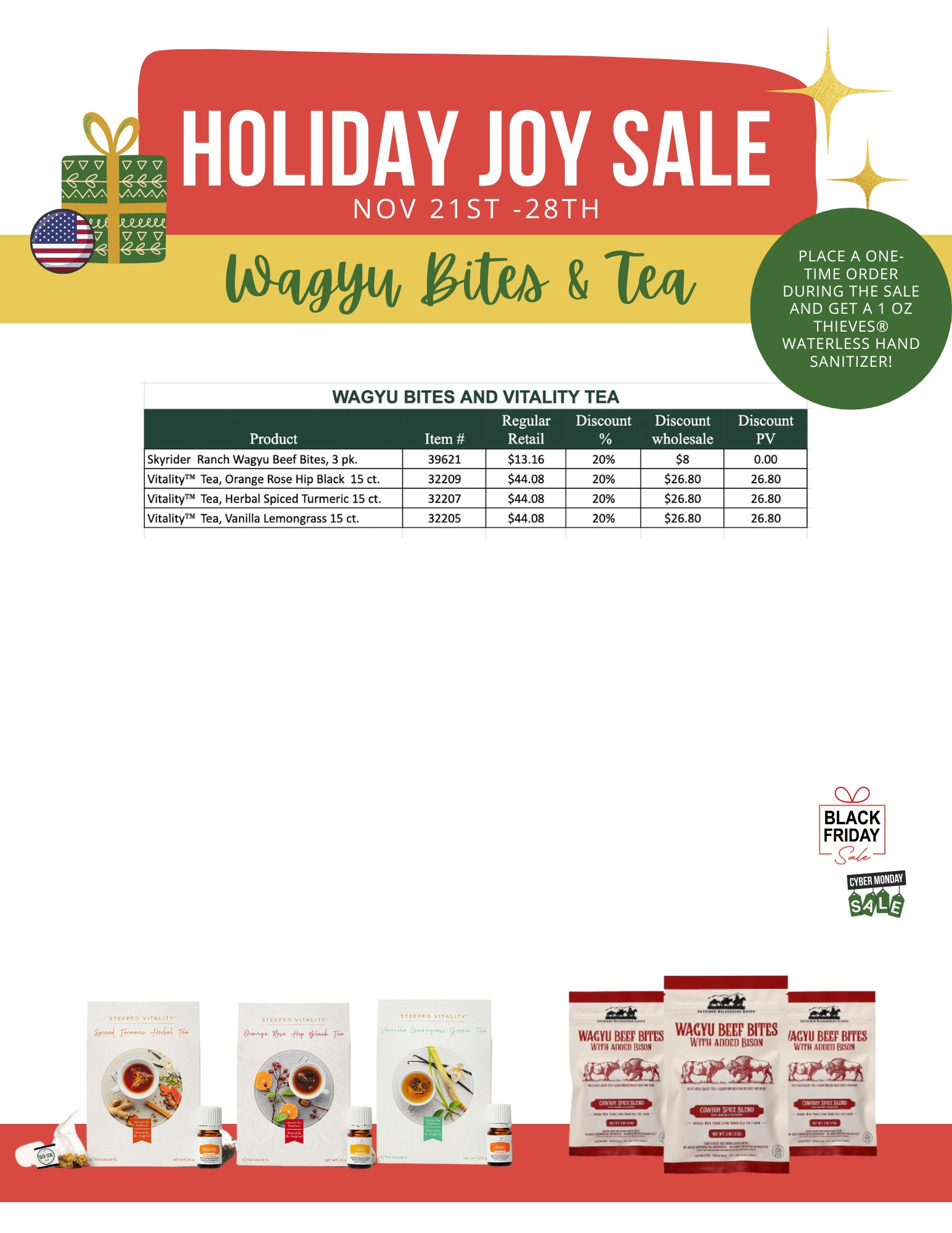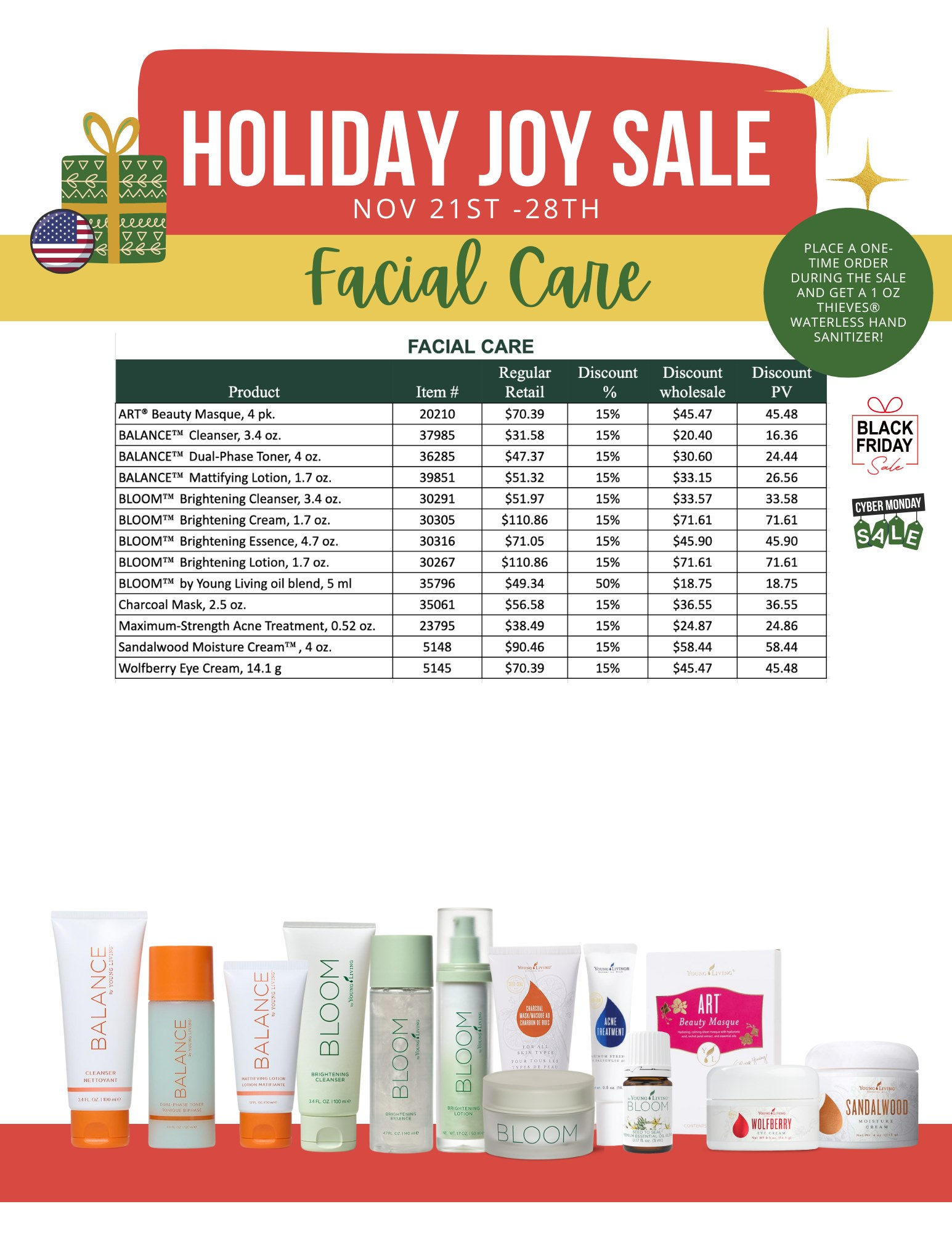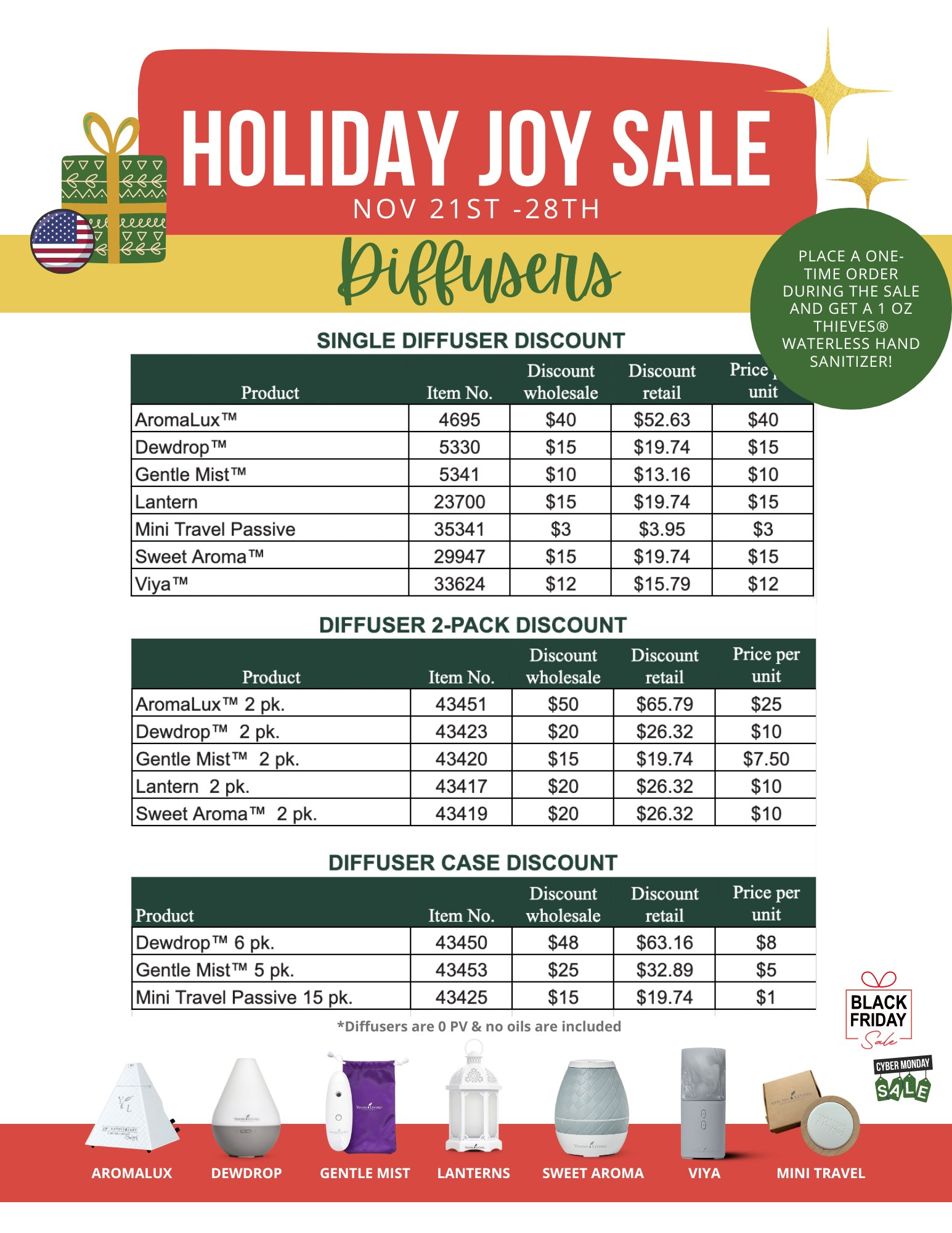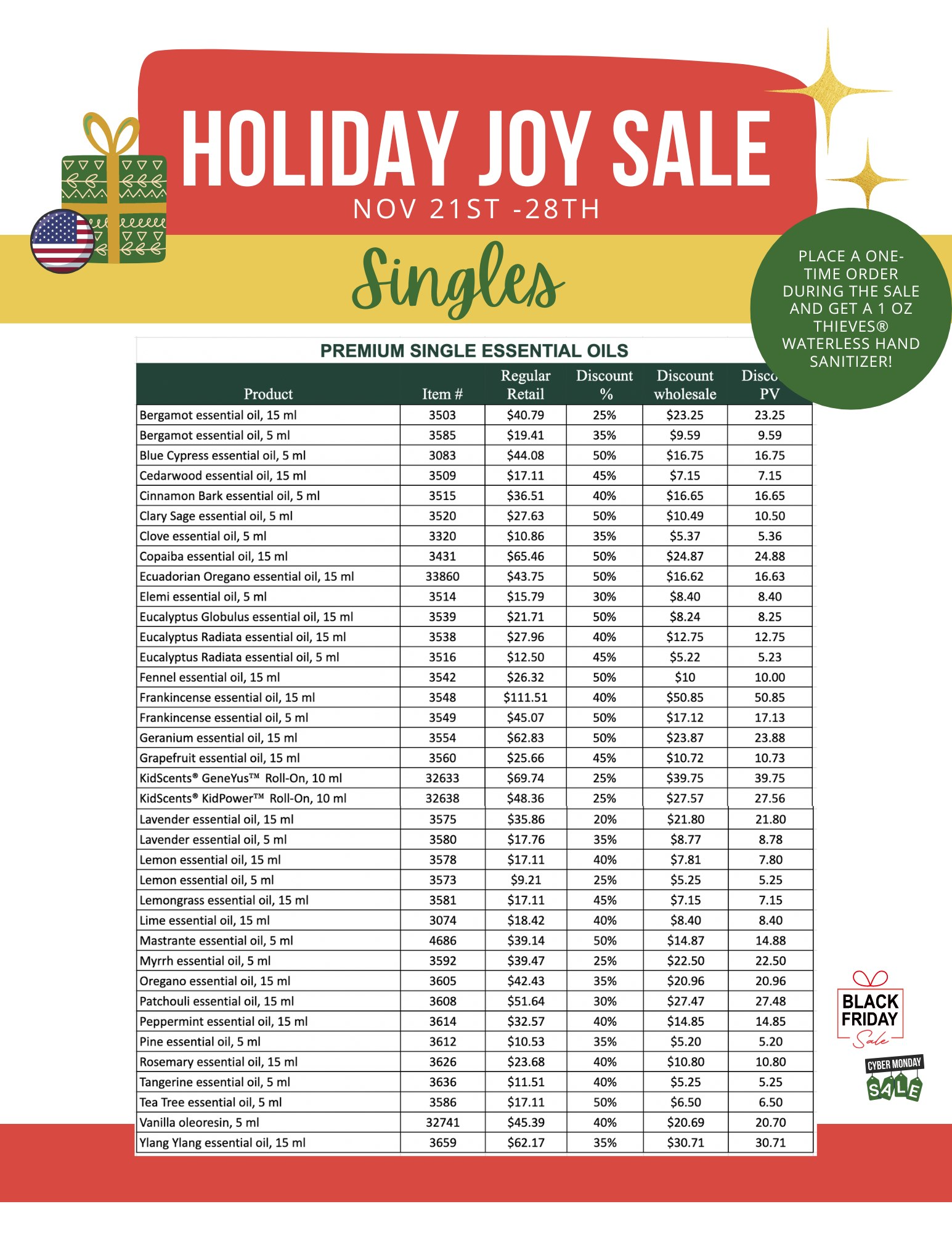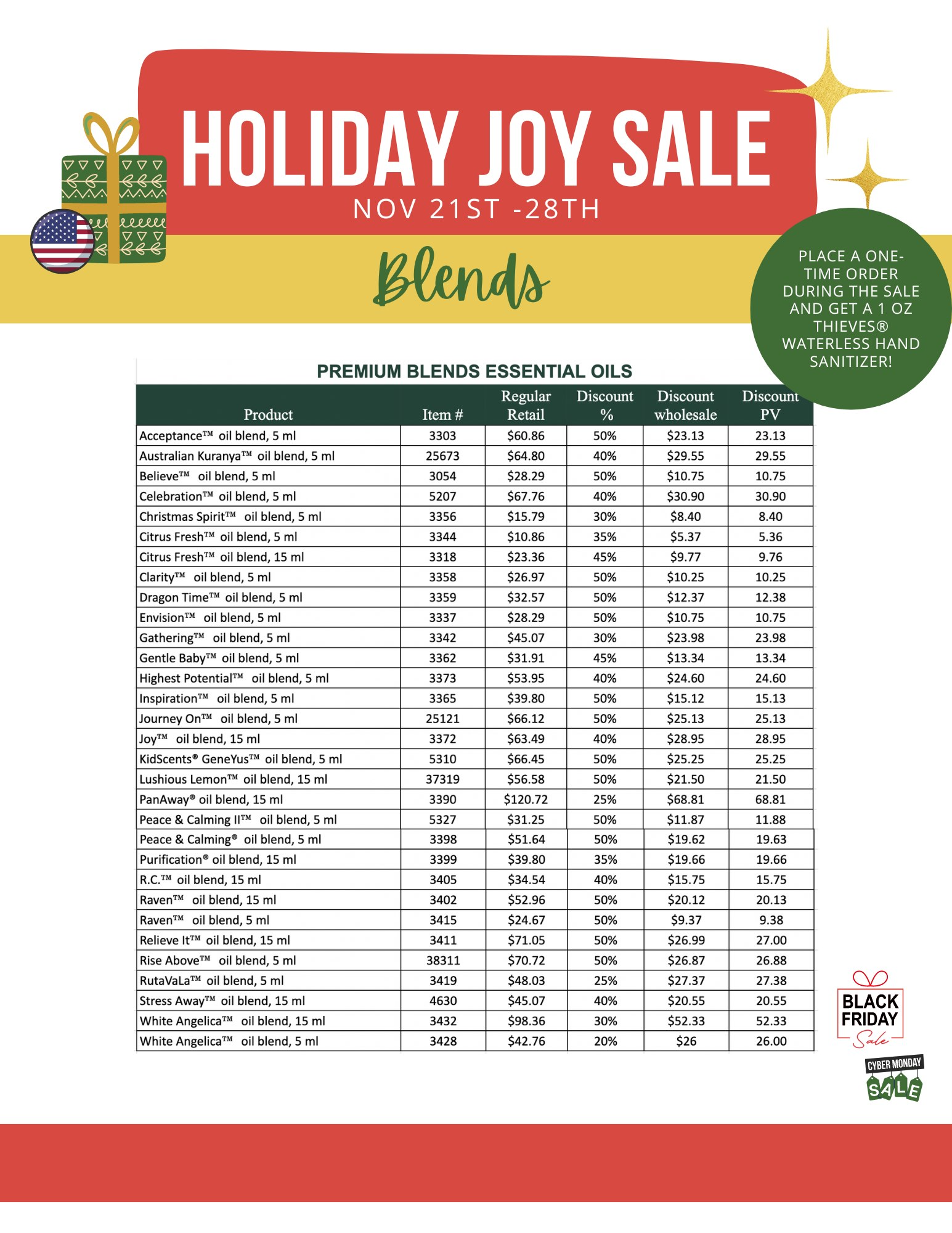 One final note. I am a big believer in speaking words of life over yourself and those you love. That being said, here's a sentence I have written down next to my bed and on the fridge that I say many times a day. It's a great reminder to keep going, smiling and being grateful!
I AM WHOLE, PERFECT, STRONG, POWERFUL, LOVELY, HARMONIOUS AND HAPPY!
Now go out and conquer life! Until next time...
☀️ ☀️ ☀️ ☀️ ☀️ ☀️
and p.s.-- if you or anyone you know is looking into Solar Power for your home or commercial business, Reach out! I would love to share with you how you can lower your monthly utility expenses! Permanently! with no money out of pocket! Let me help you help your wallet and the environment!
Jul 31, 2021 04:58 PM Central
Casey Forte
,charcoal mask, beach, begin your journey to health, bioaccumulation, july, sale, summer, sunscreen, sunscreen recall, sunshine, vitamin d, young living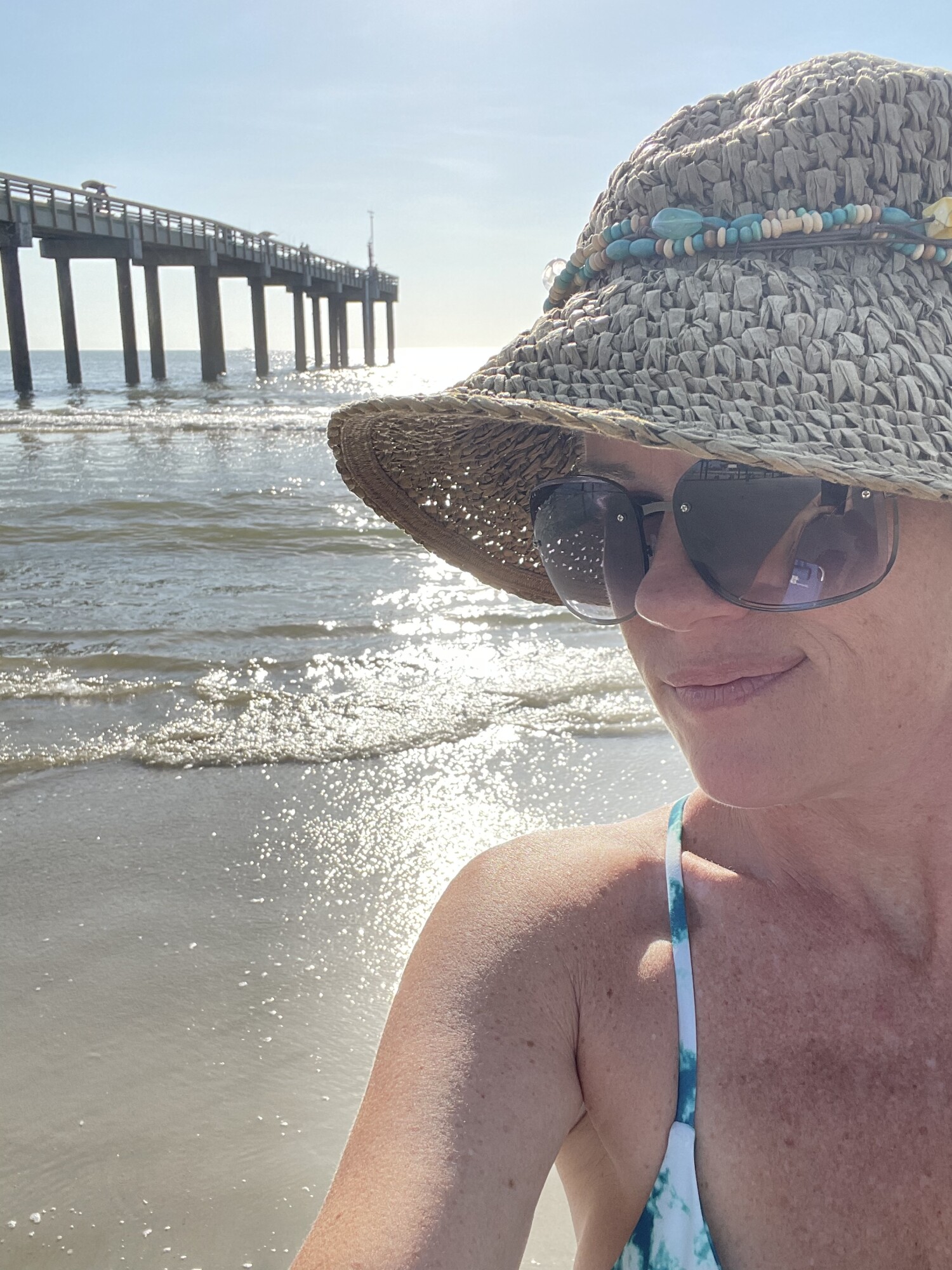 Hello and happy Saturday to you! Today I woke up early and met a girlfriend at the beach before my son even woke up ( you know those teenagers who sleep till noon) and enjoyed some rays and waves and nice conversation. What I didn't do is use sunscreen. Now, there'sa time and place for it, but that early and for an hour and a half, it was fine. Did you know that sunscreen actually blocks your body from making the necessary vitamin d it needs to function? Whatttt! Yes. So every time you go out slathered in sunblock. Well, you're blocking the sunshine from benefiting your body. Another big did you know, did you know that there are several make of sunscreen now that are being recalled for causing serious health problems! What!!! Yep, these, safe, products are now being recognized as a cause of something awful.. When I do use sunscreen, for example if I'm out on a boat and need extended protection for a longer period of time, I use young livings! We have an amazing mineral sunscreen in spf 10 or 50! It's great to know the products you use aren't causing harm.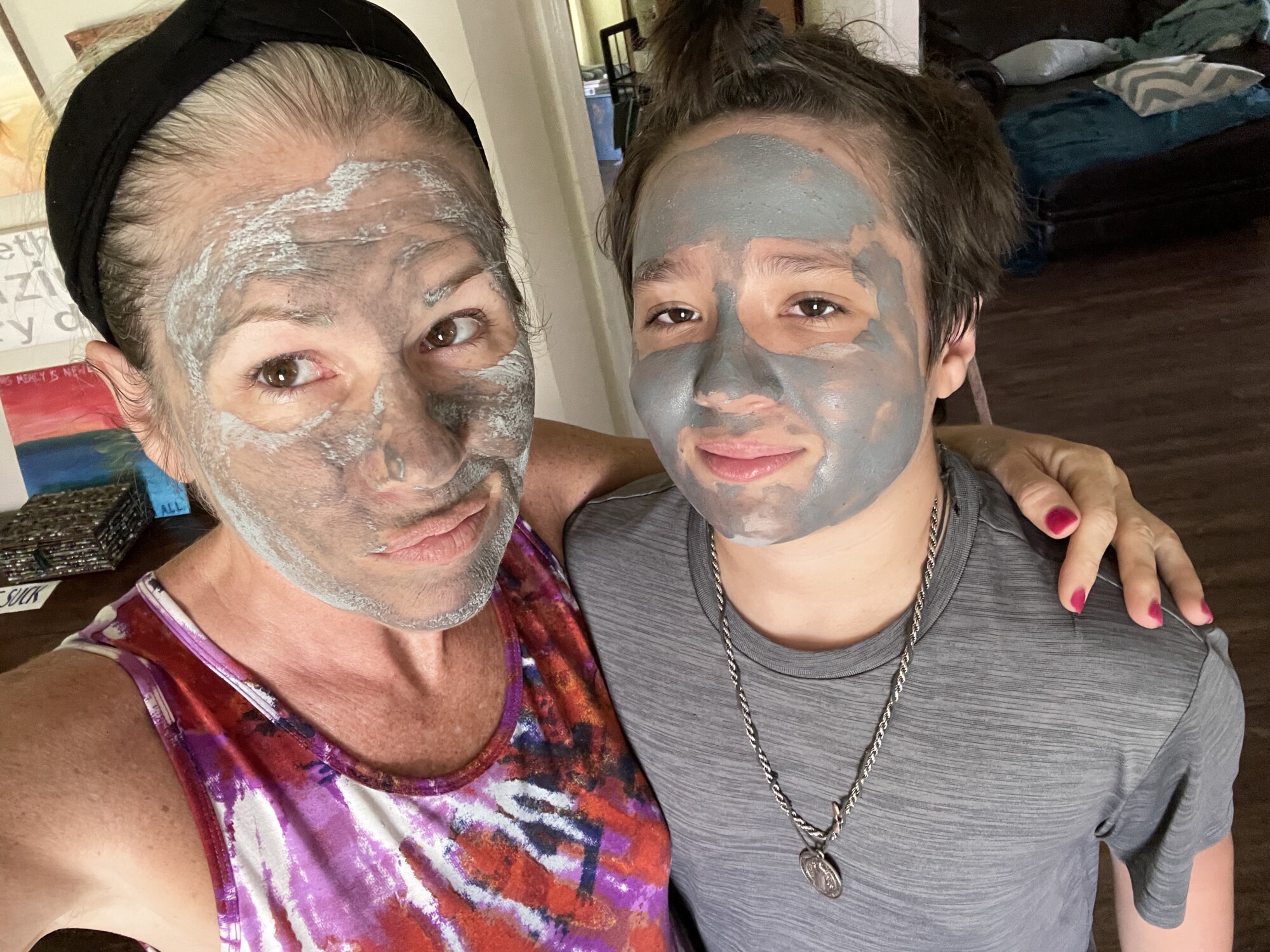 So I'm back home with this cutie and I decided to try out our new charcoal mask from YL. Whoa, I love it! Sooo cooling and refreshing. And as it dried, it felt sooo good. It washes off easily and my skin felt amazing. Taylor even joined in and said he loved how his skin felt after! Watch this video on the
Charcoal mask

If you're seeing this post today, click here and shop the YL website today for 10% off wholesale prices!! Check out the website for deets, or ask me! 352-427-2497
Referral Id 3141355

Enjoy your weekend and thank you for supporting your wellness.
Casey
Apr 29, 2021 01:36 PM Central
Casey Forte
alternative lifestyle, april 2021, begin your journey to health, bioaccumulation, candles, CHEMICAL FREE LIFESTYLE, ditch and switch, fragrance, laundry, lifestyle choices and changes, makeup, my story, natural lifestyle, plugins, SKIN CARE, toxic, young living
Have you ditched the perfume yet???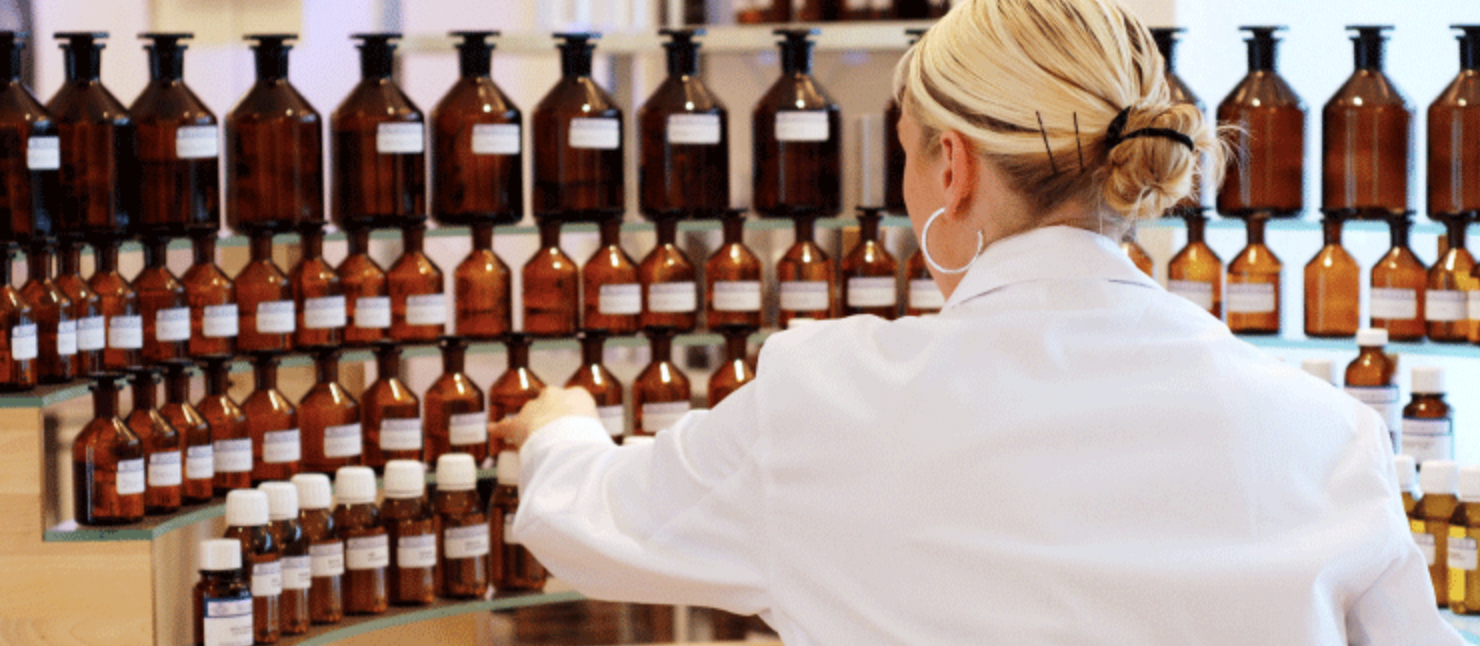 Did you know fragrance, the ingredient listed on labels, is toxic to our body and it's in ALMOST EVERYTHING YOU BUY AT THE STORE!! Even the "natural" products, that are so called "clean" contain Fragrance!
My journey down this new lifestyle of natural products began when I got diagnosed with a very scary, terminal condition, in my head 6 years ago. WHOA! Talk about a wake up call. That scared me, but I already knew enough about what their course of treatment would mean for my body and it would start a ticking clock. As a mother of a 6 yr old son, I chose to not start that clock that their "treatment" would begin, but I chose an alternative method. Find out why this happened and start living clean. I started my journey into learning what could've cased this and I found soooooooo many things that were in my NORMAL everyday products and were extremely toxic, bioaccumulative and neurotoxins to top it off! 💥 WHATT!!!! You mean to tell me all the products I've been using on my body, hair, plug ins, candles, perfumes, laundry, detergents and soaps, hair, makeup, pet products, baby products, feminine care products, yard products, EVERY DAMN THING I had in my home and cabinets was making my body sick, slowly, over time. AND, I was starting the same toxic lifestyle with my innocent child. I HAD TO MAKE A CHANGE! That's when I was introduced to Young Living. That's another story all together and here's a link to that testimony on my you tube --->.
My Story
Read the labels, educate yourself on what you're using on you and your family. Even and especially those sweet babies. These fragrance chemicals, not only are toxic, BUT, they accumulate in our cells causing DISEASE!
Give your body a fighting chance against disease and start eliminating the things you use that have fragrance in them. You can thank me later. You're welcome!
Wait!!! You must think I'm crazy to think you're gonna not smell good anymore. Or that you're giving up all the familiar scents you've come accustomed to having in your home, on your clothes, and in your bathroom, kitchen and cleaning products! Nope.
I'm not asking you to give up ANYTHING! I'm asking you to to just do the research yourself, then ask yourself if this is something you want in almost EVERY product you buy!
There's TONS of articles on the toxic effects on our body. Tons of science. Tons of proof fragrance is BAD news. Here's just one article to start your journey into the wormhole.

Oh, what the heck, here's another.
From the US National Library of Medicine, for those people who like numbers and scientific studies:
With all this being said, you can see and maybe get a glimpse into why I am soo passionate about my lifestyle that includes Young Living at the heart of it.
If you're not with YL, now and want to re-begin your journey, you'll be pleasantly surprised starting next month! Everything will be so much easier to get and get started with our new shopping platform and ways to be a customer or a brand partner! Gone are the days of being a distributor if you are only interested in product usage. Now, you decide if you want to use only, or use and build a business! I am super excited to share this new platform with y'all when it releases, but for now you can go to
Young Living
and check out all the new products we have gotten since you've been away. I'm always here to help guide and assist you getting yourself plugged back into a healthy home. Are you ready? I am!
Let's do this! You're worth the change!
Sending love and light to you!
Casey ❤️ ❤️
352-427-2497