Jun 6, 2022 02:57 PM Central
Casey Forte
2022, becomimg more, changes, decision, fruit, fruit smoothie, lifestyle choices, loyalty rewards, meditation, natural lifestyle, nice cream, stress away, young living, young living convention
Summer is almost here and it's time to make some changes. Good ones!
Change may seem daunting but it always begins with the first step. Here's an easy change to get your health started in the right direction.
Fruit bowl made from frozen berries
I also love to add a non frozen banana for texture.
I blend it together until it's smooth and creamy!
Chop up an apple, tangerine, grapes, whatever fruit you have and put it on top!
I love to add granola and dried coconut and then drizzle with honey!
What a delicious meal that's fresh, easy and so yummy

!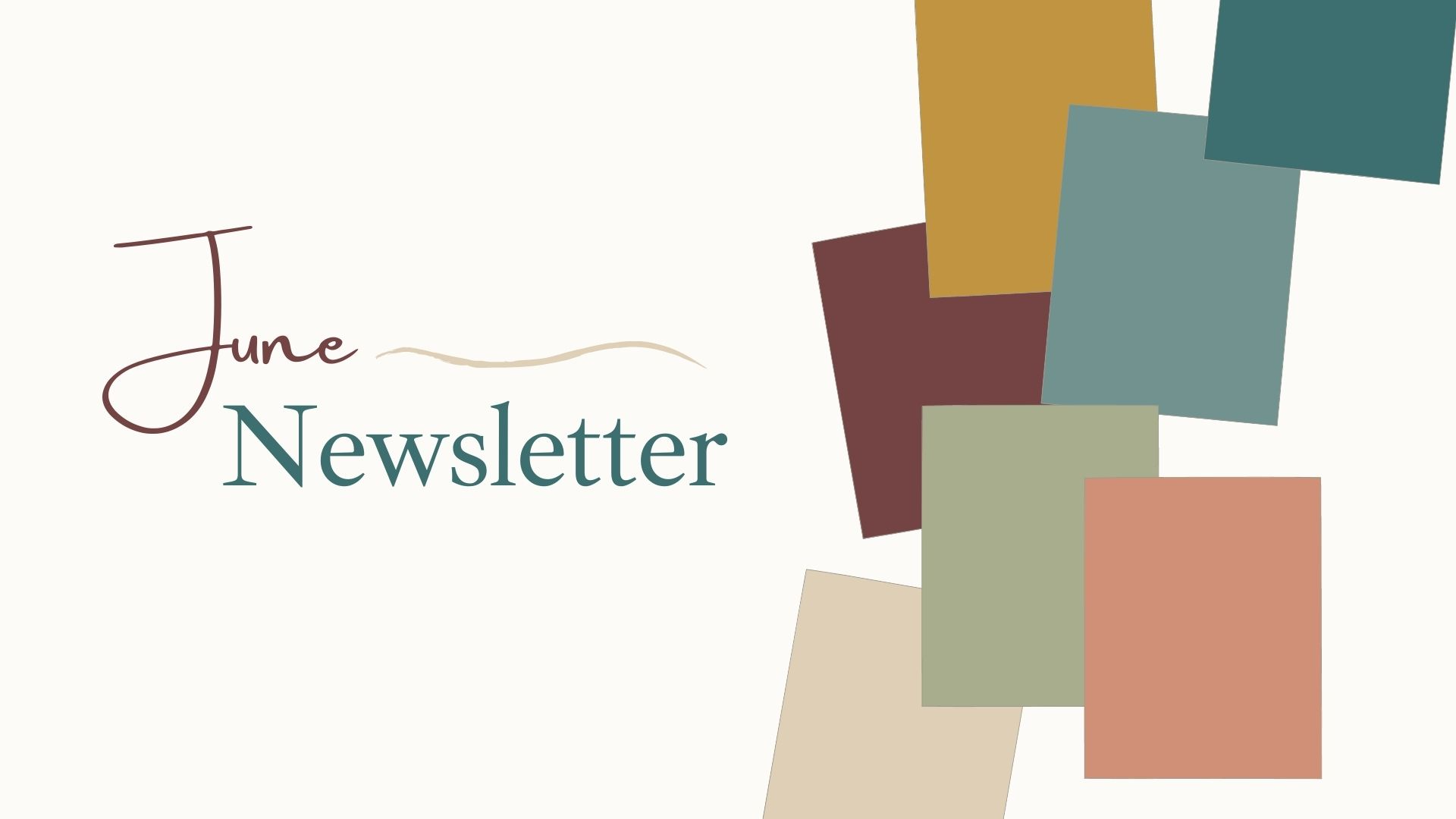 Hello, June!
Half way through the year already?! No way! It doesn't seem possible! June always seems to creep up on me - school wraps up, baseball season begins, plans trickle in like rain, and before you know it, summer is in full swing! Oh ya - we also get to celebrate all the fathers and father figures in our lives this month. Try your hand at this easy recipe and use your oils to bless someone special…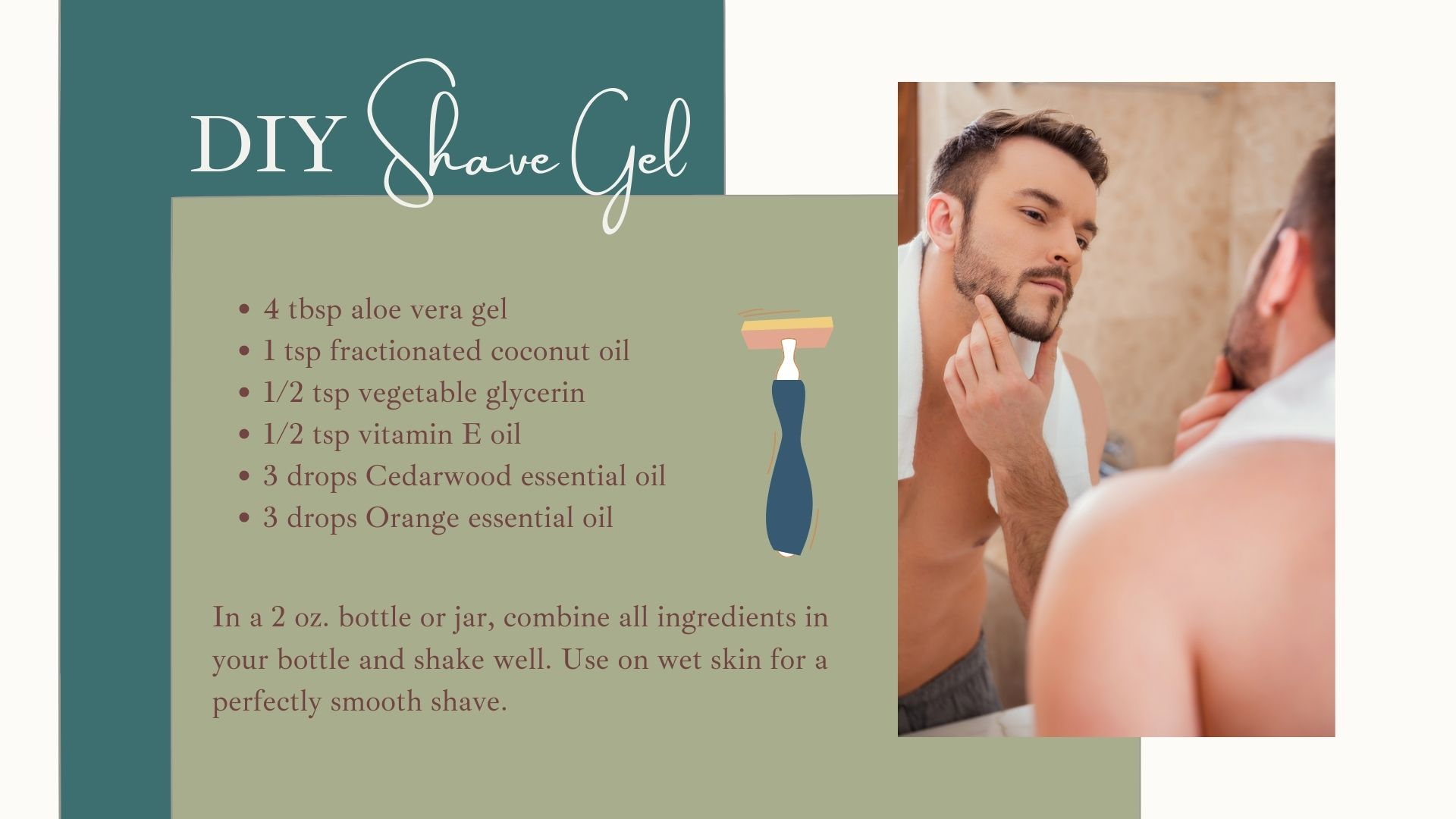 :::::::::::::::::::::::::::::::::::::::::::::::::::::::::::::::::::::::::::::::::::::::::::::::::::::::::::::::::::::::::::
Star or flag this message so you can refer back to it all month long!
Monthly YL Gifts with Purchase + Recipes

June Wellness Box Ideas

Young Living in the Kitchen

Product Spotlight

Important Announcements

Upcoming Events
---
Monthly Gifts with Purchase
When your order hits one of these PV levels you will receive the corresponding products for FREE! Look at everything you get for free when you hit 400 PV!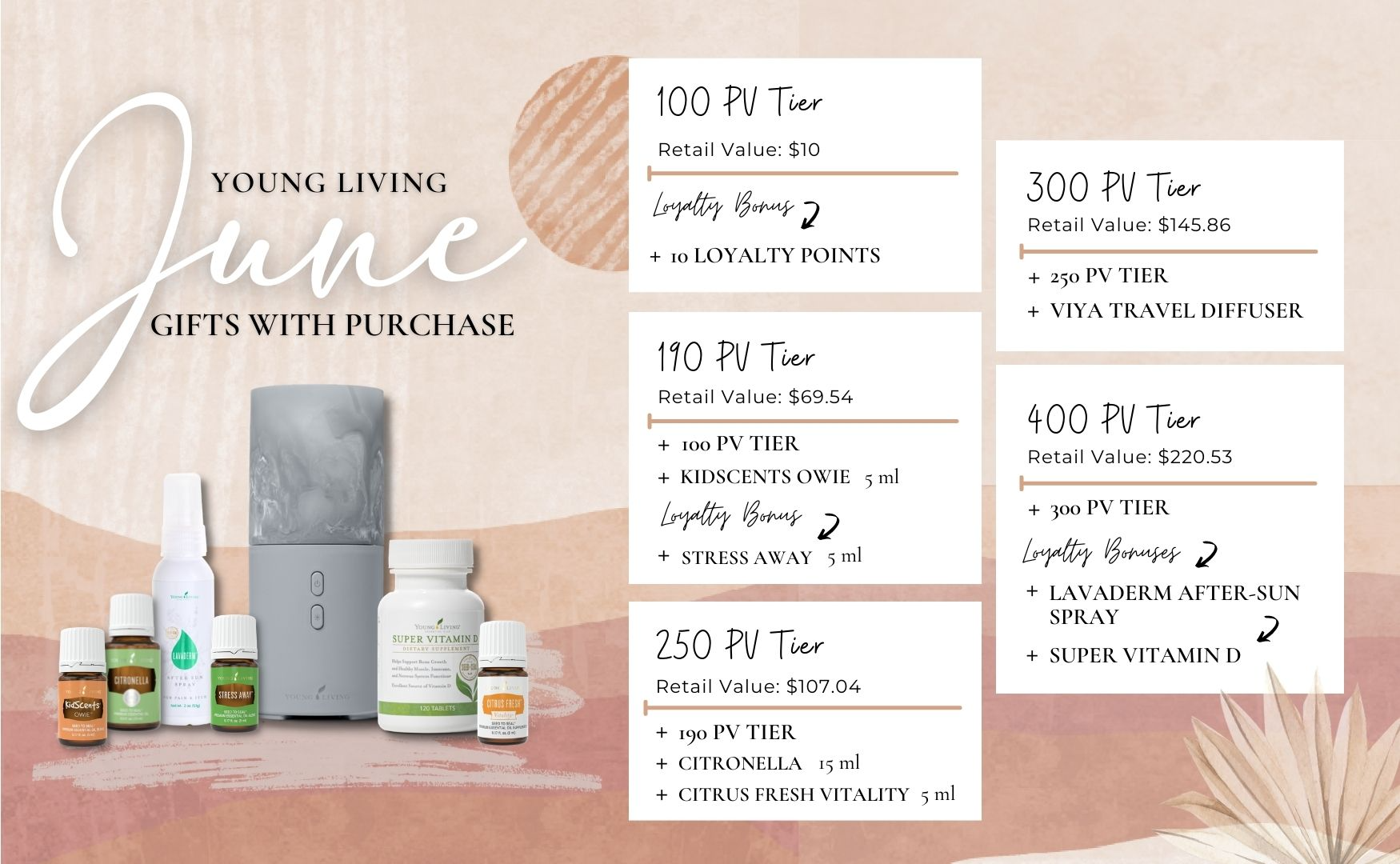 *Receive the Loyalty Bonuses when your order is placed through the monthly loyalty program, which is the best way to save money and support your health. If you need more details on this, let me know!
Recipes Using Your Monthly Gifts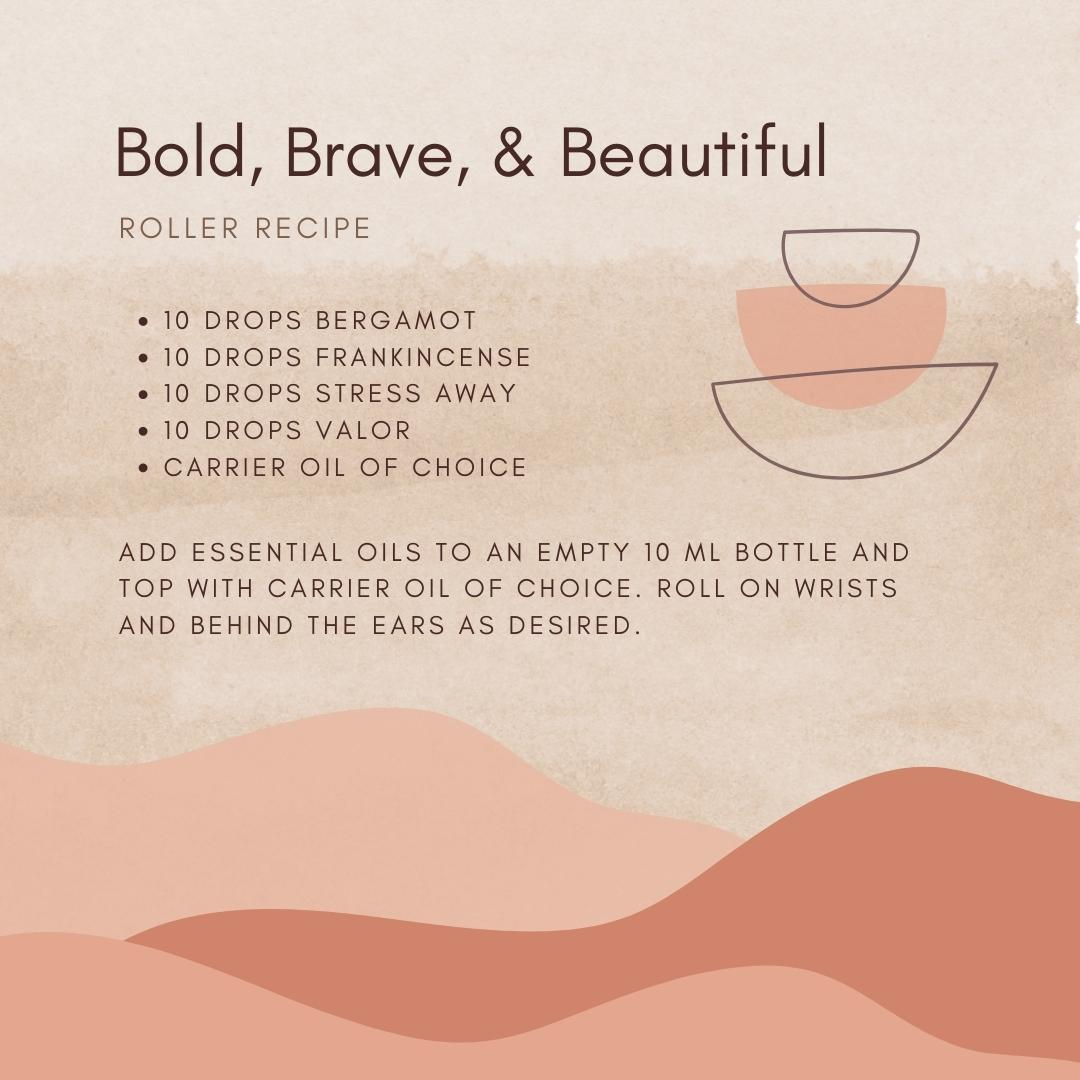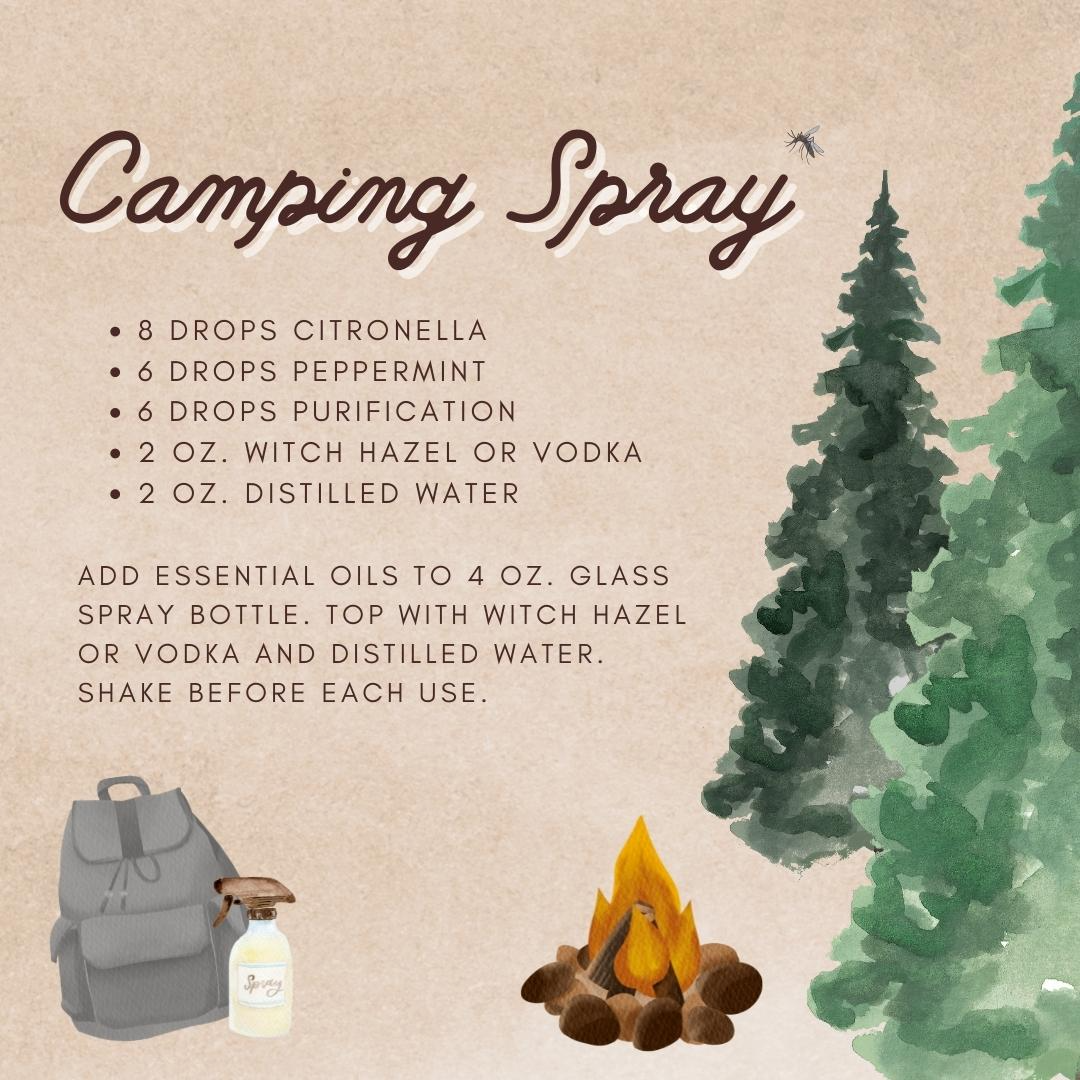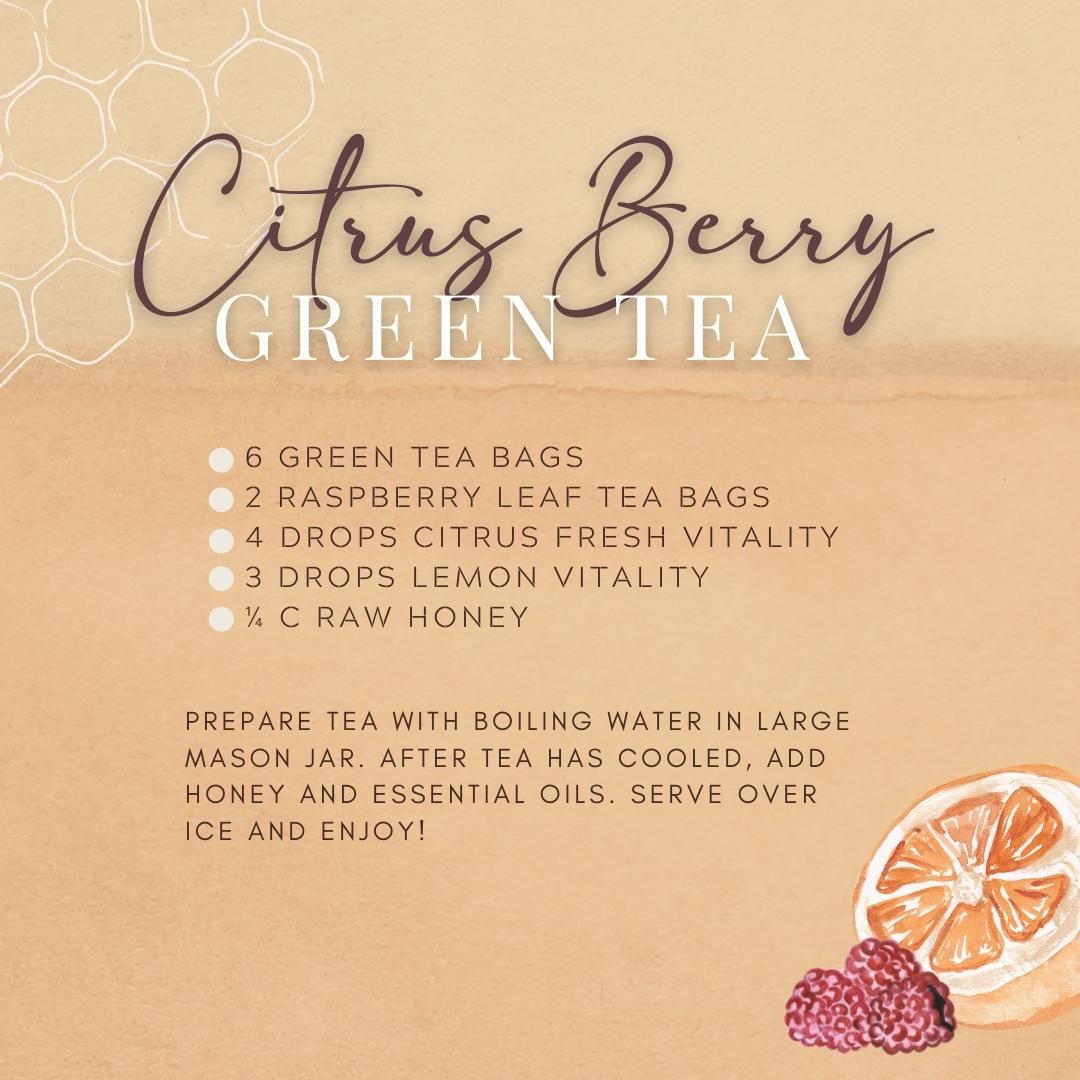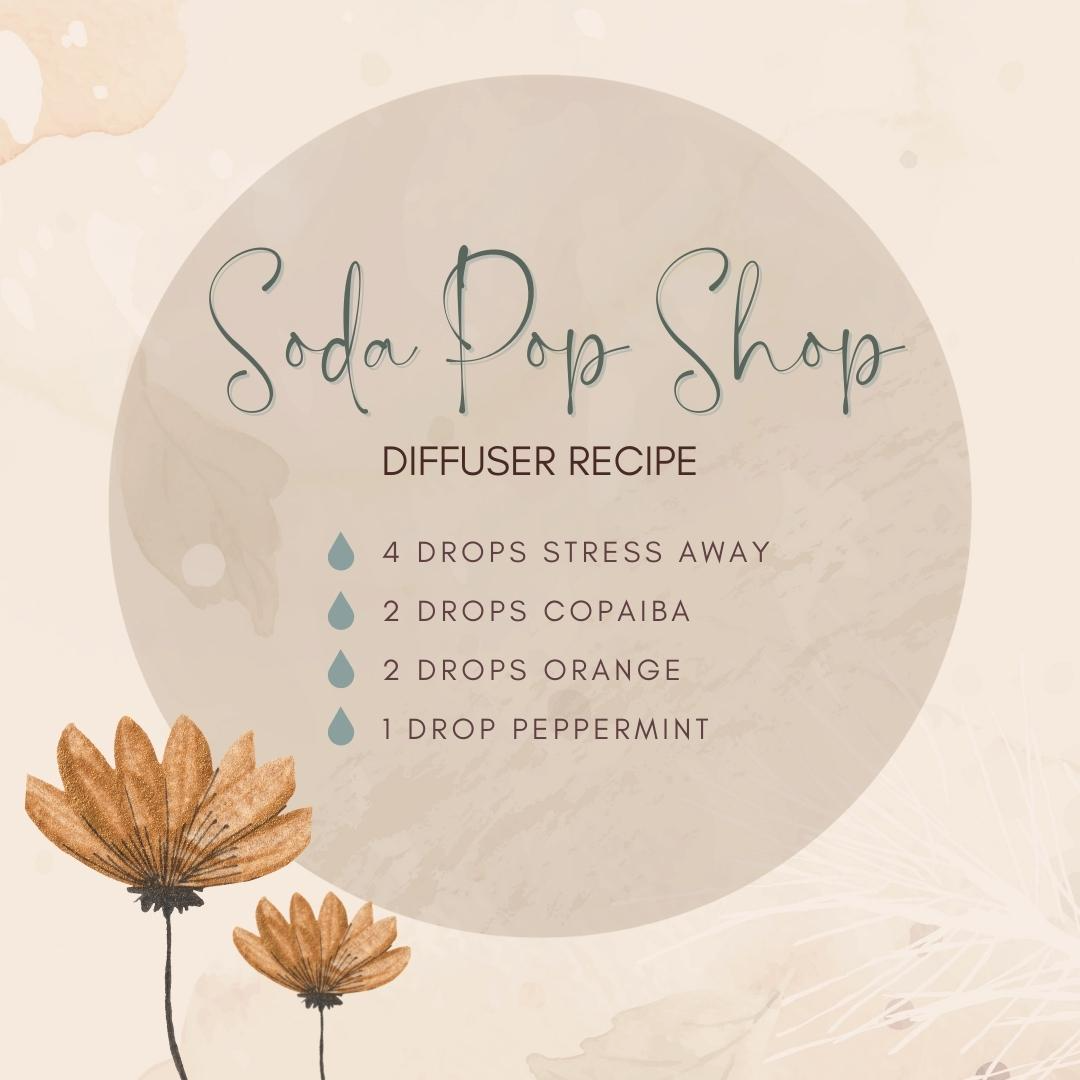 ---
June Wellness Box Ideas
As the summer starts kicking in, do yourself a favor and have your favorite oils and YL products on hand. Make sure to login and set up your monthly wellness box to reflect the plans you've made!
Find the items you want, and click "Add to Loyalty Order." Add at least 50 PV to your box and you'll earn points to spend on future one-time orders! Add at least 100 PV to your box and you'll automatically get a freebie added to your cart!
You can then hop on and pick new items for the next month and save items for later. It's simple and completely customizable. Here are some ideas for your June box…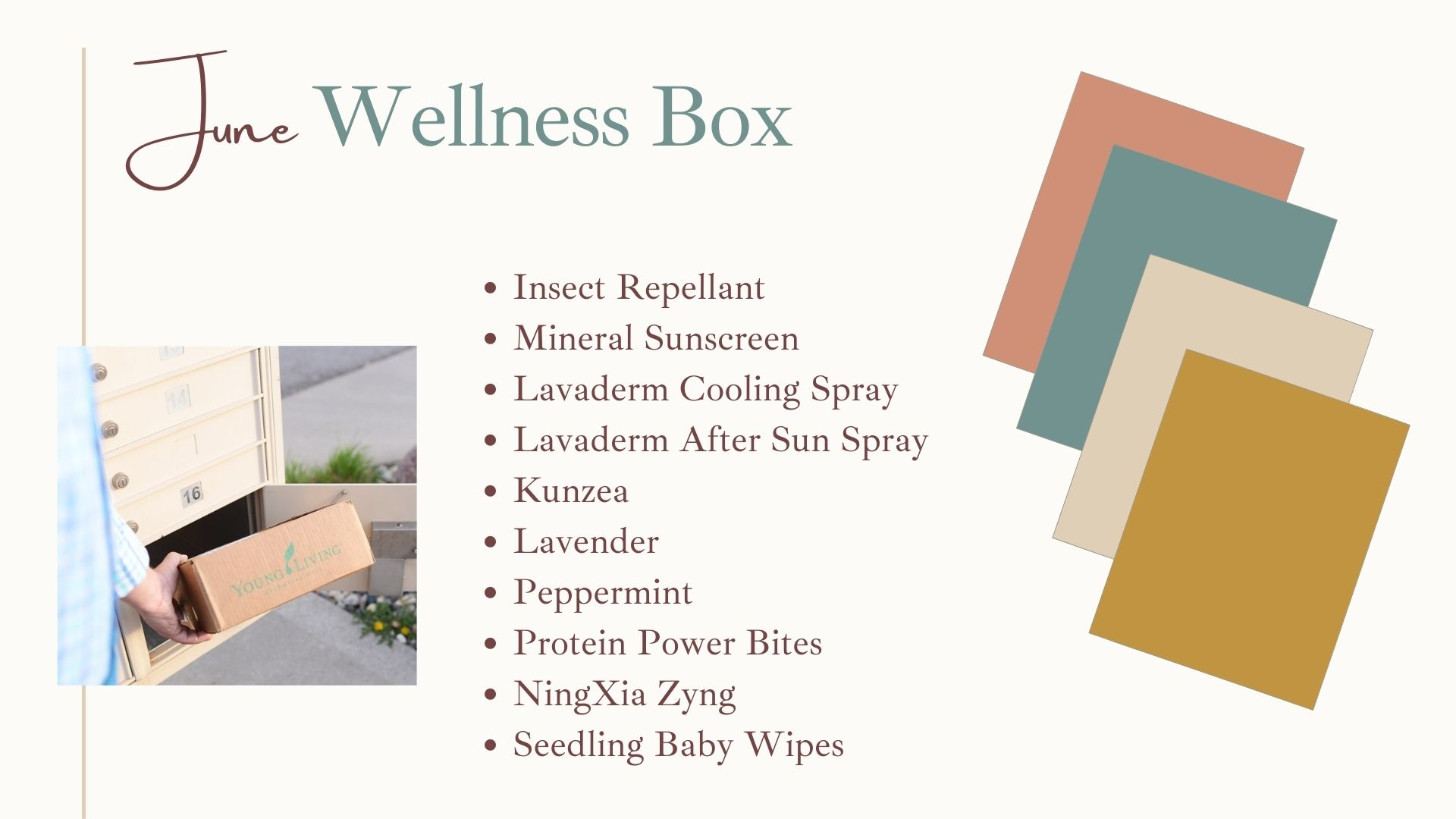 ---
Young Living in the Kitchen
With Father's Day around the corner, I thought it fitting to use your oils in a fun way this month and whip up a classic cocktail. If your guy doesn't want the alcohol added, simply omit it and serve up a delicious MOCKtail instead. Have you ever tried your oils in a drink before?

Make this recipe and snap a pic… share it online and tag me! I'd love to see you oiling!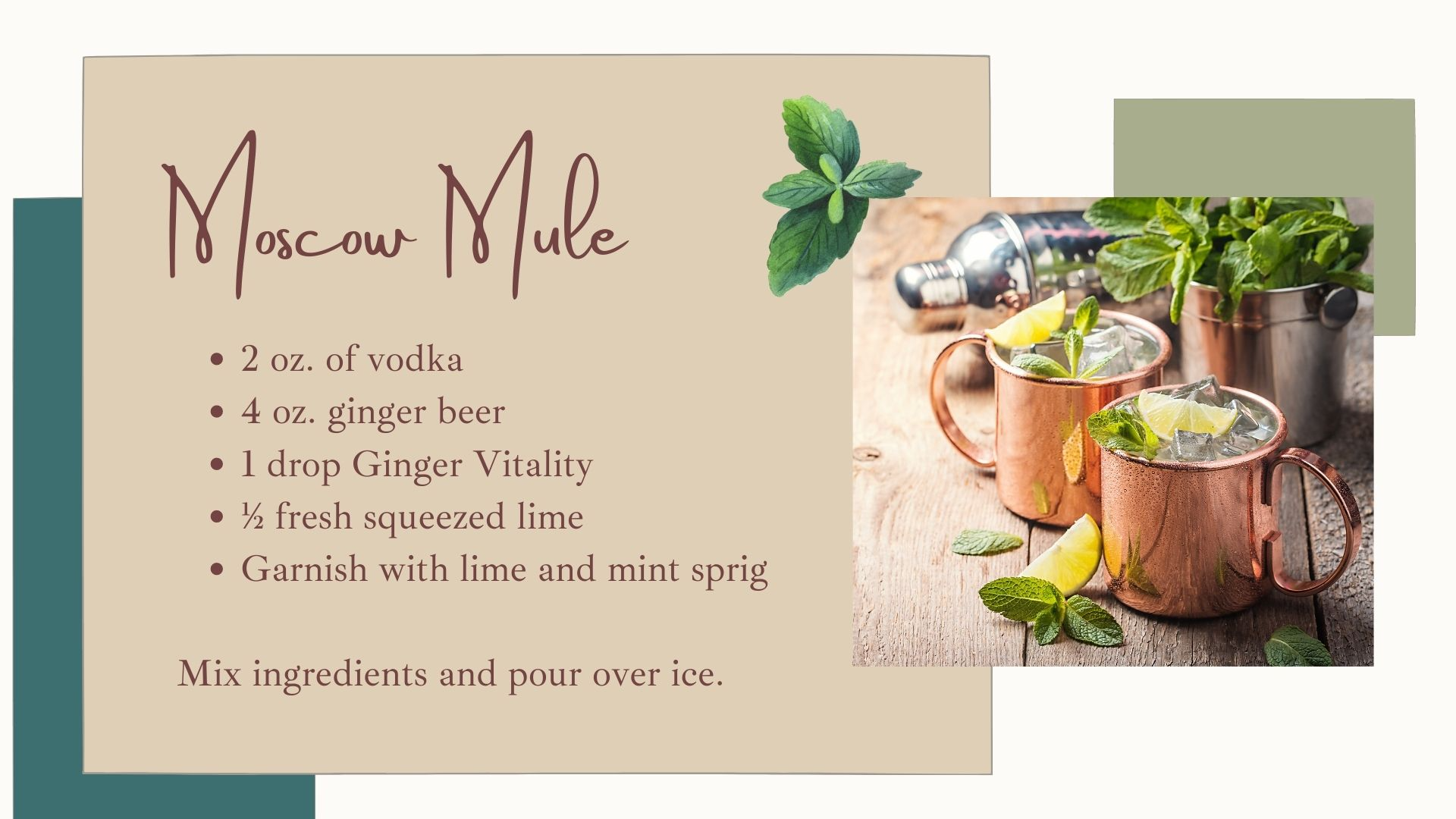 Fun fact:
Ginger Vitality supports the digestive and respiratory systems… and so much more! If you have a reference book, look it up. If you don't have one, send me a message and I'll hook you up!
---
Product Spotlight
Chances are you will be spending a lot of time outside this month and next - out in the garden, at the pool or the beach, baseball games, hiking, or just enjoying a walk through the neighborhood. Exposure to sunlight is good for the soul… and your health! When your skin is exposed to sunlight, it makes Vitamin D from cholesterol. This vitamin plays an important role in our immune system so it can be hugely beneficial. However, overexposure to the sun can lead to burned skin, wrinkles, eye injuries, and even skin cancer. So let's protect that beautiful skin, shall we?
Young Living's Mineral Sunscreen Lotion SPF 50
is the perfect solution! It's a natural, broad-spectrum sunscreen and is chemical-free, making it a healthy alternative for adults and kids. You don't have to worry about toxic chemicals - like a LOT of the mainstream sunscreens contain. This dermatologist-reviewed product is formulated to easily smooth on skin without leaving white residue. Enjoy the outdoors worry-free with up to 80 minutes of water- and sweat-resistant lotion. It's reef-safe and made with non-nano zinc oxide. This might just be the best sunscreen you've ever used!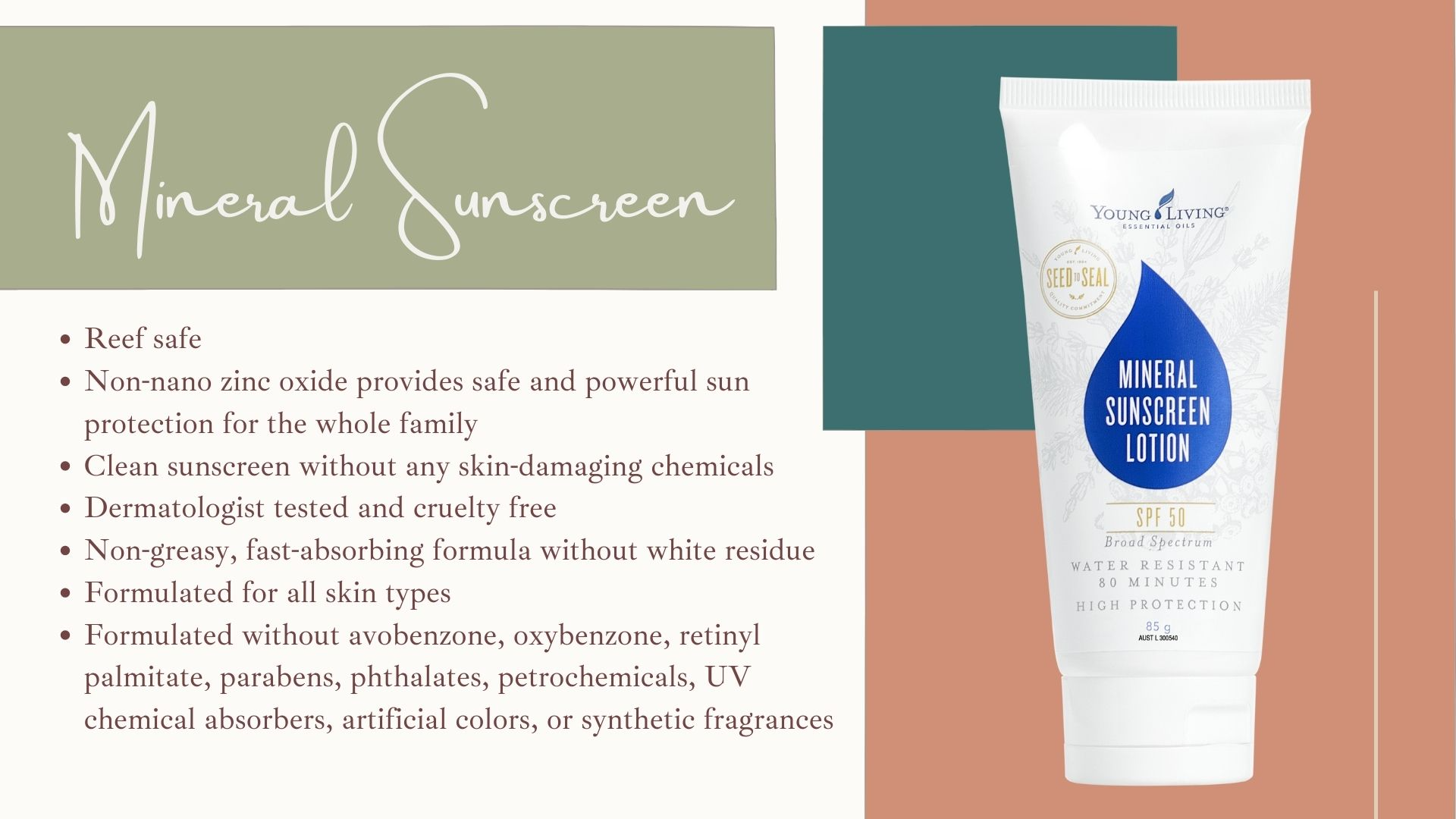 ---
Important Announcements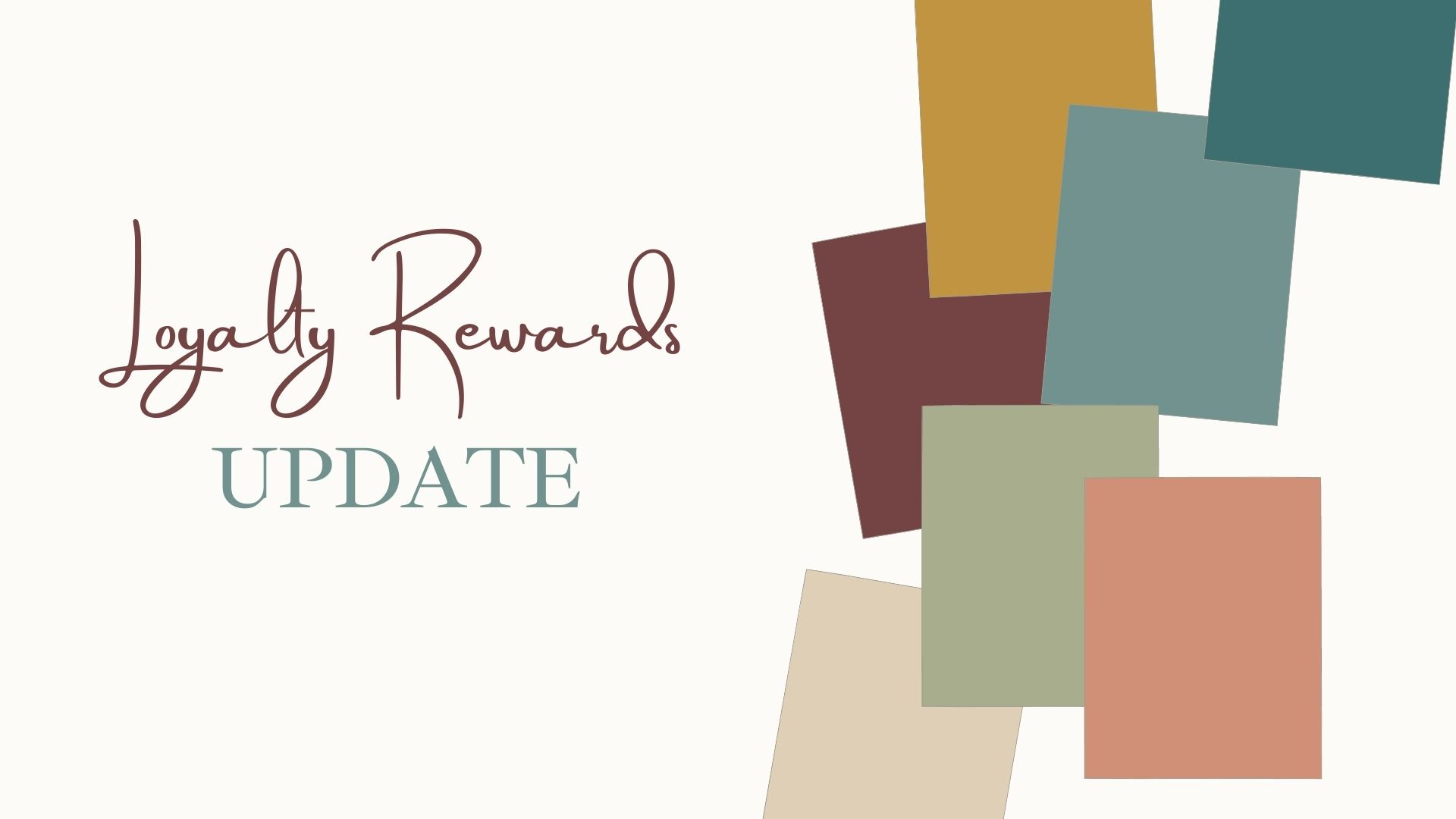 Starting June 1, Young Living is simplifying its current rewards program. Going forward, Subscribe to Save and Loyalty Rewards will simply be called "
Loyalty Rewards
." You'll still unlock your 24% discount, earn loyalty points and gifts the same as you did before, but now the rules will be a bit simpler. Loyalty orders (previously called subscription orders) will process every month, and you'll be able to add items on your loyalty order to "Save for Later" instead of having to process them every one, two, or three months. See the
FAQ
, infographics, and mockups for more details or check out the
updated Loyalty Rewards
page beginning June 1.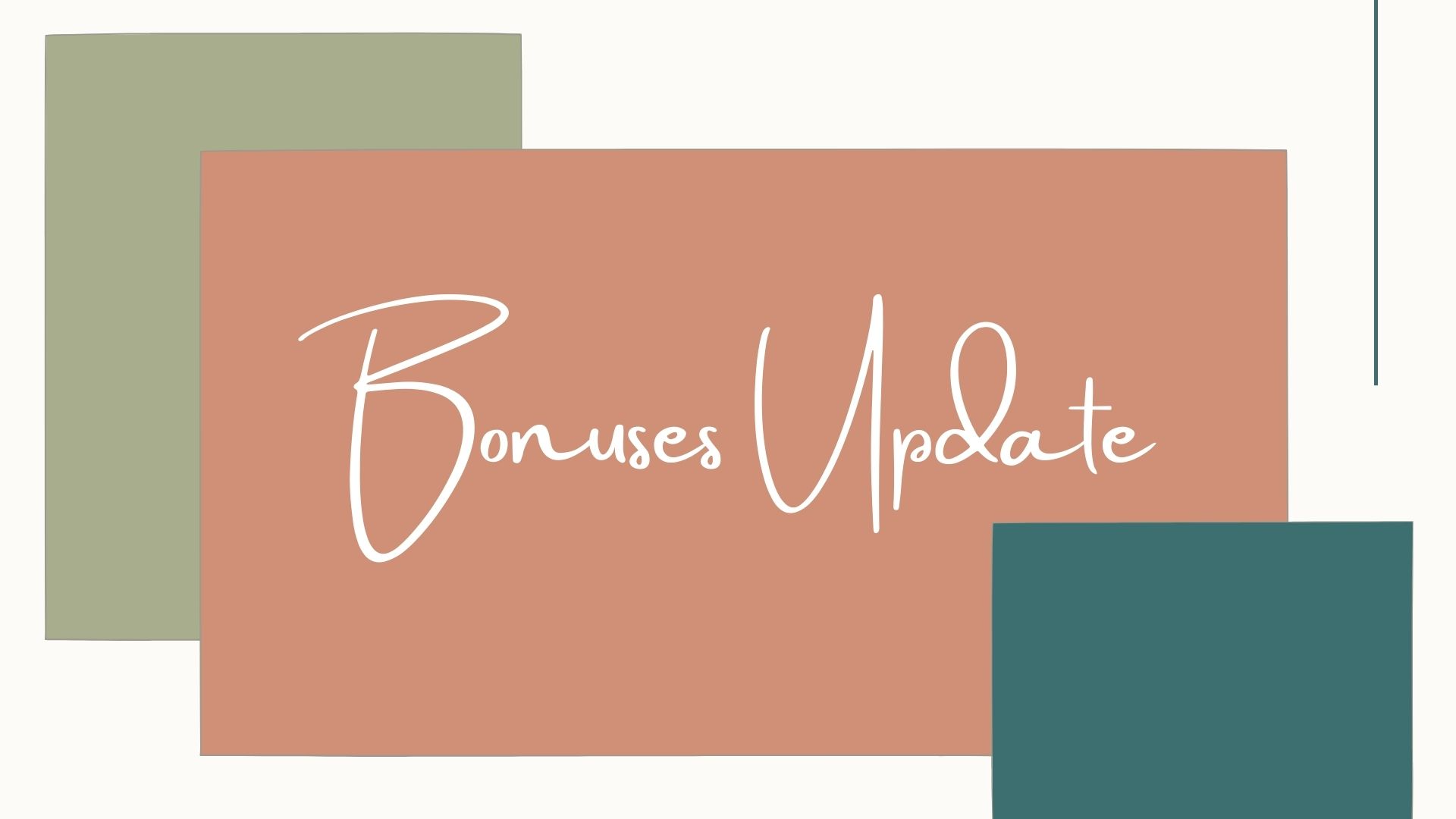 In case you missed it, the Starter Bonuses are back! From April 1 to August 31, 2022, qualified brand partners can earn a $25 bonus when their newly enrolled customer and/or brand partner purchases a qualifying Premium Starter Bundle (PSB). This Starter Bundle Bonus commission is in addition to regular Fast Start commissions for every new customer or brand partner you enroll who purchases a qualifying PSB. There is no limit to the number of new customers or brand partners you can enroll to earn this Starter Bundle Bonus. Read more details
HERE
.
And - on TOP of that - you could earn up to $600 in June with the special Cultivate & Grow incentive! This month, when two of your newly enrolled or reactivated customers or brand partners order 100+ PV, you'll earn $100. When two more individuals, for a total of four, place their 100+ PV orders, you'll earn another $200. Add two more for a total of six individuals placing 100+ PV orders, and you'll earn an extra $300. Plus, with the Fast Start Bonus, you can earn 25% of the PV of all product purchases made by new brand partners or customers you personally enrolled in Young Living. To learn more about this new incentive, please see the
flyer
,
official rules
, and
FAQ
.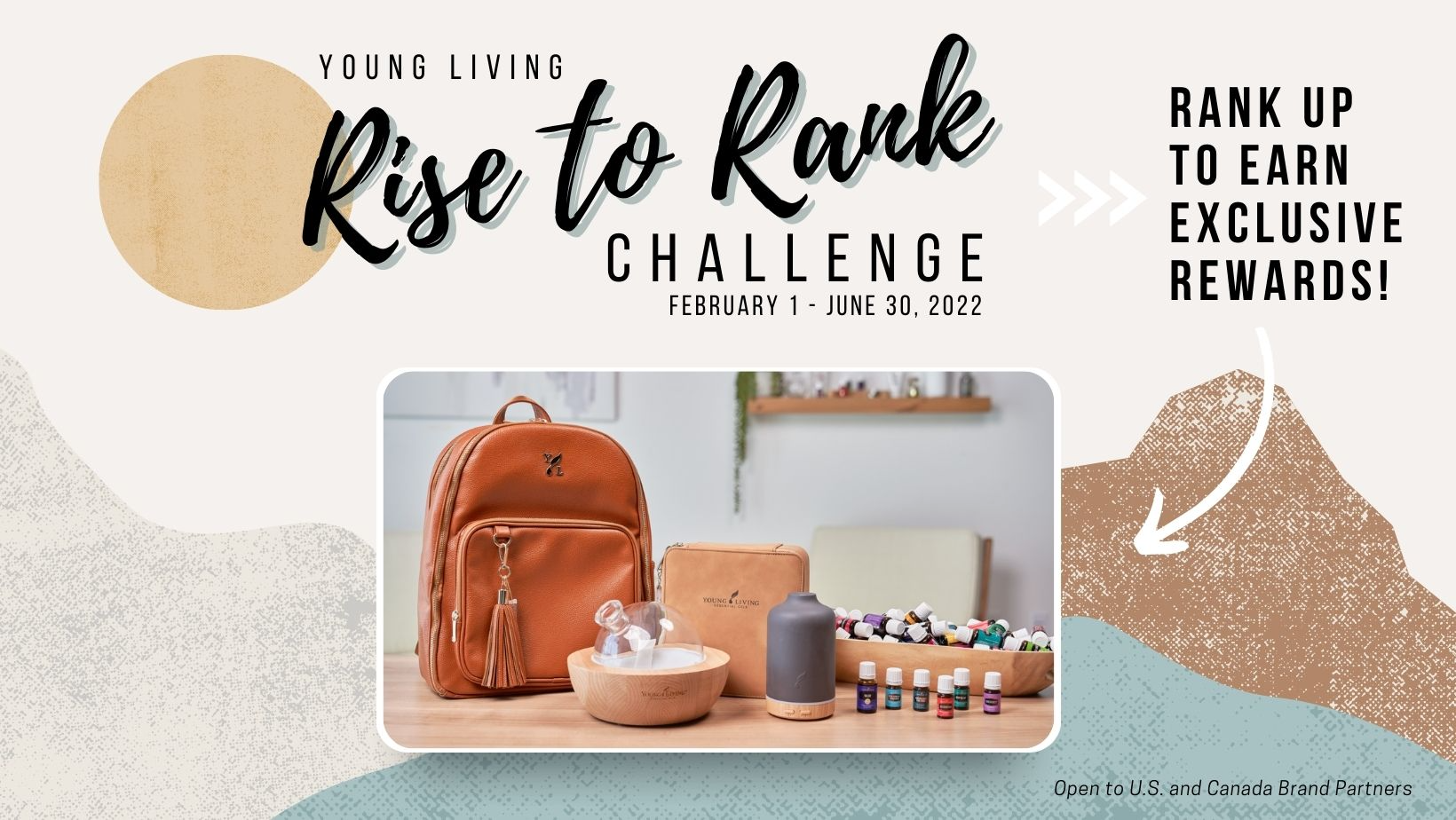 ---
Upcoming Events & Classes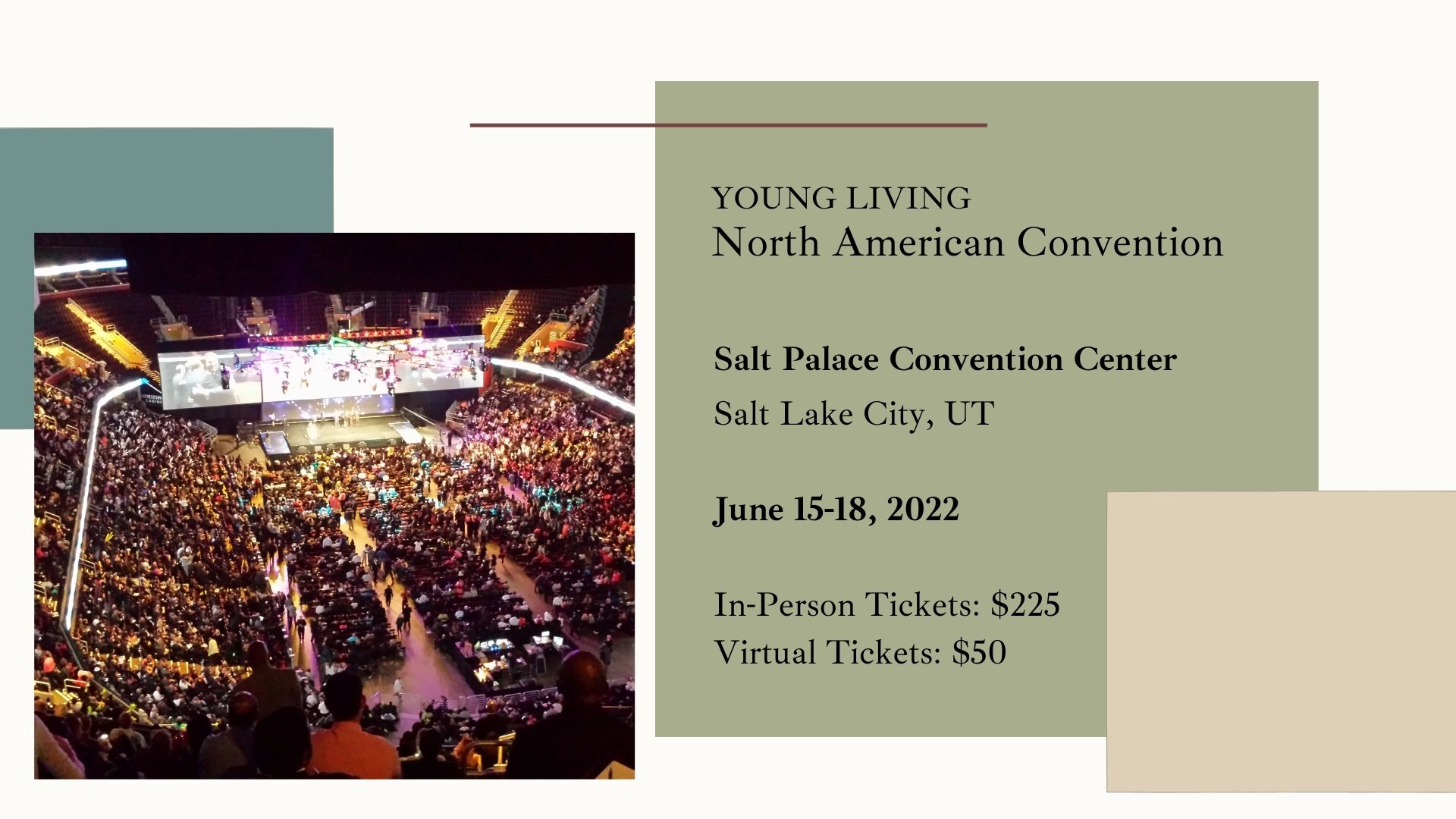 Young Living convention is back - in-person and virtually! Welcome to the first-ever Young Living North American Convention! Just like our Asia Pacific, European, and Latin American regions have their own conventions, the annual convention held in Salt Lake City will now be utilized by our North America region to host their own convention - geared to the North American audience.
Registration is open and will remain open until June 1, 2022, for in-person tickets, or while availability lasts. There is no capacity limit for virtual tickets, and they will remain available through June 10.
Join us in Salt Lake City, UT at the Salt Palace Convention Center, or virtually, June 15-18, 2022!
Pricing for in-person tickets is $225.
Pricing for virtual tickets is $50.
Thanks so much for taking charge of your health. Your body will thank you. If you're wanting to start making the change for your health, just reply to this email and I can get you set up with a wellness assessment. This assessment will help determine where to start. Your new life starts with a decision to try something different. I'll be here, waiting.
Be well,
Casey
352-427-2497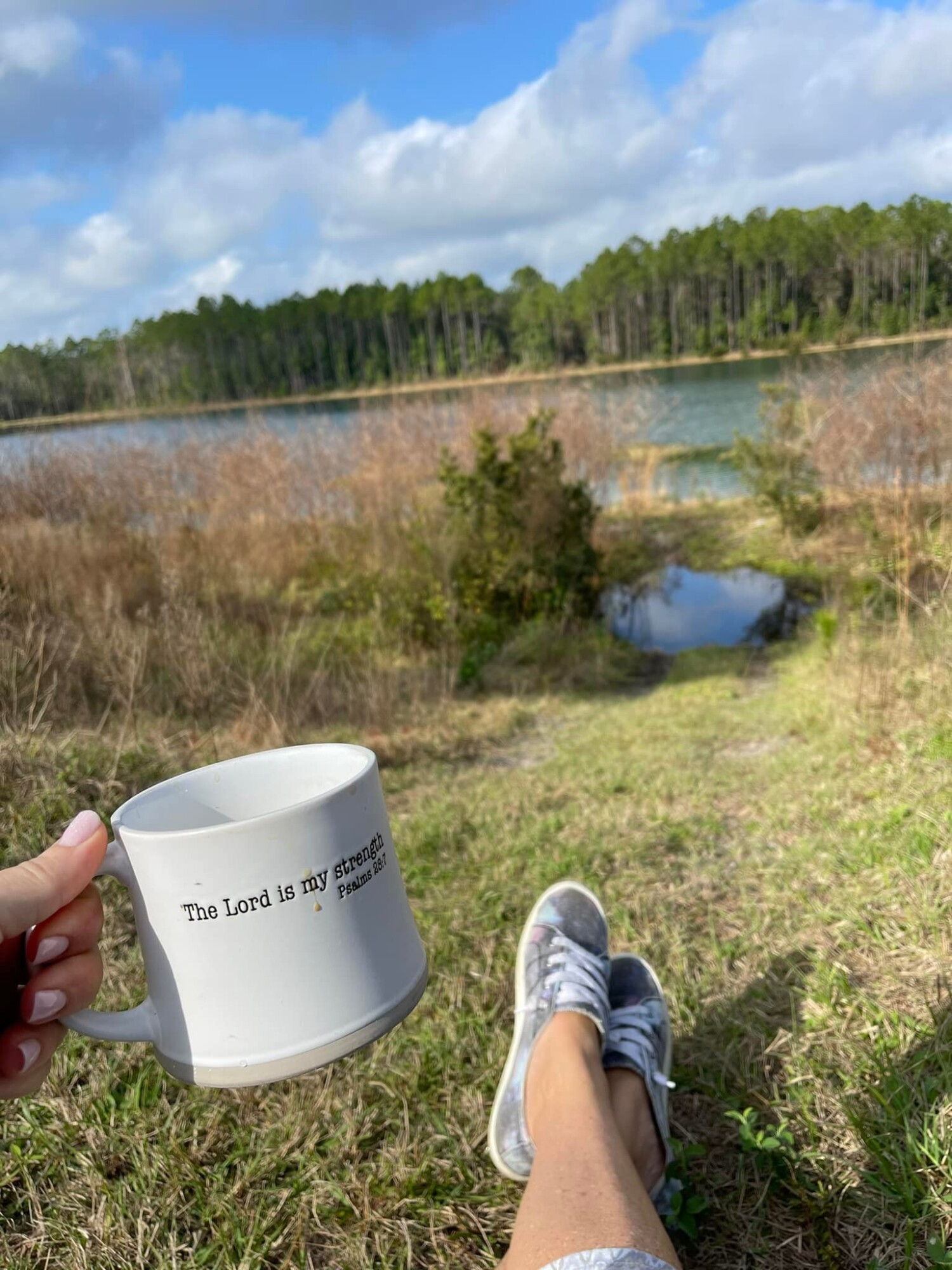 Fact:
Your brain

uses thoughts to compare, measure and describe
EVERYTHING
and nothing else.
You can't control the thousands of thoughts that pop in your head, but you can control which ones you focus on.
Learn to acknowledge thoughts and let them float on by without giving them your full attention. They're only thoughts. Most of them aren't even real or facts. Why give them your attention?



let them float on out just like they came in. Don't worry another one will roll in behind it, but you can do the same. And repeat. It gets easier. It is so worth it. Peace of mind is invaluable.

When we learn to take time in our daily life to silence the world around us and sit quietly in meditation, the rest of life becomes so much easier. It only takes a few minutes a day to start this life changing habit. I have found several amazing apps to learn to meditate. A couple of my faves are Synctuition, and Balance. Synctuition uses binaural beats to bring your mind on a journey and the Balance app teaches you how to meditate and practices using different tools in your meditation. CALM the mind, and the body will follow.
I hope this brought you some helpful info and if you want to chat about more ways to improve your wellbeing, comment below or reach out to me!
Blessings and love,
Casey
Now for the January NEWSLETTER!!!!
Click HERE

for January Newsletter SWAY for USA - WITH PROMOS.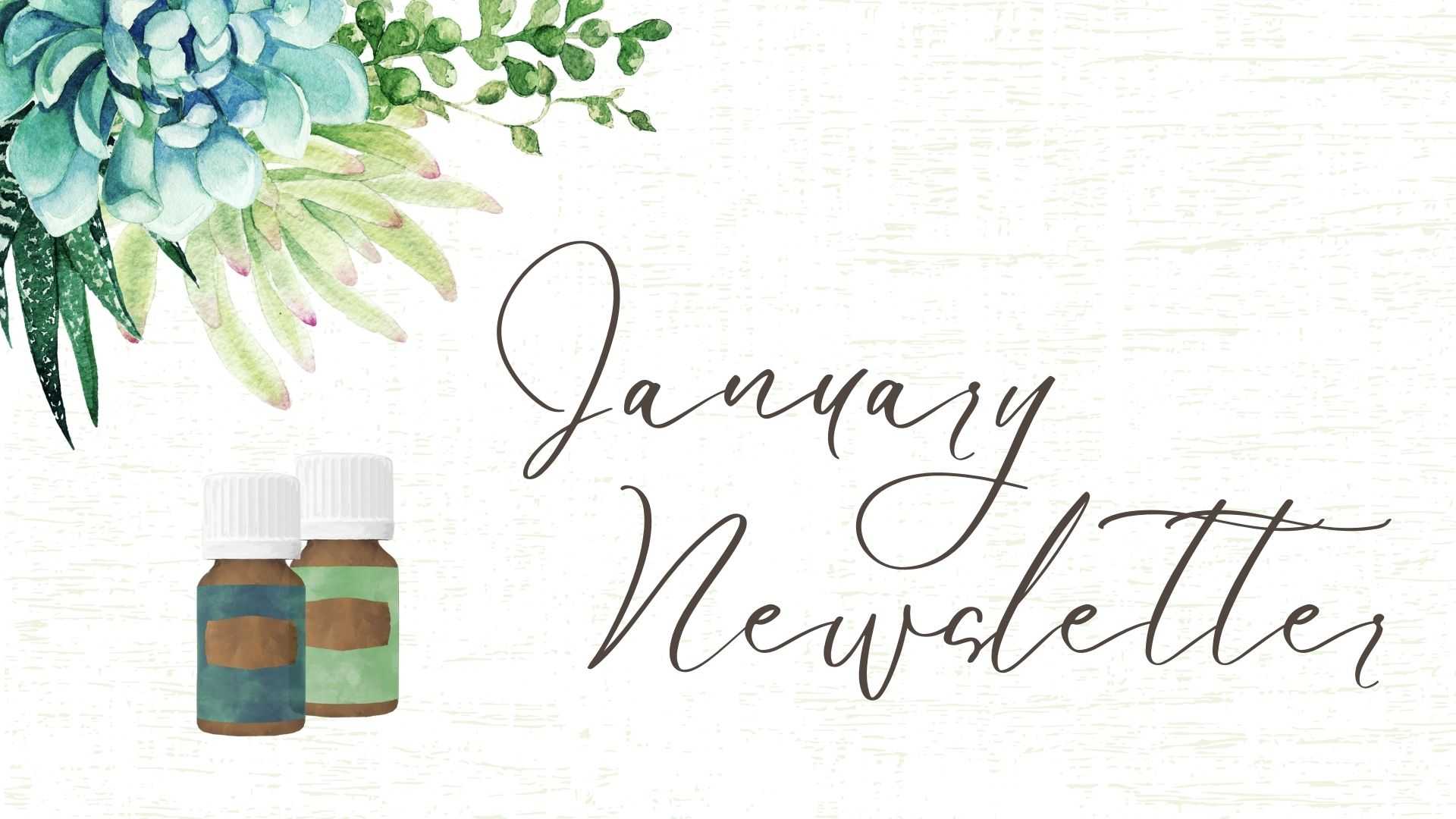 Hello, January!
Happy New Year, friends! I cannot believe another year has come and gone. I hope and pray that 2022 brings peace, community, togetherness, and unity. May we all go into this season with a sense of gratitude for the things that truly matter. Blessings!
:::::::::::::::::::::::::::::::::::::::::::::::::::::::::::::::::::::::::::::::::::::::::::::::::::::::::::::::::::::::::::
Star or flag this message so you can refer back to it all month long!
You'll hear all about…
Monthly YL Gifts with Purchase

January Wellness Box Ideas

Young Living in the Kitchen

Product Spotlight

Important Announcements

Upcoming Events
Monthly Gifts with Purchase
When your order hits one of these PV levels you will receive the corresponding products for FREE! Look at everything you get for free when you hit 300 PV!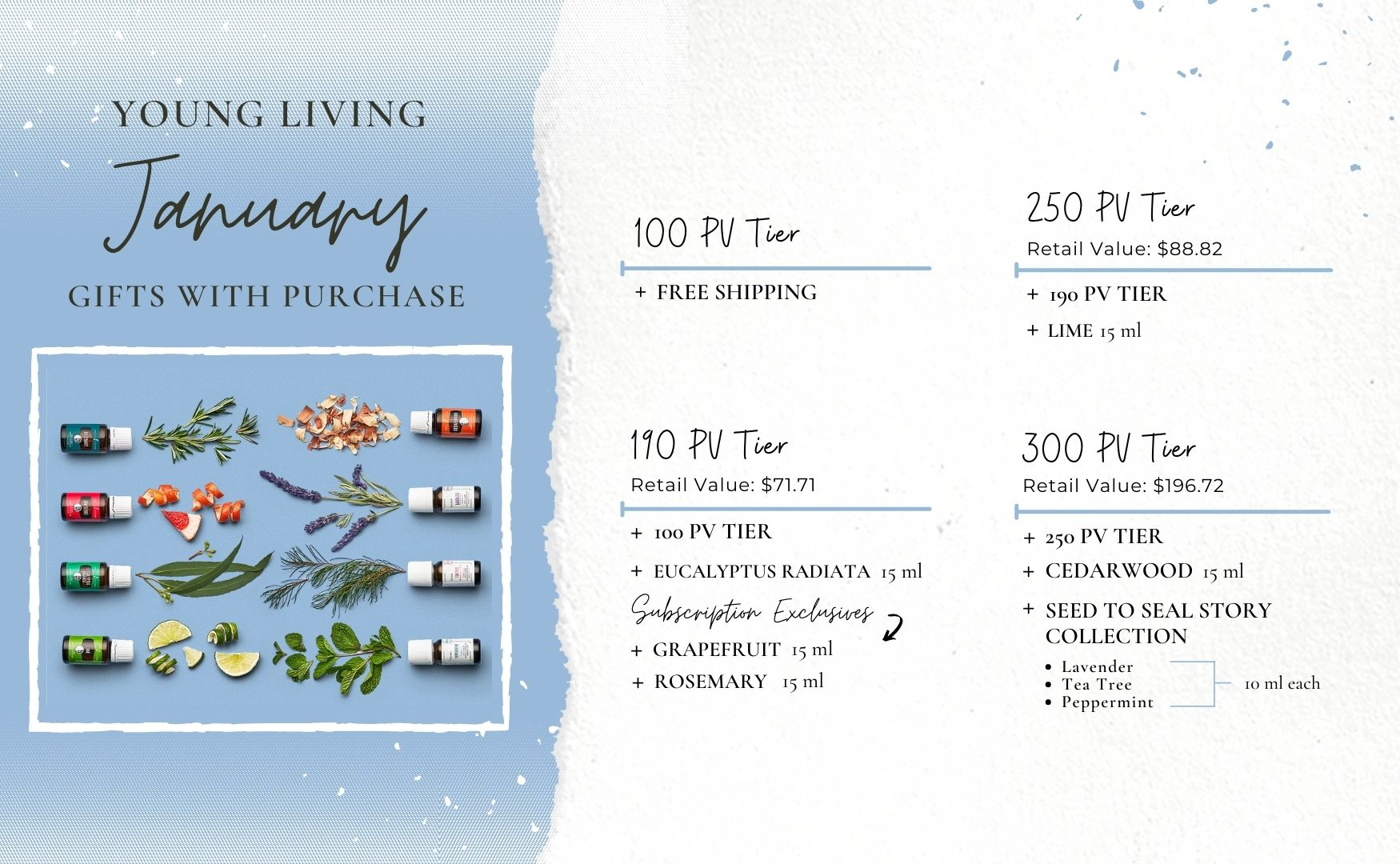 *Receive the Subscription Exclusives when your order is placed through the monthly subscription program, which is the best way to save money and support your health. If you need more details on this, let me know!
BONUS RECIPES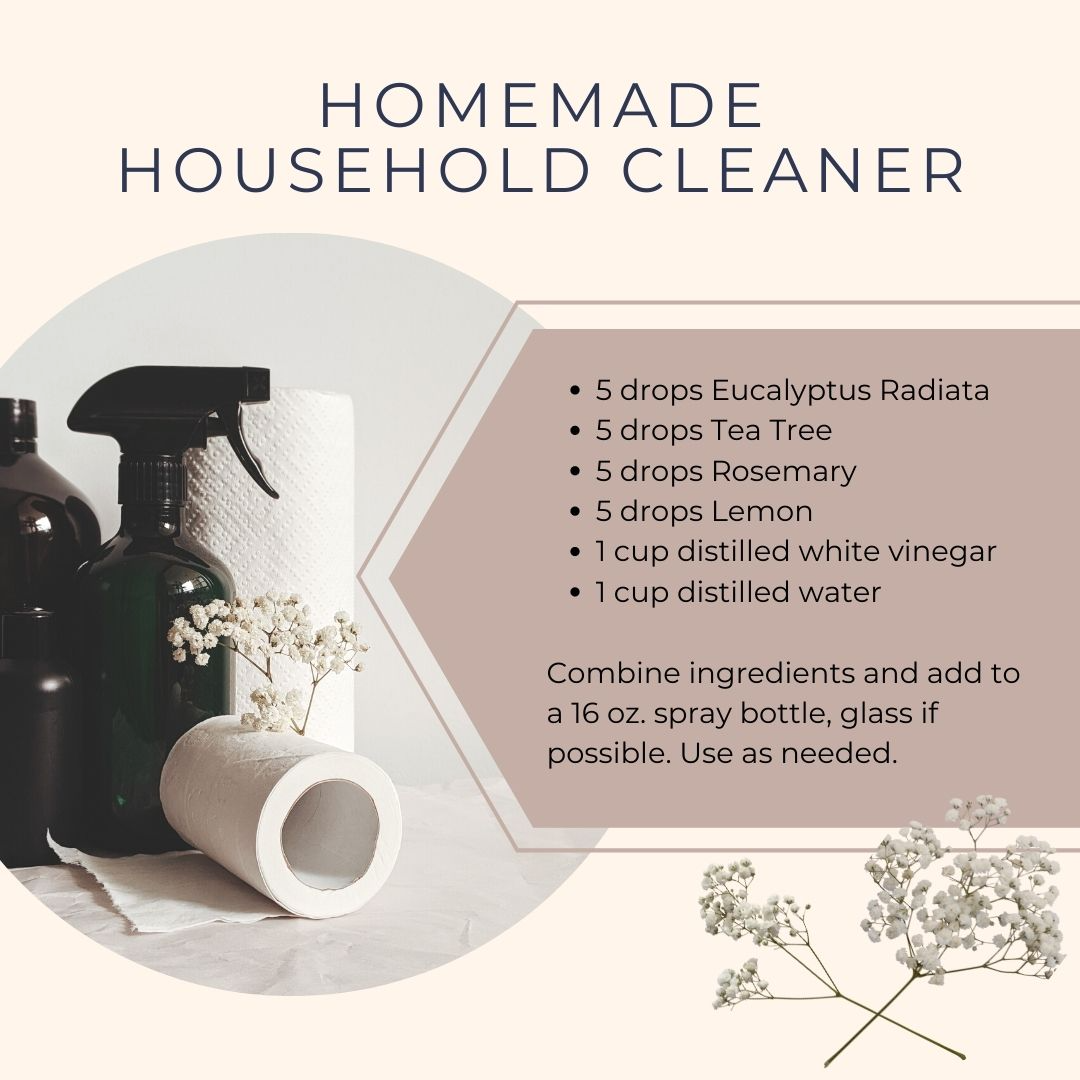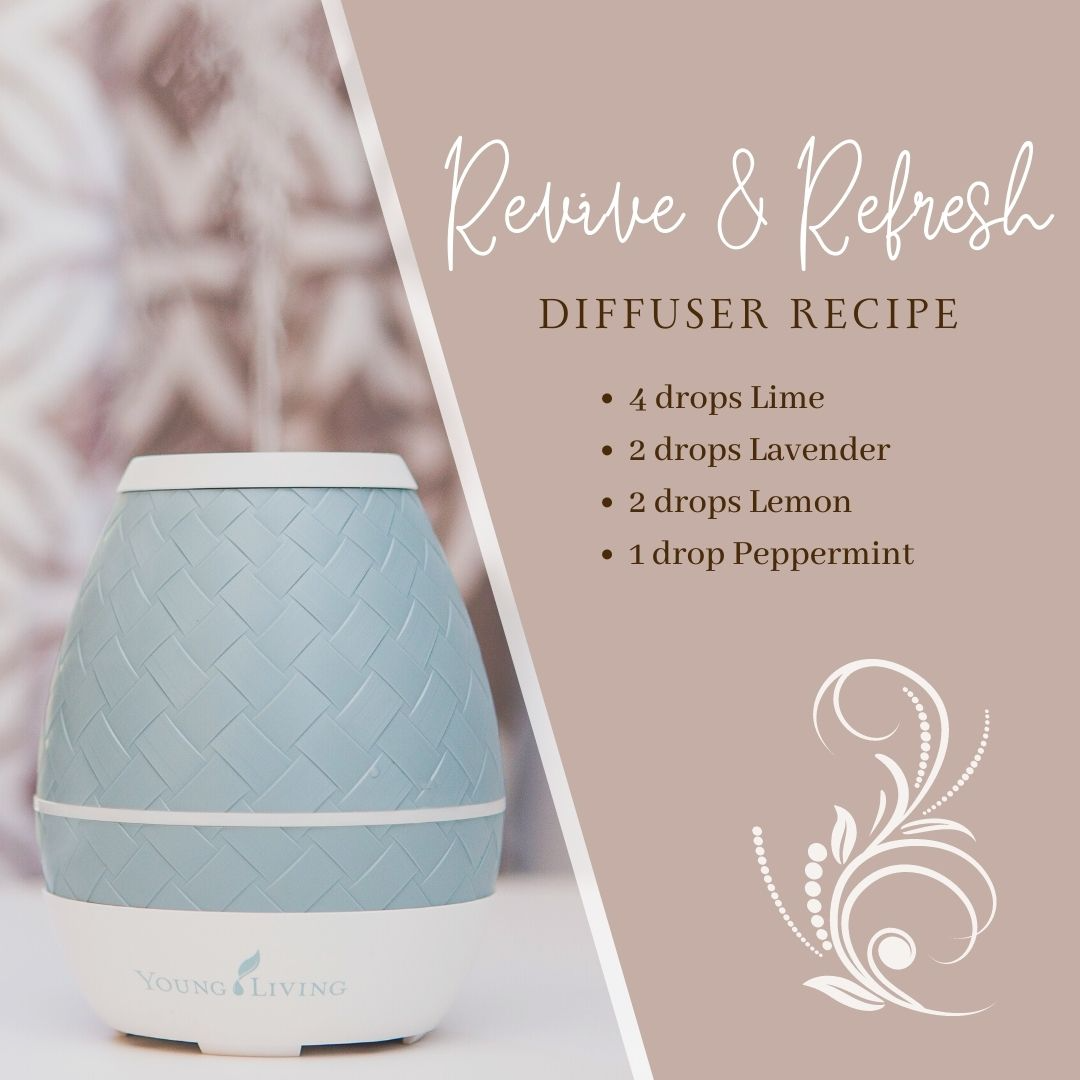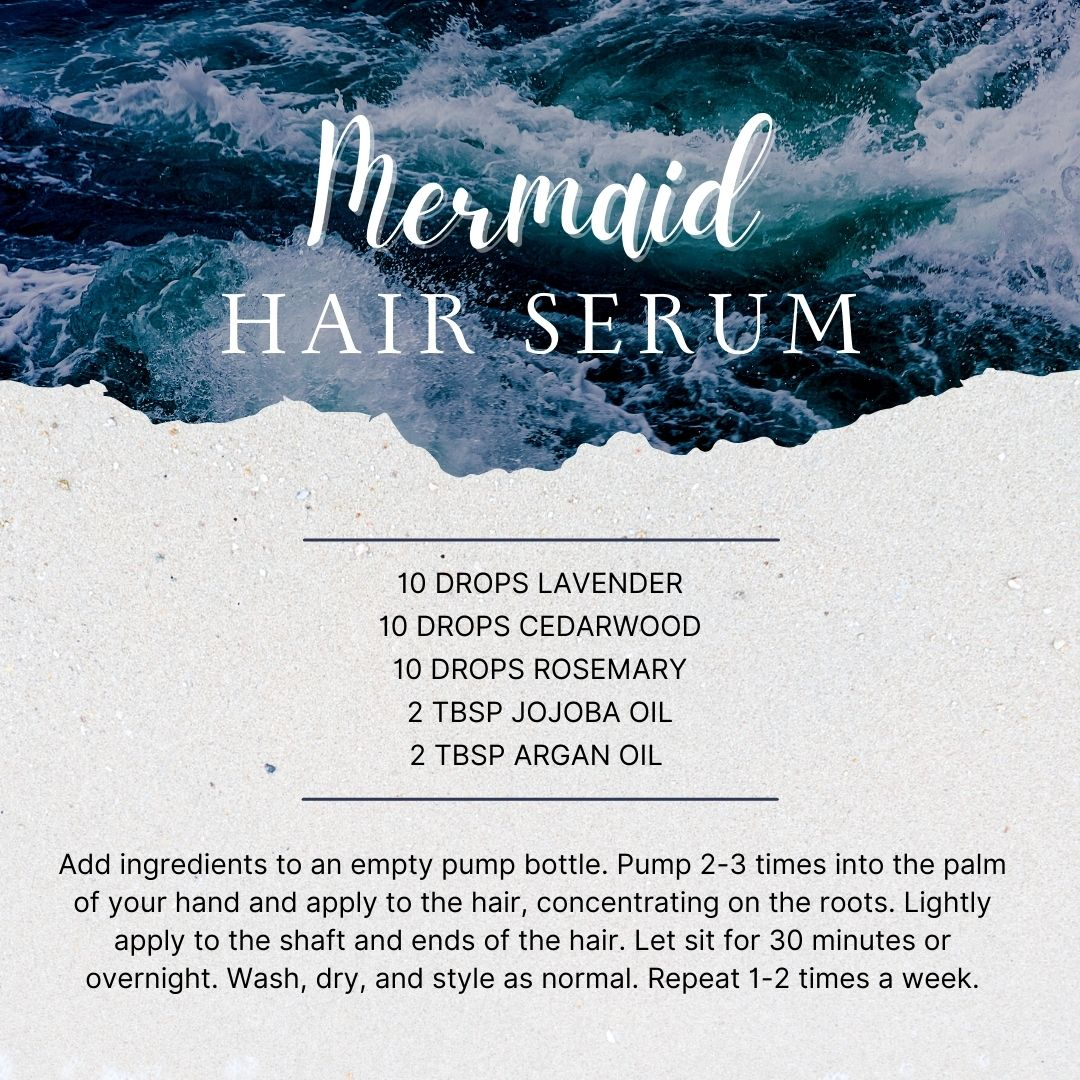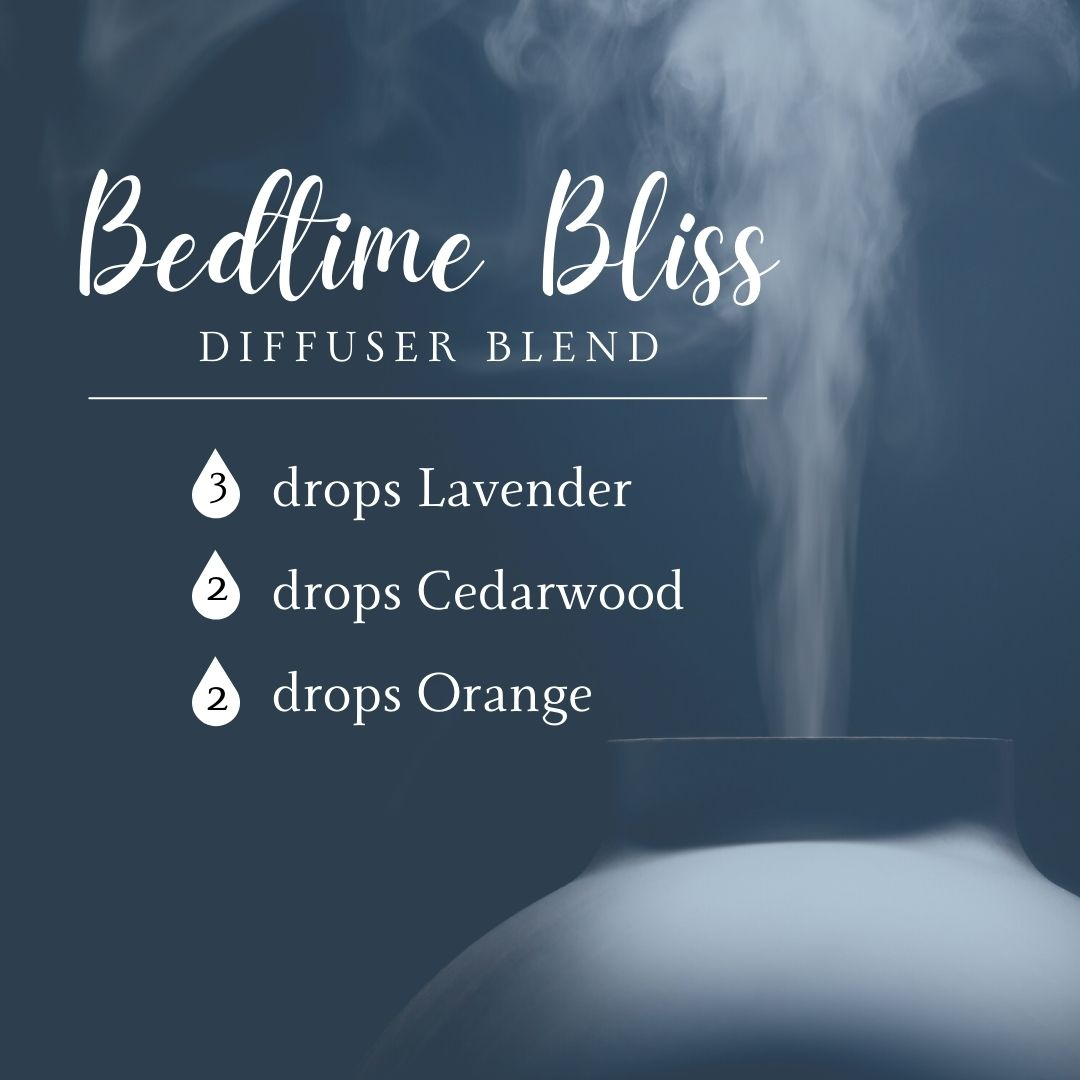 January Wellness Box Ideas
Young Living is more than just essential oils. It's a gateway to a lifestyle filled with wellness, purpose, and abundance. Start this new year off fresh! If you haven't ditched the toxins in your home - do it now! Start with one room and tackle one area at a time. Then set up a wellness box to arrive at your doorstep with safe replacements.
Simply log into your account, find the items you want, and click "Add to Subscription." Add at least 50 PV to your subscription box and you'll earn points to spend on future one-time orders! Add at least 100 PV to your subscription box and you'll earn points + get free shipping!
You can choose to have those items arrive monthly OR stretch them out to every two or three months - up to you. Don't want them in your box anymore? No problem! Just delete them and add in what you DO want. It's simple and completely customizable. Here are some ideas for your January box…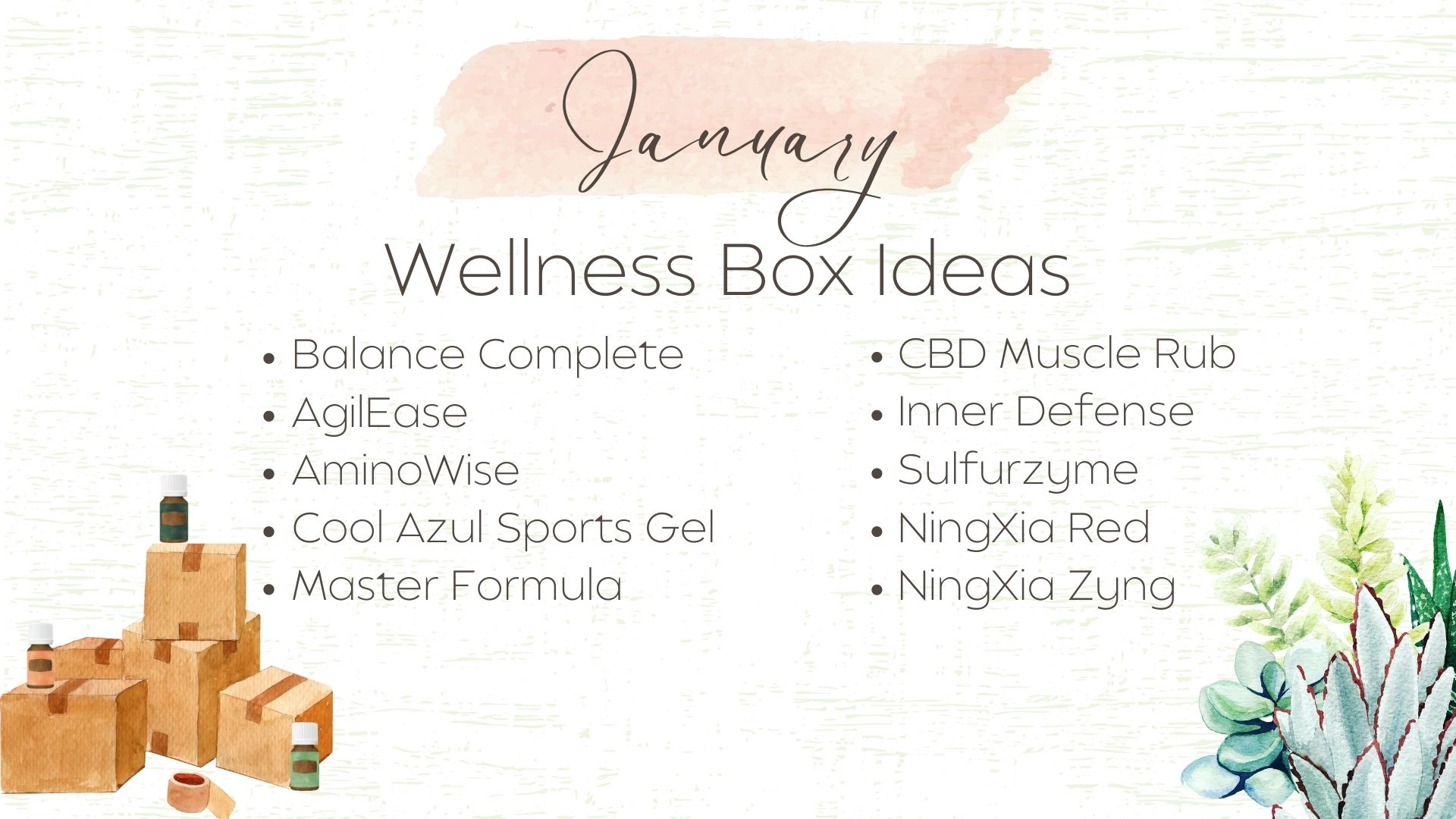 Young Living in the Kitchen
The holidays may be coming to an end but the fun doesn't have to stop there! Keep things festive in the kitchen with your Vitality oils. Try adding a drop or two of your favorites to some hot chocolate on those chilly nights. Like this…
What are these oils good for?
Peppermint Vitality

- promotes healthy bowel function, supports gastrointestinal system comfort, and adds a fresh, minty flavor to food and beverages.

Orange Vitality

- provides digestive and immune support when taken as a dietary supplement. It can also be added to foods and beverages to impart a sweet citrus flavor to your favorite dishes.

Lavender Vitality

- contains antioxidants and may provide immune support when taken as a dietary supplement. It can also be added to foods and beverages giving a delicate, floral flavor that combines well with citrus and herbs.

Cinnamon Bark Vitality

- contains antioxidants and may provide immune and general wellness support. In addition, it can be used to add a familiar, warm and spicy flavor to your favorite foods and beverages.
Product Spotlight
Hands getting dry during the cooler months? How about those lips - getting chapped? I've got the perfect product for you - Rose Ointment! This stuff is incredible!
Rose Ointment seals moisture into skin to deeply hydrate, soothe, and soften while supporting dewy, healthy-looking skin. Gentle enough for everyday use, Rose Ointment is formulated for sensitive skin and uses 100% plant-based and naturally derived ingredients. Ultra-versatile and easy to use, it seals moisture into skin and is perfect for use on lips, cuticles, elbows, knees, and wherever you have dry skin. Have you tried this yet? If not, grab it in your next box!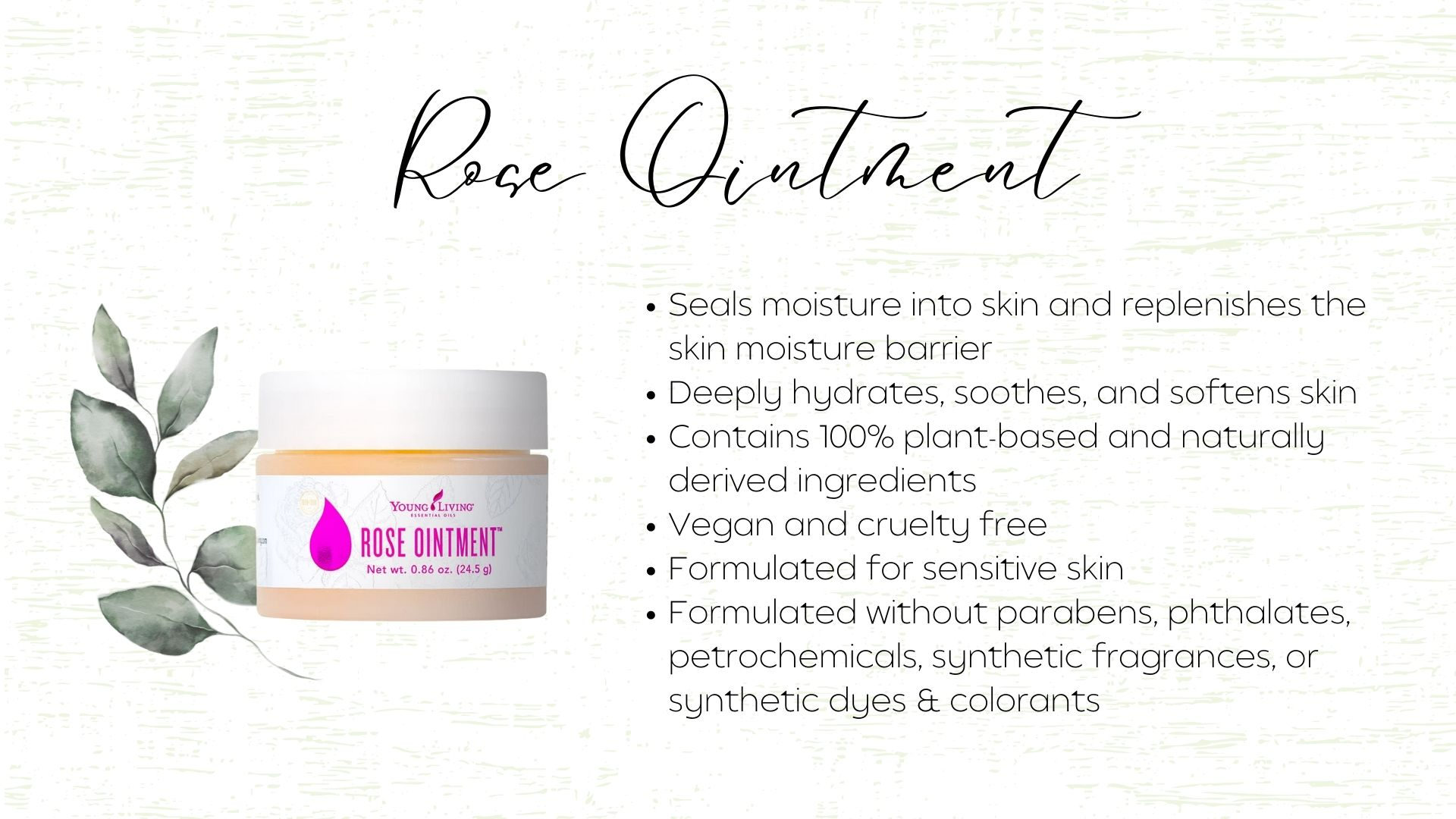 Important Announcements
Have you signed up to receive texts from Young Living? Get the latest news, limited-time offers, DIYs, new products, and more. Text YLTEXT to 30299 to get started. Already opted in? You can still update your preferences to tailor your texts get the content you're looking for by texting UPDATE to 30299. You can even get these in Spanish! Opt in by texting USLATINO to 30299 or can go to http://yl.youngliving.com/US-Latino-text.html to subscribe.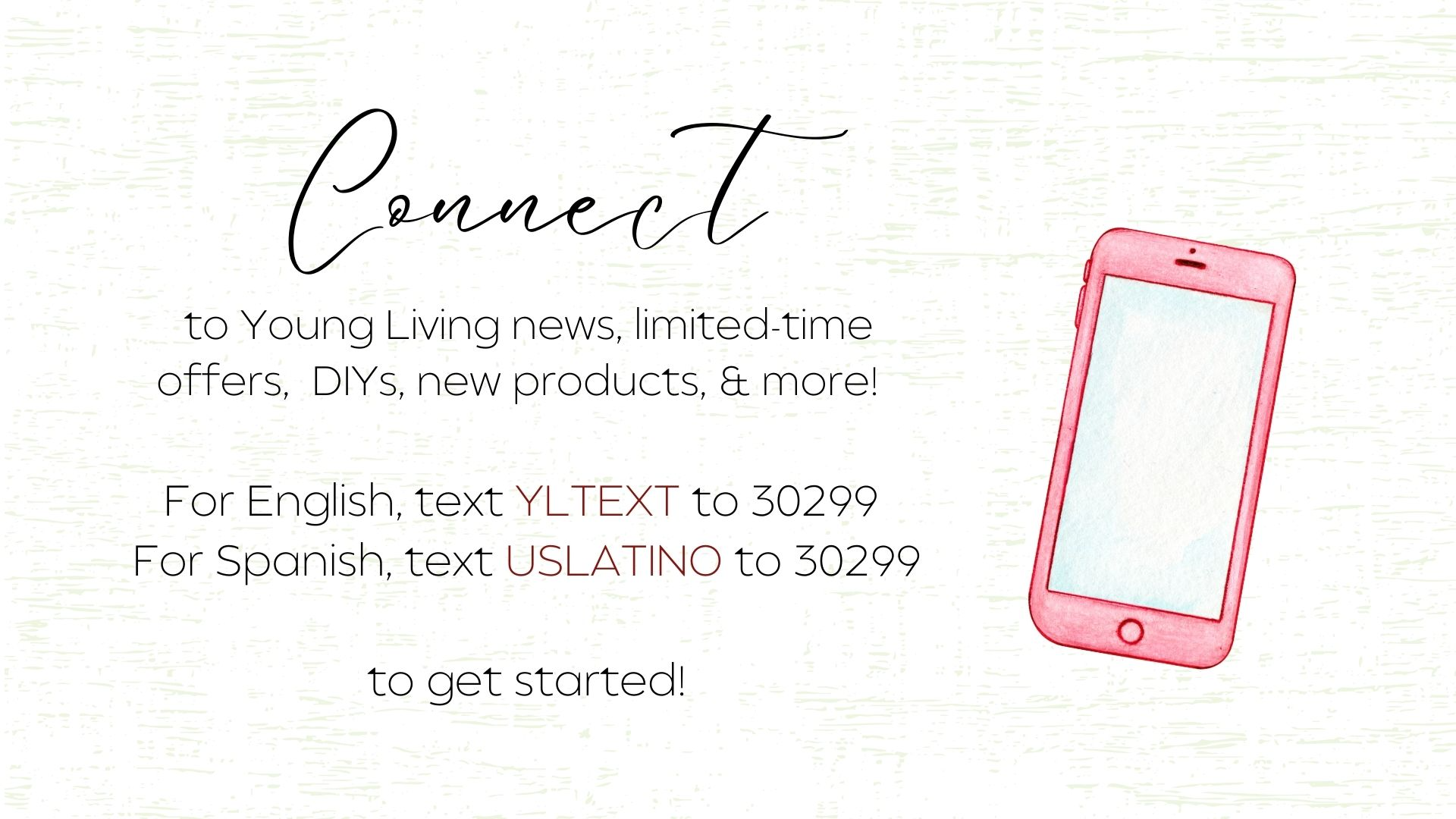 UPCOMING EVENTS & CLASSES
Join us for a deep dive into Young Living's ART, Savvy Minerals, and KidScents lines; learn social media time-savers to expand your influence; and hear tried-and-true tips from successful brand partners. You'll also learn how to whip up healthy einkorn treats for those busy days when you need a little extra energy. To join in on the fun, first customize your experience by selecting the ticket you want, then visit Young Living's Beauty School Facebook page on February 9 to watch the event. Go here to choose your ticket and register: https://web.cvent.com/event/4a144d9d-1f51-459f-9eed-a98f4961604e/summary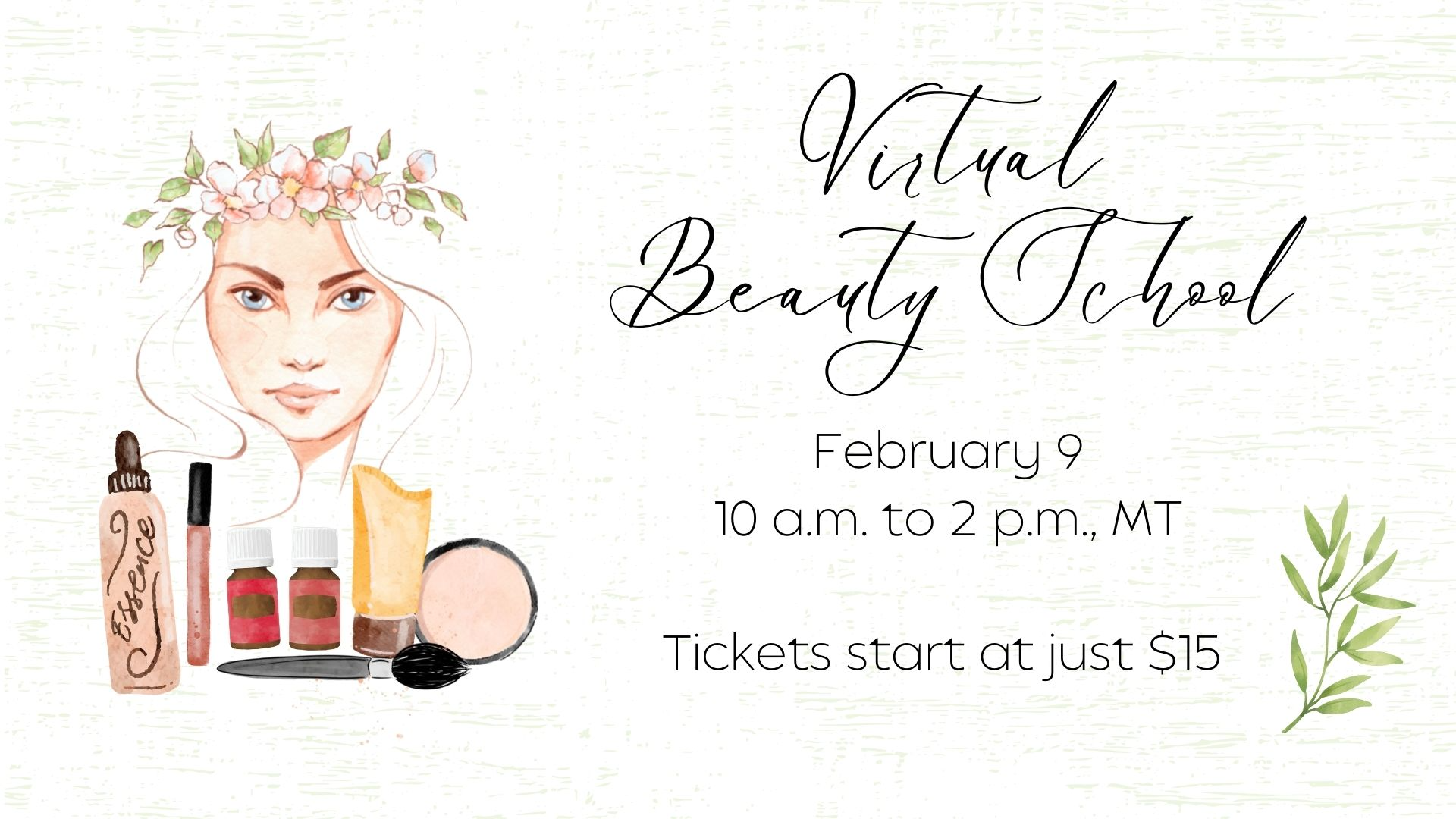 Thanks for reading this all the way to the end! You're a trooper and I'm so grateful for you. Please reach out to me if you wanna chat, or if you need ANYTHING! I'm here for you! Always! Thank you and May God continue to bless you.
Casey Forte
352-427-2497
Nov 18, 2021 08:54 AM Central
Casey Forte
allowing life, black friday, calmness, essential oils, EXCITEMENT, Giveaway, meditation, mindset, peace, present moment, sales
Hello friends. Today is a great day to have a great day no matter what comes your way.
That being said, life is amazing, especially when you focus on the blessings of it all
Life happens.
That being said, when it happens in ways we don't expect we have 2 choices. We can roll with it, or get flustered and upset over it. It's a choice. We can react, or respond. Huge differences between the two. ❤️
Reacting is usually not pleasant to you or your body. It's usually a triggered reaction from something we've supressed instead of dealt with. Responding, takes a breath first then realizes stuff happens and more will happen too. All of it happens for you and your benefit. *Life happens for you, not to you. Let me say that again, Life happens FOR you, not TO you. That's right, ❤️
Learning that the peace in life is found in the present moment. Not in the past things we coulda done, shoulda done or woulda done. It's not in the future of how we think things should work out could work out or can work out. That's the joy of the present. It's right now. It's the only place we can be calm, cool and collected. The present moment is the only thing we have active control over anything. Our reactions. period. Life is gonna keep happening, and it's never gonna go as planned, so stop getting pissed or disappointed when it goes different than you wished. It's happening for you. ❤️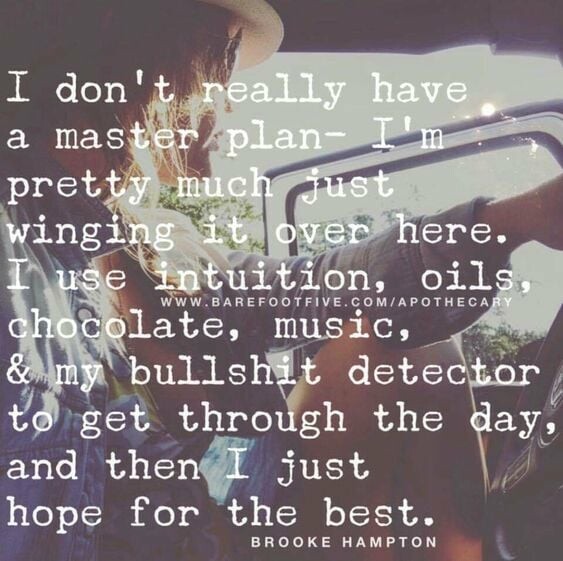 Now on another note, a great way to help yourself stay in the present is with taking time each day to consciously. be present. AKA meditation, Learning to focus your thoughts on your breath. One breath at a time. I love to use my oils while I meditate for a deeper peace. Did you know essential oils actually affect the limbic system (our emotions) in so many ways. That's why smelling things brings back memories. Now to create new memories and intentions by bringing these scents into your meditation to train your brain to relax when you smell them. Try it, it works. Some of my favorite oils to meditate with are palo santo, believe, grounding, frankincense, and present moment. But as we are all so different, the choice is up to you.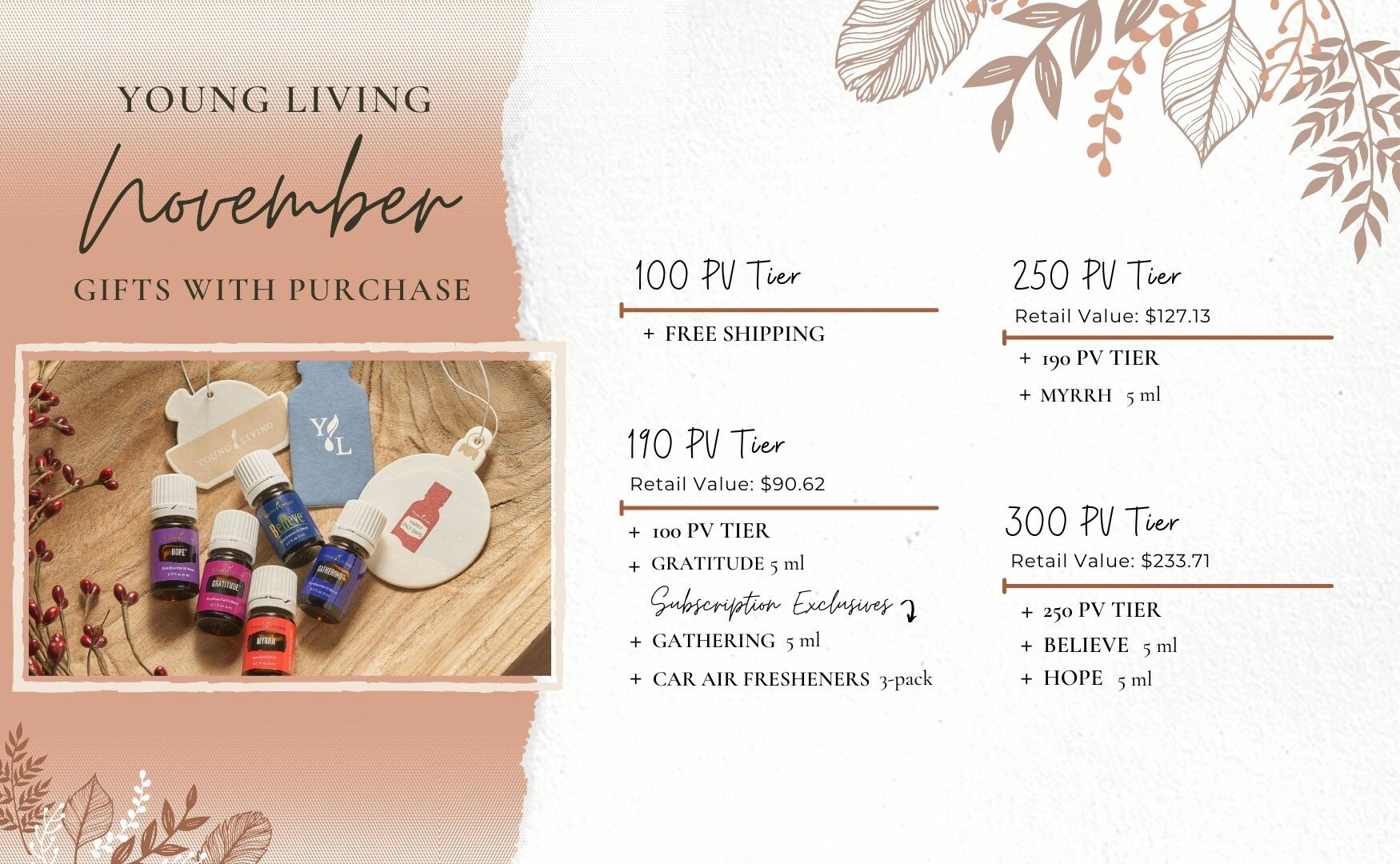 This month is a great month too to stock up on gifts for your friends, family and yourself! Our Holiday gift catalog is out and NEXT WEEK, we're having one heck of a Thanksgiving sale!! Up to 30% off on 30 of our best sellers!!!! We have a special zoom link to show you some great ways to use some of these favorite items!! Here's a graphic to share the deets!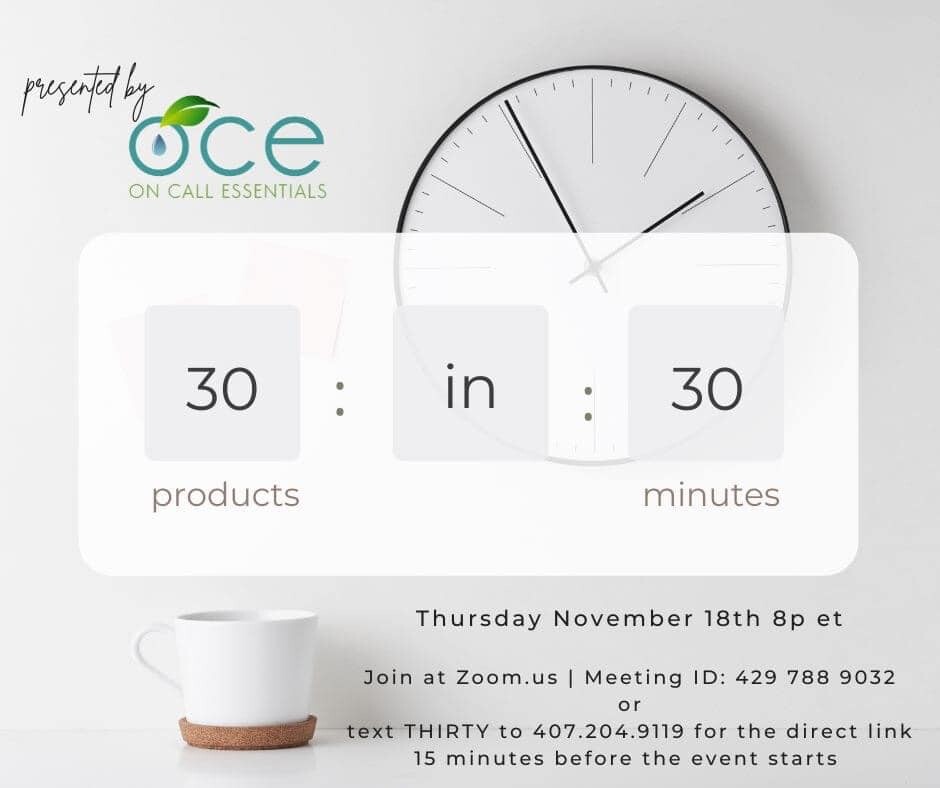 Your OCE friends are putting together an AWESOME event. Mark your calendars so you can attend live. It will be a 30 minute class, and we are going to talk about 30 of the TOP products OCE members are ordering each month!
You will get to learn the following about each of the 30 products:
- what it is
- a quick tip on how to use it
- an easy DIY with that product
Yes, that means about 45 seconds for each - we are not messing around. This event is going to cover some awesome products and tips and recipes without wasting any time!
BONUS - if you OPT in by sending THIRTY to 407.204.9119 you will not only get a reminder of the class 15 minutes before it starts, but a link to a free printable listing the 30 products, quick tips and DIYs in one printable document! You will also get the recording after the event runs.
Now for the good part!!!!
GIVEAWAY!!!
This month for all 250pv orders and up, you'll be qualified to win one of 5 bottles of CHRISTMAS SPIRIT OIL!!!!! That's right, I'm giving away 5 bottles of this amazing holiday favorite blend to 5 lucky people! Get your orders in before DEC 1 to qualify!!!
I also wanted to share some cool recipe ideas to make some holiday goodness to share with your loved ones:
Under The Mistletoe Breath Spray
This little bottle will be your mistletoe BFF!! Perfect to pack in your purse, backpack or even stash in your car, this simple breath spray will have your breath feeling fresh whenever you need it!
3 drops Peppermint Vitality essential oil
2 drops Spearmint Vitality essential oil
1 tsp Thieves Mouthwash, optional
Filtered water
Add all ingredients into a spray bottle and shake well. Spritz into your mouth as desired!
Candy Cane Lip Scrub
This simple lip scrub is perfect for all your mistletoe moments this season!
5 drops Peppermint essential oil
5 drops Vanilla oleoresin
1/4 Cup White Sugar
1/4 Cup Coconut Oil*
Combine essential oils and coconut oil, then add in sugar. Apply nightly to lips in a circular motion. Wipe off with a dry towel. Store in a glass jar!
*To make this extra special and creamy, whip the coconut oil in a stand mixer or handheld mixer until it is fluffy!
Winter Nights Holiday Body Scrub
If the North pole had a signature scent, this would be it! This simple DIY leaves your skin silky smooth and its dreamy winter scent is perfect for the season. Make it for yourself or package it up with a cute ribbon and gift it to a friend!
1/4 cup organic fractionated coconut oil
3/4 cup organic cane sugar
15 drops Winter Nights essential oil blend
10 drops Vanilla oleoresin
Mix Winter Nights & Vanilla with fractionated coconut oil in a glass container, then add organic cane sugar to the bowl and stir until combined.
To use, massage into skin in a circular motion and rinse well. After exfoliating, moisturize with Young Living's Winter Nights Hand and Body Lotion.
Peppermint Latte Coffee Scrub
This simple DIY is always a crowd pleaser and is great for winter hands, especially when followed with the Very Vanillamint Body Butter.
1 cup organic ground coffee
1 cup cane sugar
1/2 cup melted coconut oil
10 drops Peppermint essential oil
10 drops Vanilla oleoresin (or EOs of choice - Cardamom, Thieves, etc.)
Small glass jar(s)
Mix coffee grounds and sugar together, then add melted coconut oil and essential oils. Mix well and place in a glass jar. Top with burlap and tie with twine and a sprig of fresh rosemary for a festive gift!
There really is no substitute for the Very Vanillamint Set from Young Living, but if you missed the ordering deadline this DIY is your next best bet!
Place coconut oil and shea butter in a bowl and whip with a handheld or stand mixer until fluffy and smooth. Slowly add in the jojoba oil, then the essential oils, mixing as you add. Whip for about five minutes or so. The longer you mix, the fluffier it will become!
Easy DIY Bath Bombs
If you missed out on the new Sweet Maple and KidScents Bath Bombs or want to DIY-it for a custom scent, this recipe is for you!
1 cup baking soda
1/2 cup citric acid
2 Tbsp epsom salts
3 Tbsp coconut oil, melted
20-30 drops essential oil(s) of choice*
1 tsp water or more if necessary
Silicone molds or large ice cream scoop
In a large bowl combine baking soda, citric acid, and epsom salts. Stir well. In a smaller bowl combine coconut oil and essential oil. Slowly whisk wet ingredients into dry. It should reach a crumbly consistency.
Your mixture is ready when you can mold it into a shape and it sticks without coming apart. If it is too crumbly, add in water, 1 tsp at a time. Mixture should be dry but able to hold a shape. To shape your bath bombs either pack them into your molds or a large ice cream scoop. Leave in the molds overnight, then remove carefully and place on a baking sheet to dry.
Oil pairing ideas: Peppermint + Vanilla, Lavender + Peppermint, Lavender + Vanilla, Eucalyptus + Lemon, Believe + Vanilla, Gratitude + Tangerine
Till next time, Thank you and God Bless you and your path and may You have Peace every day.
Casey