Oct 23, 2021 11:12 AM Central
Casey Forte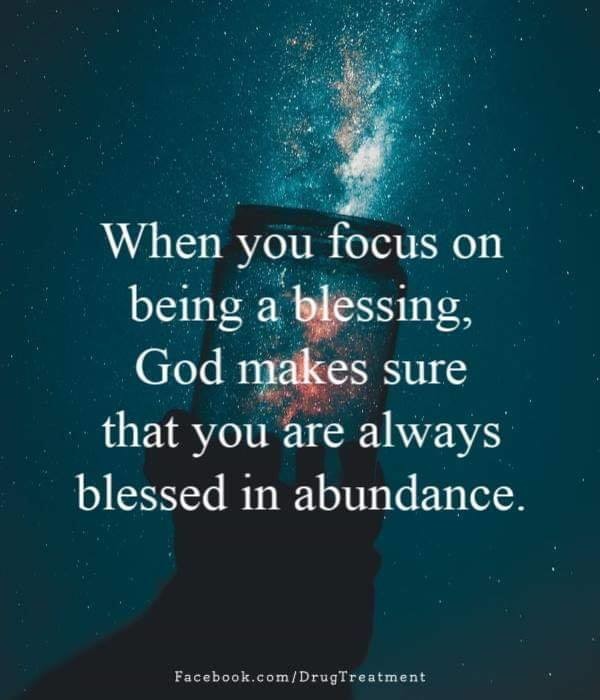 Hello there! I am blessed and grateful you're here! ❤️
If I've learned anything in this life, it's that you can't out give God. Now, that can be giving from your talents, time, gifts, and or money. Give and more will be given. Believe this truth. For when we hold onto it, and well, there will never be enough. Be alive. Be a giver. Be blessed with abundance in all areas in life. Be a giver of these things with a good heart however, because whatever you sow, you reap. #fact. Sow acts of kindness, love, joy, peace, reconciliation, understanding, prosperity and grace and receive more of the same. On the other hand, sowing acts and words of hatred, discord, evil, revenge, lack, jealousy, bitterness and rage, that too will be what you reap. Be careful the words you think, thoughts you think and speak and act on. For they will form the life you live.
~~~~~~~~~~~~~~~~❤️ ❤️
Luke 6:38- Give, and you will receive. Your gift will return to you in full~ pressed down, shaken together to make room for more, running over, and poured into your lap. The amount you give will determine the amount you get back.
~~~~~~~~~~~~~~~~❤️ ❤️
Deuteronomy 15:10- Give generously to them and do so without a grudging heart: then because of this, the Lord your God will bless you in all your work and in everything you put your hand to.
~~~~~~~~~~~~~~~~❤️ ❤️
Matthew 25:29- To those who use well what they are given, even more will be given, and they will have an abundance. But from those who do nothing, even what little they have will be taken away.
That being said, this month I'm giving away 10 bottles of oil from my stash! That's right! There will be 10 blessed winners this month! To be entered in drawing, place a 50 pv order the month of October! I will do a live drawing on Facebook on Nov 1(God willing ❤️ ) Please feel free to reach out if you need help!
Speaking of giving, YL is giving us some amazing new Holiday items to swoon over! The Holiday gift catalog is live on the
Young Living website
as of Today! Saturday, OCT 23 @ 2 pm!! I'm so excited to see the new goodness. They are also releasing a redesigned skin care line, and I believe a new formulation of Evergreen essence!! You'll want this in your arsenal of goodness for your immune system support (Check out the benefits of pine oil in
Pubmed, the national library of medicine
. There is so much science out there backing up the fact that these oils, quality oils, work to our health. benefit.
My personal experience is astounding proof TO ME, that they work! That eliminating the toxic crap in my life, mind and products makes all the difference in how I feel. I'm ever grateful for the path that life has taken me on. So grateful for you too to be on this journey as well.
Please reach out if you are wanting to dive deeper into this life of feeling better, happier, more at peace and start living your best life! I'll be here. ❤️
Blessings to you and love,
Casey
352-427-2497